Project Management Performance Metrics - Suggested Metrics for Portfolio Performance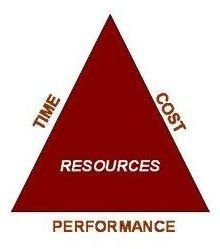 Project Management Performance Metrics
A metric is defined as something that can gauge the status of a deliverable; aimed as small measurable attributes that have a predictive or comparative capability; might measure particular attributes directly or indirectly, or can be a numerical value that is computed from a collection of several pieces of data.
Metrics help to improve work processes and communication with management.
Metrics help to continuously tack the project's efficiency and effectiveness.
Areas where metrics are needed include:
assessing the pace and productivity of a project
tracking trends in quality performance
describing the project deliverables
evaluating project deliver
managing costs
In PPM 101: Fundamental Metrics, author Tom Mochal provides the following list of metrics that focus on project management portfolio performance.
Total capacity: Total capacity tells you how many potential hours your staff is available to work. You usually calculate it by taking total available hours and subtracting out the overhead hours.
Utilization rate: Your utilization rate shows the percentage of time that your people are actually allocated to operations, support, projects, and discretionary. If you have already taken out the overhead hours, the utilization rate should be close to 100 percent. If you have not factored out overhead time, utilization rates should be in the range 75-80 percent.
Available hours: This is a forward-looking metric that shows how many hours are unassigned for the future. The portfolio management team must focus on people who have available hours in the next three months and try to assign them additional work or a new project.
Downtime: This metric shows you how many hours people are unallocated. This can happen, for instance, if a person comes off a project and does not have another place to be assigned immediately. It may also arise if a person is assigned full time to a task but is unable to start it because its predecessor has not yet completed. This number should be as low as possible.
Work allocation - actual vs. targets: This shows how well you are allocating work versus your target balancing. For instance, if you have a target for your project work to be 40 percent of your entire portfolio workload, you can track this target against the actual number of hours worked on projects in the portfolio.
Project - estimated budget vs. actual: These are basic financial numbers that should be tracked for each project in the portfolio and then rolled up at the portfolio level. If the total project budgets exceed their targets, it could mean that other authorized work will not be able to be executed.
Project - estimated deadline vs. actual: All projects should be tracking their performance against their targeted deadline dates. Again, if projects are tending to run over their deadlines, it may mean that other projects will not be able to start because the resources are still tied up on other projects.
Rework: Reported from the project teams. This should be as low as possible.
Defects: Reported from the support teams. This should be as low as possible.
Service-level agreement commitments vs. actual: Reported wherever they are applicable, but usually these are related to support teams.
Client satisfaction: All projects and operations and support teams should be reporting some kind of customer satisfaction metrics.
Project benefits realization: Reported by project sponsors and operations managers. All projects and programs have some business benefit. After each project is completed, the benefits should be tracked to ensure they are realized as proposed in the initial Business Case.