High-Yield Accounts for Passive Income (Project Management Career Tips)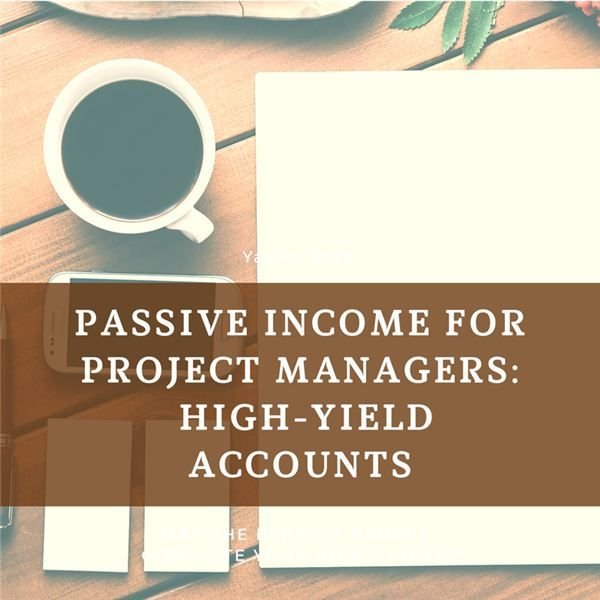 High-Yield Essentials
The key behind getting a high-yield account is to find a so-called "online bank," because unlike traditional banks, online banks do not have the expense of maintaining branches and therefore can offer annual percentage yields of 1.50 percent or more. This is more than 15 times higher than the national average of 0.08 percent for traditional bank accounts. While 1.50 percent may not sound like much, it can add up. For example, if you have a buffer of $10,000 in your bank account, earning close to zero interest, you would earn $150 over a year. If your average balances are higher, you will earn more. And every little bit helps. And note that these high-yield accounts are still FDIC insured, so you have zero added risk.
Where to Find High-Yield Accounts
Here are some sample rates (as of this writing – currently rates are rising) for high yield accounts:
CIT Bank – 1.55 percent
American Express – 1.75 percent
Synchrony Bank – 1.85 percent
It Pays to Compare
The key points of comparison between high yield savings accounts and traditional bank accounts are as follows:
Both are FDIC-insured up to the $250,000 limit
Interest rates are substantially higher on the online, high yield accounts
High yield accounts are operationally available 24x7 – as opposed to branch location hours
High yield accounts are not accompanied by their own ATM network but may waive fees for using ATMs in other networks
Customer service is available 24x7 for online, high yield accounts
Online, high yield account money can be transferred electronically to your bank account or to a payee, usually within a couple of days without a fee
Are you thinking about creating passive income for a rainy day as a project manager? Have you investigated high yield accounts as an alternative to what you are doing currently?
References
This post is part of the series: Passive Income for Project Managers
Project management positions can be fickle. This series explores initial steps, requiring minimal effort, to help you generate a growing level of passive income to build a cash flow buffer between projects.