PMI Project Management Plan Examples Based on PMI Guidelines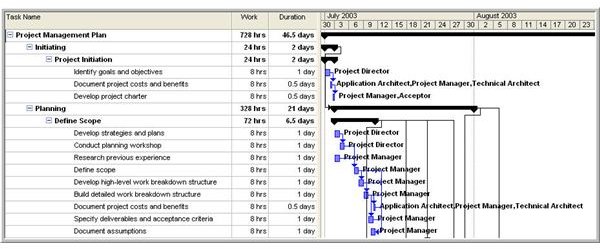 Developing a Project Management Plan
Developing a project management plan requires some foreknowledge as to what major components are involved. The Project Management Institute (PMI) generally defines a project management basic plan as a plan the covers how the project will be implemented, examined, and controlled. Basically, a project management plan needs to cover everything involved in a project to ensure that it will be successful. This article will cover some project management plan examples to give you a feel for what a PMI project plan should look like. [caption id="attachment_133095" align="aligncenter" width="640"]
Project management is critical for the success of a project[/caption]
Project Plan Components
PMI project plans can be as simple as a one page overview of the above issues or a many page document intimately detailing everything involved in the project. According to PMI, any additional documents are known as subsidiary planning documents. Whether in a one page summary or within multiple pages, the following components must be covered by any PMI project plan:
Project Overview.
Project Charter Summary.
Management advice, guidance, and instruction.
Scope - Work breakdown, deployment, change control, and training.
Detailed Plans.
Scheduling – Who will be responsible for what and how will time be managed?
Cost Analysis – Estimating how much the project will cost and what factors could adversely affect those estimates.
Cost Management.
Risk Management – What activities will be taken to deal with risk?
Risk Log – Record of known and possible risks.
Resources – Staffing, budget, and vendors.
Change Management.
Issue Management – How will issues be managed and recorded, using an issue log, for example.
Communication Plan – How will you communicate internally to the team and externally to stakeholders?
Quality Control – Approaches that must be taken to ensure that quality is maintained throughout the project.
Procurement – How will needed goods and/or services be obtained?
Compliance.
While these components are general to every project, the subsidiary documents allow teams to take individual components and tie them to the current project. The details of these documents should reflect how each part pertains to the project at hand.
Project Integration Management
Another part of a PMI project plan is dealing with the management on the integration phase of a project. Project integration involves taking the above components and applying them. So, if you're looking at cost analysis, you need to figure out how things like planning, scheduling, risk management, and other components will affect that cost. A large part of your project development plan will have to address project integration management. According to PMI, project integration management involves the processes and tasks that are required to define and combine all the processes and tasks in order to finish the project. Project integration management involves the following project management components:
Resource leveling, figuring out what processes or tasks have higher priority or are critical to the completion of the project.
Risk management.
Dealing with problems before they fail.
Work coordination.
Change requests.
When developing a project management plan, it is important to consider project integration management because it helps identify problems before they cause the project to go off-budget, off-schedule or fail completely. This is done by the way project integration looks at how processes and tasks should be working together and how they affect each other whether it's good or bad.
Change Requests
Change requests also need to be considered in the beginning of a PMI project plan. As tasks either get ahead or fall behind, the project environment is going to change. So, plan for it. Change requests are generally written documents, forms or just pieces of paper explaining why a change is needed. Have some pre-established change requests forms in the project management plan. And, when a change happens, go ahead and update the project management plan. While you do want to try to stick to the original plan, change is going to happen so the plan has to have some fluidity. I hope these project management plan examples are helpful for you to get started project planning. Image by mohamed Hassan from Pixabay