Sample Communication Plan Examples for the Project Manager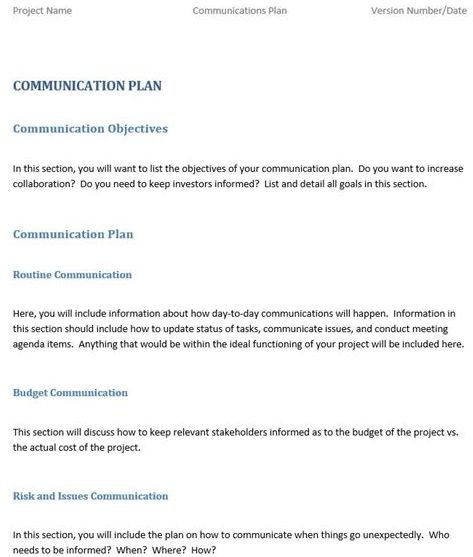 Communication Plan Examples
Having a communication plan in place is an essential component for good project management. This document ensures that all stakeholders are equally informed of how, when, and why communication will happen. Communication is often a very effective way to solve problems, deal with risks, and ensure that tasks are completed on time. This article will give you sample communication plan examples to help you with your projects! Download our sample communication plan to follow along. [caption id="attachment_132825" align="aligncenter" width="640"]
Communicating is key to proper project management[/caption] Successful communication plans will identify stakeholders, the information to be communicated, and how this information will be communicated. They will leave nothing to chance. For a good overview of the elements of a communication plan, you may wish to read Joe Taylor Jr.'s article, Elements of a Communication Plan. Also, you may want to browse through the other free project management templates available at Bright Hub.
Key Elements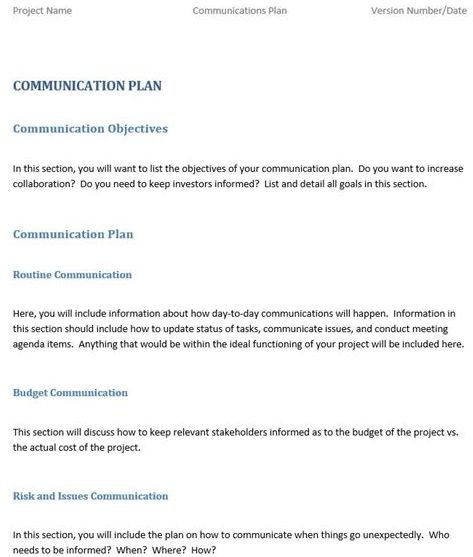 In the sample communication plan as shown above, you should at least include the following key elements:
A brief background for the communication plan
Stakeholder Analysis
Clearly stated objectives
The strategy for going about communicating
Potential issues and risks
The budget
For more information on each of these elements, and an excellent discussion of the details for creating a communication plan, read Dave Fleet's eBook, Strategic Communications Planning.
Putting the Plan Together
Before undertaking the task of putting together a communication plan, it is important to ensure vital preliminaries are in place. Be sure that the project objectives and scope and communication objectives have been clearly stated. Different projects will require different communication strategies. For a great discussion of how to write a scope statement see Eric Stallworth's article, How to Write a Scope Statement. For a discussion on setting project objectives, read my article, Project Management Helps Meet Strategic Objectives. The other preliminary that must be taken care of is the stakeholder analysis. Without this vital information, the communication plan will lack force and direction. Stakeholders are those individuals who have interest and influence in the project. These are the people that will be communicated with during the project life-cycle. For an outstanding treatment of how to perform a stakeholder analysis, read this series on Examples of Stakeholder Analysis. One final analysis that is helpful to have performed is the risk analysis - as this is one of the places where communication will be vital. For discussion of putting together a risk management plan, see Joe Taylor Jr.'s series, Risk Management. Once preliminaries are in place, the project manager can begin to put together the communication plan. Ensure you cover the various scenarios including status updates, risk management, and budgeting concerns. Determine how issues will be chronicled - should team members email you, everyone, or keep a spreadsheet and bring up the issues at the next meeting? Creating a communication plan will take care of ambiguity, so you want to be sure you are as detailed as possible. Once the project is finished, evaluate the communication plan. What worked? What didn't work? Incorporate these findings into your next plan. If you're looking for more sample forms and downloadable templates, check out Bright Hub's resource guide Over 50 Free Project Management Templates and Sample Forms.
References