The Legally Blonde Guide to Project Management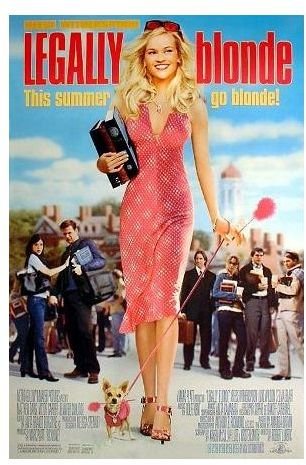 What can a perky girl in a pink dress teach you about project management? Even though the movie might seem like bubblegum pop to some viewers, it's certainly worth viewing for inspiration. The storyline goes something like this: Elle Woods, a young lady obtaining a fashion degree, decides she's going to go to law school in order to follow her boyfriend, Warner, to Harvard. Along the way, she realizes there are more important things than having the perfect boyfriend, and she has an interesting way of seeing the legal world.
What makes this story so compelling isn't the fashionable clothes, or her cute dog Bruiser, but the way that Elle relentlessly pursues her goals. She does so with strength and determination that makes things happen.
I was able to sum up the things that project managers and leaders can take from Legally Blonde in a list of nine items. It's so important not to overlook the little things in managing projects—after all, little things can make a big difference in the long run.
1. Find Your Passion and Go for It!
Elle is a fabulous woman who determines that she's going to Harvard. There's no question about it. She uses that passion and that determination to study for the LSAT, create an original admissions video and generally plead her case to be accepted into Harvard Law. Setting aside whether the admissions process was realistic, there's an important lesson to be learned here. If you set your mind to something, and you are unwavering in your determination to accomplish it, in all likelihood, you will experience success. Elle gained admission to the university of her dreams, and although there were complications with Warner when she got there, she managed to find her own niche in the law school.
2. Know Who the Key Players Are
Elle is a people person. When she starts out at Harvard, she finds resistence among her cohorts when it comes to acceptance. While it does bother her some, she also doesn't waste time in figuring out who the key players are. For instance, when she is chosen to be on Callahan's team for the case involving the fitness guru, Elle doesn't beat around the bush. She goes directly to the woman her professor is defending and tries to get an alibi. While this is demonstrated more so in the sequel, it's an important trait.
Good project managers know who the key players, or stakeholders, of their projects are. They know exactly what power these players hold, and they work their approach in talking to various people so that they can maximize the communication benefit for all involved.
3. Be Conventionally Unconventional
What's so outstanding about Elle is that she really is outside of the box, but within reason. Elle comes to Harvard with her flashy style sense, her west coast attitude and her eagerness to succeed. Throughout the movie, she learns to blend her unconventional approach to law school with the conventionality needed to succeed. Sometimes, what's most needed in a project is someone who is able to think outside of the box just enough to create change and come up with a really great solution that meets the needs of stakeholders and customers.
4. Do It the "Elle Woods Way"
For me, this piece of advice would read, "Do it the Ronda Roberts way." For you, it will include your name. Let's face it—each of us has unique qualities that we bring to the table. Why try to be someone else? I'm not going to approach a project the same way that say Bill Gates would approach a project. I am however going to come at it with my own experiences, knowledge, beliefs and creative ideas. It's going to sound cheesy, but only you can be you. Don't try to be someone else. Elle Woods is always herself, throughout the entire film, and you know what? She succeeds at her case through being exactly who she is and playing up her strengths while downplaying her weaknesses.
5. Pay Compliments to Team Members
How many times have you told someone they are doing a good job when they've done so? It's important that team members have a good relationship with one another. One of the things that makes Elle such a likeable character is that even though she has reason to be snotty toward Vivian, she's nice toward her. Elle always goes out of her way to make each person she is working with on the case feel special. That's a great thing! People will work harder if they feel their work is recognized and their efforts are validated. What are you waiting for? Recognize accomplishments, even small ones.
6. Mind the Books - Manage Risk by Knowing What's Out There
What happens when Elle takes something on? When she's struggling, the first thing she does is gather a ton of books and begins to read. When you take on a project, it's absolutely important that you've done your homework. Know what's at stake, and know what you're going to do if something goes wrong. What steps will you take in order to get your project back on track?
7. Dream Big, Keep the Scope Manageable
When managing projects, it is important to ensure that the project scope is always kept manageable. Elle dreams big. She wants to go to Harvard. She wants to do well in school. By keeping the scope for each phase of her education limited to what she wants to accomplish and nothing else, she is able to do so successfully. If when she was applying to school she was also thinking "And, I want to become the greatest fashion designer ever there was!" then she may have become distracted and the steps to take to complete her project would have been amorphous.
8. Meet Others Where They're At
It's not enough to get along with others. If you're going to lead well, it's also important that you meet others where they're at. In the sequel, Legally Blonde 2, Elle is able to get people to see her point of view by meeting them where they're at. She takes her dog to a dog grooming place where another important player is; she goes to a beauty salon with a key player; she finds common interests and works her angles. It's not enough to tell others what to do. You have to speak to them on a level that resonates with their own goals and experiences.
9. In the End, It Takes Team Membership
Finally, in both movies, Elle's success depends heavily on her ability to work in a team. No man or woman is an island, and when people work hard to create a team, and that team is nurtured, then higher levels of accomplishment are possible. No matter what the composition of your team is, it's important to remember that each person has a certain set of skills, knowledge, and experience that he or she brings to the table. When people are woven together in a team, and individual strengths are built upon, anything is possible.
When you watch movies, see if you can catch things you can incorporate in your daily life. For me, Legally Blonde is an inspiration. It's a story about a woman who has a dream and follows that dream despite all of the challenges she faces. When I was looking at the movie one night while beginning to break a project down into component parts, I realized, that it was more than a fun feel-good movie, it had some great lessons that could be added to my project management tool box. What movies have you watched that not only inspired you, but also taught you new ways to do old things?
References