Free Template for Sexual Harassment and Discrimination Policies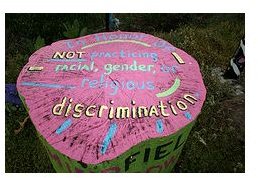 Why You Need Them
Every business is required by law to have both a discrimination and sexual harassment policy. These policies must also include what managers will do if a co-worker, team member or subordinate feels they have been discriminated against or sexually harassed.
Title VII of the Civil Rights Act forbids discrimination in the workplace including race, sex, age, religion, national origin and people with disabilities. The Equal Employment Opportunity Commission or EEOC governs both discrimination and sexual harassment in the workplace. The EEOC defines sexual harassment as unwelcome sexual advances, request for sexual favors and other verbal or physical conduct of a sexual nature.
If you're a project manager, take the time to become familiar with both discrimination and sexual harassment explained in Project Manager Tips for Discrimination and Sexual Harassment.
Beyond these policies being the law, most insurance companies require that a written discrimination and sexual harassment policy are in place before a company obtains liability, workman's compensation insurance and other types of coverage depending upon your business.
Failing to provide effective policies and procedures could place project managers in a tough spot if an incident occurs. A good and well-written policy will not only define what discrimination and sexual harassment are, they should also include steps and guides on what project managers can do if an incident does occur.
How to Begin
Many human resource management companies can find online sites that offer templates on sexual harassment and discrimination policies, seminar training or an offer to design policies dedicated to your workplace. While these are good tools, in these days of a tough economy and cutting down on expenses, project managers can write these policies on their own with some free help.
To begin start by visiting the EEOC website for steps on what you need to include in your policies. The EEOC offers policy guidelines as well as free posters outlining the government's stance on these policies. Most of the EEOC posters can also be found at your local Department of Labor office.
Next, call the insurance company that issued your business insurance policy. Almost all reputable insurance companies have sample policies and guidelines at no cost to their policy holders.
Finally, try networking to see what other project mangers in other offices are doing. Do they have a policy they are willing to share with you? If so, take advantage of the offer.
Important Tips
When writing your discrimination or sexual harassment policy, keep these tips in mind:
Definition - Clearly define discrimination and sexual harassment. Use easy to understand language that all employees and co-workers will be able to understand.
Complaint procedures - This is essential. If any co-worker feels they have become a victim, provide a good set of procedures on where and whom they can turn to and be sure to include complaint forms.
Keep it uniform - Make one department head, usually your human resources department head or supervisor in charge of receiving and investigating complaints. A project manager may receive a complaint and should listen; however, the project manager should direct the co-worker to the designated department. If you are a supervisor or project manager and a co-worker comes to you with a complaint, offer to escort the co-worker to the correct department head as designated in your policy.
No retaliation - Employees must feel safe that if they do feel victimized and want to report an incident, they will not lose their job or have personal or sensitive issues discussed around the workplace. Make these statements part of your policy.
Investigation and outcome - Your policies should include how each incident will be investigated and what will happen at the outcome of the investigation.
Documentation - Include documentation or incident forms for both discrimination and sexual harassment.
Other resources - Offer to employees other resources such as the local Department of Labor or other state or government agency including telephone numbers, email addresses or physical address. These are important to include if a person wants to make a complaint but don't feel safe reporting to anyone within the company.
Take it seriously - Discrimination and sexual harassment are not a joke and unfortunately, your team members may find themselves a victim with no where to turn. Take every complaint seriously.
For more information on how to write effective policies that protect everyone, there are two great templates on both sexual harassment and discrimination in our Project Management Media Gallery.