A Review of the Top 3 Customer Resource Management Systems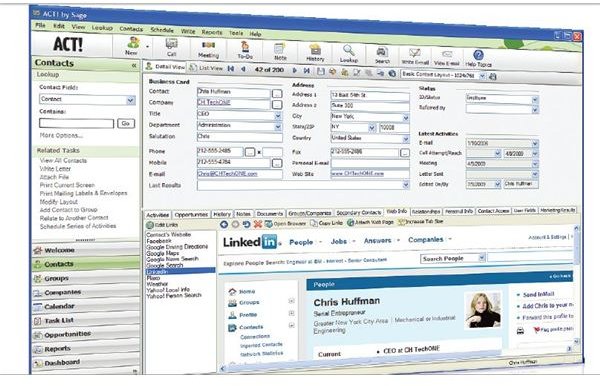 What Is a Customer Management System?
A customer resource management (CRM) system can be as simple as creating a spreadsheet in Excel with customer info and notes, or you can explore some of the featured packed software that does a lot more. Some of the newer software packages for customer management include features like marketing and tracking your customers, and even the ability to keep contract information handy via smartphones. There are even integrated packages that include online tools if you want to access a customer's social networking website.
In researching this article on customer resource management systems, I thought first what I would want most out of a customer tracking software package and viewed a few demos to touch and see how the software worked. Here, are my top three picks:
ACT! by Sage (3 out of 5)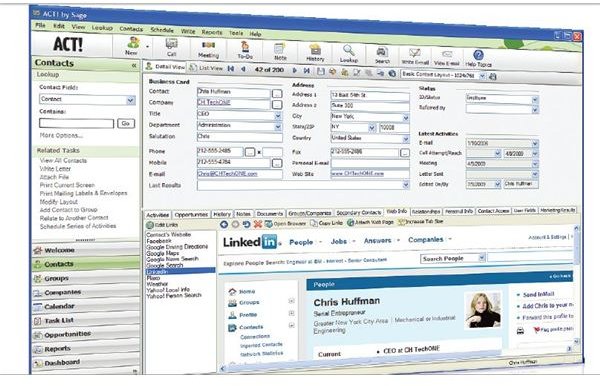 ACT! Contact & Customer Manager comes in one of my favorites and is priced nicely at around $200 (but only if you're needs are small). The demo I viewed showed basic customer tracking features like contact info and a notes section but also included what they call a "bird's eye view of your entire customer base." You can keep track of conversations; contracts you've negotiated, proposals submitted and even link to your customers on social networking sites like Facebook and LinkedIn. Charts and graphs are available for summary reports or market research.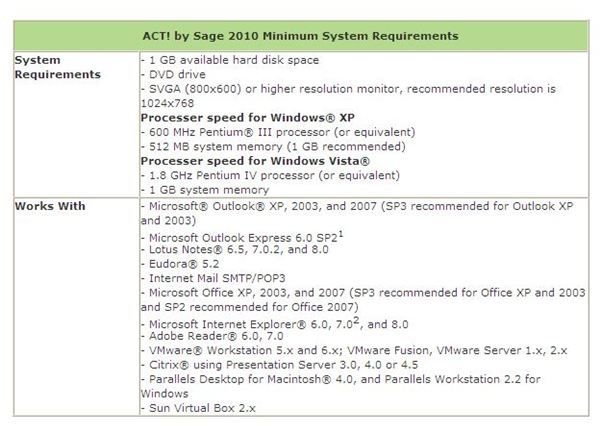 ACT! also comes in a premium version, which is priced higher at approximately $340 and the screenshot to the left shows system requirements (click to enlarge). It works with Windows Vista and XP and uses 1GB of hard disk space. One license comes with the base program; to add up to five users, you need to purchase more licenses which can get expensive. The premium version offers a larger scalability for entire sales team reporting.
They offer a handy brochure download that outlines all the features in both the basic and premium packages as well as the newly released corporate Contact & Customer Manager. I like their "big easy buttons" and tab features; they're very user friendly, and the duplicate name and record tracker is top of the line. Finally, the "last communication" feature offers fast access if your customer calls you and you need info fast.
I wish Sage would offer some sort of free customer support other than the 30 day norm; you can purchase ACT! Advantage, for around $300 that provides one year of free support, however.
Salesforce Contact Manager (5 out of 5)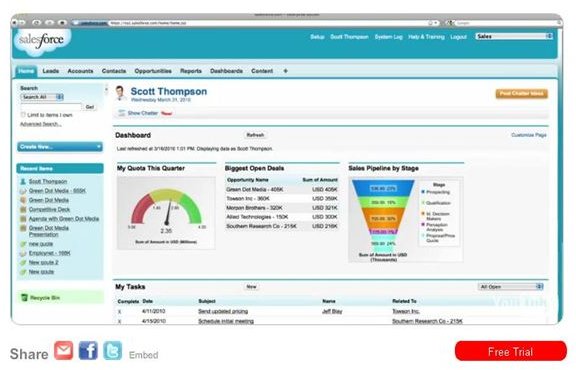 Salesforce offers a variety of customer resource management system solutions including Contact Manager. Think no software here, as this customer tracking system is web-based and can interact with all social media networks and has smartphone communication capabilities. They offer five levels of what they call their "no software Sales Cloud" group. Because this is web-based, there's no need to purchase software and prices are based on the package level and amount of users.
Their base Contact Manager is only $5 per user, per month and allows for customer tracking, integrates with Google Apps, document sharing and works with any email. Higher levels include more features such as Analytics and an AppExchange store that allows you to search and use hundreds of sales app features to improve your sales revenues.
The marketing and inter-office collaboration tools are nice and it's easy to contact a customer, offer a quote and turn that quote into an invoice all via email. The best value is their Enterprise Level that includes options for both the salesperson and sales manager including performance reports and expected commissions and will run you $125 per user, per month. The interactive Enterprise CRM is great for managers to set goals and territories, assign customers, and track lost sales.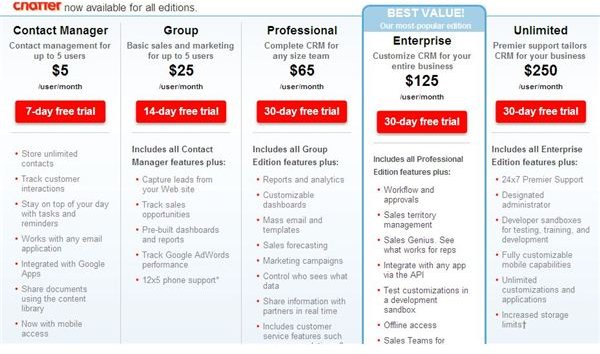 I enjoyed the demo and your position within the company allows you to design dashboards and set access levels. It can pull leads from your website or by using Google Adwords and even displays customer location via Google Maps.
The collaboration feature has to be the best I've seen and reminds me of a Facebook page where everyone on any given sales team can join in, offer suggestions, or follow up on a comment left by a supervisor or co-worker. If you're looking for a no-software CRM solution, Contact Manager is a great choice with online support that you don't have to buy.
Please click on Page 2 to read about Microsoft's customer resource management system–Dynamics and to find out my botton line on CRM solutions.
Microsoft Dynamics CRM (4 out of 5)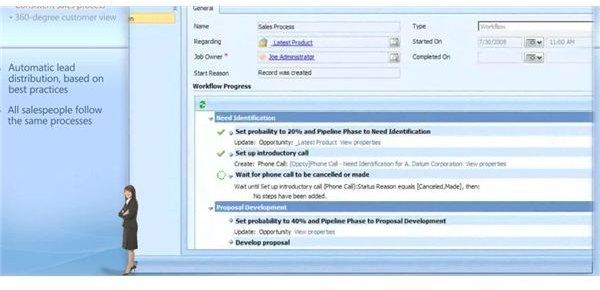 If you've already upgraded to Windows 7, you can find great CRM software right from Microsoft—their Dynamics CRM solution. The nice feature of Dynamics is that your sales team will be using programs they already know such as Outlook, Excel and Word.
The license for 5 users doesn't come cheap at around $2,500 but the demo showed cool collaboration tools as well as management access-only tools to improve selling and shorten sales cycles by offering up the best practices of top sales teams.
Think not just software here, but working with a CRM solution that tracks leads, creates sales proposals, and can turn those proposals into orders; all via email-type formats. This CRM works on Internet Explorer 6 or higher and while I find the demo interesting, if you already have Excel, Outlook and Word, why not incorporate all these yourself and build a collaborative CRM tool that everyone can access on your own?
If the point of customer resource management systems is to sell more, shorten the sales cycle, and keep track of customers, I suppose Dynamics can do this and like Salesforce, I like how managers and teams and even CEOs can have access to different dashboards, but this CRM solution is very pricey.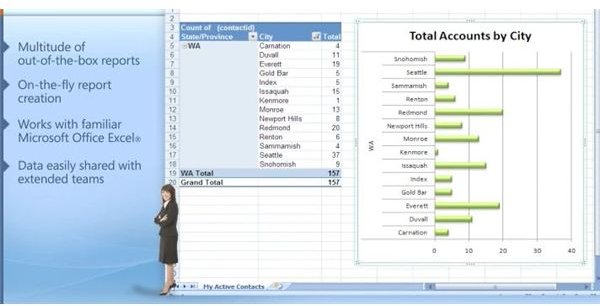 The Dynamics brochure offers as much information as the demo (that you have to download and then delete if you don't want it on your hard drive).
Because I have a sales team, my first thought would be how to incorporate the cost of this CRM solution into my cost of sales, but if you really break it down, you're not buying something every month and free updates come with the one-time license purchase. In the end, if you have time for customization, Dynamics would probably be the easiest to learn and train your team on, but again, some of the other CRM solutions come in with nifty designs, big buttons, and cool features where Microsoft falls flat in this area.
The Bottom Line on CRM Systems
There are tons of customer resource management services out there, both web-based and software-based. As far as the bottom line on which one is best, if sales are your lifeblood and your sales team falls short time and time again, I'd take the time and try the free 30-day demos for all of these CRM solutions. See what they have to offer and really play around with the program to see which one works best for your needs and then make a decision to purchase.
Essentially, when it comes to any software, I really like to see, feel, and touch it and often my decisions are based on whether I think my sales staff will even use it. That's why my top pick goes to Salesforce, because that's one CRM solution I know my employees would utilize.
Sreenshots by Author:
Act! (https://www.act.com/)
Salesforce (https://www.salesforce.com/)
Microsoft Dynamics (https://crm.dynamics.com/en-us/Default.aspx)