Introduction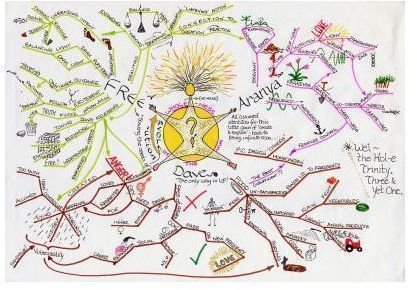 Using the mind mapping technique to draw diagrams that reflect project activities typically allows a project manager to quickly show project relationships to stakeholders. Project managers can develop mind maps that define roles and responsibilities, describe alternative project approaches, list project outcome features and provide project status. Particularly when the project manager and stakeholders do not share a common primary language, using pictures and symbols helps convey key project data in a format understood by all.
Create a Mind Map of Project Objectives
During all phases of a project life cycle, but particularly during the initial planning stages, project managers need to communicate well with all stakeholders. Using mind mapping as a strategy to get approval from people who can impact the project outcome, project managers can begin by drawing a diagram that lists the project objectives. She can then validate it with the stakeholders. Displaying this picture prominently in the office space or on the project team's intranet website keeps the team focused.
Display Project Milestones and Stakeholder Review Commitments
To ensure timely reviews of project output, such as business and functional requirements, project managers need to ensure stakeholders commit to providing input in prompt manner. By providing a visual representation of the project timeline as a mind map and the associated review milestones, the project manager can clearly show the stakeholders know when their input is required. Stressing the importance of avoiding missed deadlines (due to lack of a stakeholder's response) typically has more impact when displayed as a picture, with the appropriate colors, such as red or yellow to indicate a warning, and symbols, such as stop or danger signs.
Define Project Risks and Mitigation Plans
Stakeholders care about project risks and the project manager's plans to handle any event that impact the project. Clarifying the probability of such events as well as the possible alternatives, solutions or mitigation activities can be clearly defined using a mind map. The visual depiction allows a project manager to quickly give a busy stakeholder an overview that can instill confidence in the project team.
Summarize Project Needs
Project teams can summarize complex project needs, such as hardware and software required to complete project tasks. Using a mind map, a project manager can quickly convey what's required of stakeholders as well as the impact of not getting the necessary resources allocated to the project so the team can achieve project goals as defined. Other project problems can be visually depicted as well, listing the cause and effect of issues, such as supplier delays or product defects. Developing mind maps with stakeholders (as an interactive team building exercise to show the relationship of ongoing project needs) can reinforce the need for all to remain invested in the project to ensure its success and quality.
Conclusion
Project managers can use these tips for stakeholder mind mapping activities as part of their overall project communication planning strategy. Using pictures to represent project goals, status and background information usually helps clarify complex scenarios. Using mind mapping to facilitate effective communication with stakeholders can help the project manager and her team ensure a successful project outcome.
References and Image Credit
Image Credit: Guru Mindmap (https://commons.wikimedia.org/wiki/File:Guru_Mindmap.jpg) "Innovation Tools.
"Innovation Tools. https://www.innovationtools.com/Articles/ArticleDetails.asp?a=148 (accessed November 5, 2010).
"Learn how to draw Mind Maps – MindMaps, Note Taking Skills and Techniques, and Reviews of Mind Mapping Software from MindTools.com." Mind Tools – Management Training, Leadership Training and Career Training – Right Here, Right Now.. https://www.mindtools.com/pages/article/newISS_01.htm (accessed November 5, 2010).
"SmartDraw." SmartDraw. https://www.smartdraw.com/ (accessed November 5, 2010).
"ThinkBuzan – Official Mind Mapping software by Tony Buzan." ThinkBuzan – Official Mind Mapping software by Tony Buzan. https://www.thinkbuzan.com/uk/home (accessed November 5, 2010).