Best Web Sources to Find Samples of Risk Registers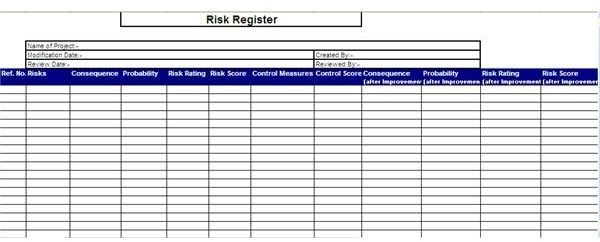 Every project has its inherent risks, and just like other aspects of a project, risk management becomes an integral part of project management. Over the years, lots of risk management assessment tools have emerged, but what still stands as the best way of maintaining a detailed log of project risks is the risk register. For most projects, the risk register alone may be sufficient for recording and prioritizing risks.
Where to Find Samples of Risk Register?
The kind and intensity of risks vary from one project to another. Accordingly, the same risk register format may not work well for every project. If you want to download free samples of risk register – whether to use them directly or to use them for designing
your own unique format of a risk register, here's a list of the three best internet sources that you can use to download free samples.
DocStoc (www.docstoc.com)
This web source has a couple of different risk register samples available in Excel, Word and PDF formats. Searching for 'risk register' using the internal search bar of the website will leave you with over a dozen risk register samples to choose from. However, if you wish to download the risk register templates, remember that while most samples are free to download and use, the ones listed as premium content can be downloaded only for a price. Just in case, you decide to buy one of the premium samples or templates the procedure is simple and you don't need to create a login – this site allows you to login using your facebook account. Nevertheless, the free ones are worth a try before you settle on buying one from the premium range.
EXINFM (www.exinfm.com)
This site is another good source of free samples of risk register, although the number of samples available is not as much as can be found on the above mentioned source. Nonetheless, the templates available, mostly in excel, are quite usable and can be used without the need for any modifications. These samples can be found in the excel spreadsheets category under the resources menu. On this page, there is a long list of links to various project management and financial management templates and its best to locate the links manually than using the search bar.
Community Central (www.continuitycentral.com)
This web-resource offers a multitude of business management tools and templates, and the risk register can be downloaded from here. This Excel spreadsheet has many risk management tools in a single workbook, and will prove beneficial for those who're new to risk management. Even though it's fairly simple to use, it still contains instructions on how to use it.
Even though a risk register seems like a simple record of the tentative risks that can retard the execution of a project, preparing one in advance ensures that the risks can be control efficiently as and when they crop up. The effectiveness of this risk management tool depends on how comprehensive the risk register format is. The web sources for samples of risk registers, provided in this article, will help in designing a more complete and a more appropriate risk register format. In addition to the above mentioned sources, a sample of a risk register can also be downloaded from Bright Hub's media gallery.
Screenshot by: Sidharth Thakur
This post is part of the series: Risk Management - Tools and Techniques
Here's a series of articles that discuss some of the best tools and techniques used for risk management in the field of project management.