How to Test Disaster Recovery Plans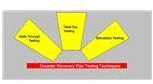 Even if you've burnt the midnight oil on preparing a disaster recovery plan, you can still never be sure about its success – until you've tested it. So, here are some practical ways that will teach you how to test disaster recovery plans.
Techniques to Test Disaster Recovery Plans
Even the most carefully planned disaster recovery plans can fall back, so if you've made a comprehensive plan, your job is still not over until the plan has been tested for its effectiveness and feasibility. You can use one or a combination of the below mentioned techniques for testing your disaster recovery plan.
Walk Through Testing Technique
The walk through technique for testing disaster recovery plans involves reading out the plan to all the project team members who will be involved with the recovery plan. All members should be encouraged to put forth their questions and concerns. Each and every aspect and stage of the disaster recovery plan should be discussed at length. Decision trees which delineate the actions and decisions involved with each activity, can be readjusted upon receiving suggestions from the actual persons who will be responsible for executing those activities. An added advantage of this technique is that all the members become aware of their roles in the recovery plan.
Tabletop Testing Technique
In this technique the idea is to stage the disaster scenarios in a discussion room so as to stir up the team members to act and react as they would in a real life situation. The reactions and the arguments that result from putting the team members in unexpected situations will reveal the unfilled gaps, which have not been addressed in the plan. For the best results, none of the team members should be already aware of the scenarios beforehand. Spontaneity is the key to using this technique for testing disaster recovery plans. This technique also helps in identifying team members who can lead in such situations and they can then be assigned important roles in the actual recovery plan.
Simulation Testing
Simulation testing involves creating small real life situations on the actual work floor to observe how the team members react and how effective are the solutions outlined in the recovery plan. Simulation should be carried out in such a way that the scenarios created do not disrupt the regular process of the project while they still seem and feel real situations. Creating simulated environments brings out more genuine reactions from the team members. Any issues that were inadequately addressed will get highlighted during simulation. The simulated scenarios must be completely controllable so that even if the recovery plan seems to be failing, the situation can be restored back to normal without causing any significant damage. It's also important that higher level management is informed about when and how the simulation exercises will be executed, along with information on the time or resources that may become unproductive while the simulation test is on.
There are several other techniques that can be used to learn how to test disaster recovery plans; however, most of them are nothing but altered versions of these three basic techniques. The main motive behind this testing is to evaluate how feasible and how workable the recovery plan is. Thus, disaster recovery testing should focus on details so as to unearth loopholes in the basic recovery plan. Also when subjecting your disaster recovery plan to a test, do remember to define how success will be measured.
Image by: Sidharth Thakur
This post is part of the series: Disaster Recovery Planning for Projects
This series of articles focuses on disaster recovery planning for projects.