Free Downloadable Template: A Plan for Crisis Management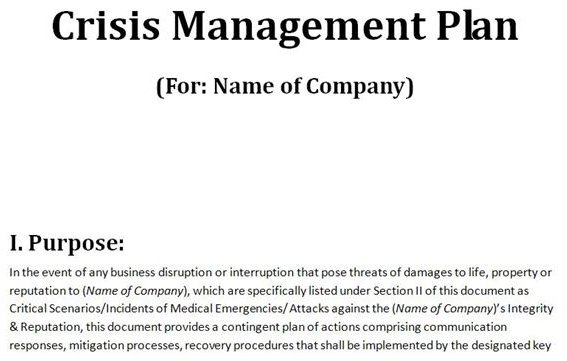 Planning for the Worst
Here you will find an MS Word template for managing crises. As we provide the basic guidelines on how to accomplish the template, you will acquire more insights into and explanations about the contents of such a plan. The pointers on how to complete the template below furnish basic information pertaining to each essential element in a crisis contingency plan.
Basic Guidelines for Crisis Management Plan Template
Name of Company – Replace all italicized captions stated as such, with the user's official company or business name.
I. Purpose
Replace all italicized captions (Name of Company) under this section with the user's official company or business name. Do not forget to remove all parentheses as well.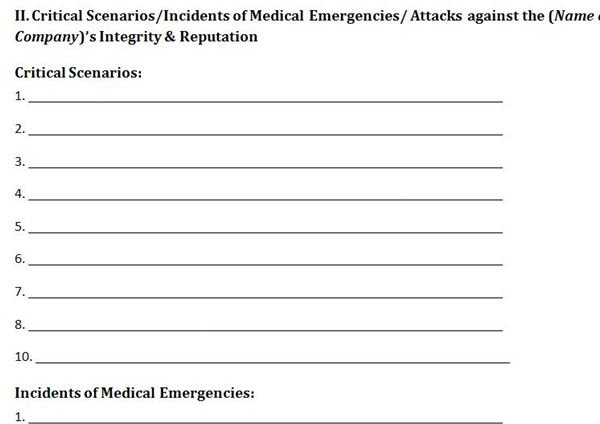 II. Critical Scenarios/Incidents of Medical Emergencies/Attacks against the (Name of Company)'s Integrity & Reputation
After careful risk management assessments, list all risks related to the user's company regardless if they are inherent or perceived, known or unknown, or those which pertain to credit, financial, operational or environmental situations, for as long as they have been assessed to pose threats against life, property, and the reputation of the company.
Critical Scenarios – include situations that are affected by natural or man-made critical situations such as the occurrence of natural calamities, fire, theft, white-collar fraud, terrorist attacks, violation of federal laws with threats of closure or suspension, incarceration, and payment of substantial fines.
Incidents of Medical Emergencies – comprising incidents of food poisoning during company-held events or on any known premises to which the company's name is associated as the main provider. Other examples of medical emergencies include near-drowning incidents, spread of diseases, biological threats, and other similar incidents in premises or venues where the company's name is associated as the provider for the event being held.
Attacks against the (Name of Company)'s Integrity & Reputation – Critical situations include but are not limited to:
Reckless media publications of unfounded opinions;
Malicious pranks or intentional attempts to discredit the good name and reputation of the company;
Negative publicities arising from lawsuit and other legal debacles;
Negative propaganda or calls for boycott against the company; and
Illicit or illegal activities of the company's key officials that may cast doubts on the integrity and financial capacity of the company.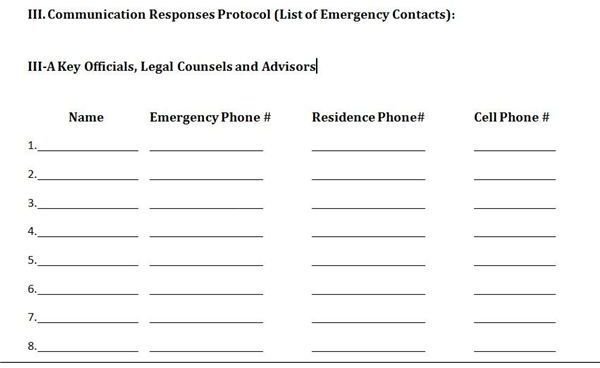 III. Communication Responses Protocol (List of Emergency Contacts)
Indicate the name, the position, the profession, the role (team leader or team member), the services, supplies, tools, equipment, and technology provided. It should be clear to all the users of the crisis management plan that the chain of communication and command should always begin from the person who is indicated as the number one (1) in the list.
Examples of service providers include medical specializations, technological expertise, heavy equipment, or those that can provide additional manpower resources. Technological expertise, tools, and equipment refer to those with high-tech capabilities or those that are computer-aided and are not readily available in the market.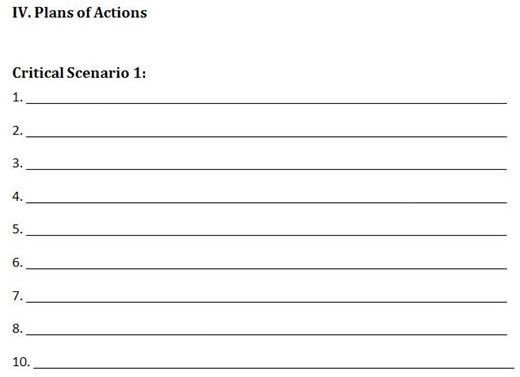 IV. Action Plans
The contents of this section are categorized according to the provisions of Section II of this document. An action plan does not necessitate the details or step-by-step descriptions but they will only serve as overviews of mitigation, communication, and recovery responses or strategies and techniques.
These are courses of actions that have been previously deliberated as the most sensible and feasible acts that can be performed within the boundaries of what are legal, ethical, and moral and where results can be derived in the shortest time possible and without considerations for cost or sacrifice of safety and quality.
This free Crisis Management Plan Template, presented as a Word document, can be downloaded at Bright Hub's Project Management Media Gallery Post under the same title.
Note:
The 17-page crisis management plan template is provided for free by Bright Hub and can be modified in any way by its users. However, it is not provided for commercial or for resale or any for-profit purposes but only as a free and downloadable form to be used according to the guidelines provided in this article
Read More About It - Right Here on Bright Hub
You may refer to a separate article entitled Basic Outline for a Crisis Management Plan in order to gain perspectives on the basics of crisis management. In addition, another article entitled Sample Crisis Management Plan for a Wedding Event illustrates some examples of critical event scenarios and their corresponding action plans.
If you're looking for more sample forms and downloadable templates, check out Bright Hub's resource guide Over 50 Free Project Management Templates and Sample Forms.
References