Free Disaster Recovery Plan Template for Project Managers and Business Owners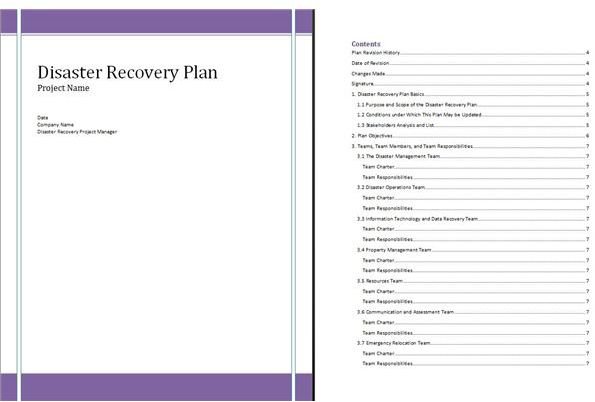 Why Should You Create a Disaster Recovery Plan?
You should always create a disaster recovery plan for your company and for complex projects. By creating a disaster recovery plan, you can be sure that your employees and project team members will be familiar with the protocol should things go awry.
While a risk management plan focuses only on things that can go wrong within a project, a disaster recovery plan focuses on things that can go wrong at any time, and that affect the project, company, and more. It is important that all employees understand what their role in the company will be in circumventing the effects of a disaster.
By taking the time to put together a recovery plan before disaster strikes, companies can save time and money that would be otherwise lost in organizing recovery efforts. I have created a free disaster recovery plan template and made it available for your use and download in the media gallery.
1. Table of Contents and Revision History
This section of the disaster recovery plan is pretty straightforward. The table of contents can be updated once the plan has been completed. It's important to include such a page (or pages) because that way those reading the plan can turn to the page that is specifically applicable to their needs.
The revision history should be kept updated. This way, someone can look at the document and determine what revision they are looking at and whether they have already read it. If you also keep a list of changes with page numbers, then employees who have already read the disaster recovery plan can easily review the changes.
2. Disaster Recovery Plan Basics - The Introduction and Overview
The next section of your disaster recovery plan will provide an overview of the entire disaster recovery plan. In this section, you will need to state the scope of the plan and the purpose of creating the plan. Even though it seems obvious what the scope of your disaster recovery plan is, specifically defining the scope helps you to clarify focus. If the scope of your plan is to outline the procedures for recovering your company's projects after a disaster, it will vary slightly than if your plan's scope focuses on safety of individuals and data.
The scope isn't the only thing that will be treated in this section of your disaster recovery plan. Additionally, conditions for altering the disaster recover plan need to be outlined, and a stakeholder analysis and list of those who need to be informed should be provided. This third section of the introduction tends to be the part that is updated most often.
In section three, you will list the plan objectives as bullet points. This is important as having clear objectives makes it much easier to communicate the most important parts for recovery from a disaster. If you like, you can rank the plan objectives in terms of importance. Just make note that you have done so.
3. All Things Team
Next you will need to discuss the different teams for the disaster recovery. Teams may include disaster management, operations, data recovery, property, resources, communication and relocation groups. After giving a brief overview of each group and the team leaders, you will then list the responsibilities for each team and create a team charter that explains the purpose of the team. It's important to divvy up the work between teams that are each focused on a specific spectrum of work. For each disaster recovery team, you will also want to have a scope defining what membership in that team involves.
4. Protocol During the Disaster and Immediately Following the Disaster
Another key element in drawing up a disaster recovery plan is putting together the protocol that employees should follow during the course of a disaster. You will need to outline the steps employees should take during the disaster to prevent harm to themselves, data, and equipment (of course with personal safety being the first priority). In addition to outlining the steps that should be taken in the event of a disaster, it is important to also give protocol for first responders to the disaster. What are the priorities. If one has to choose between two equally bad outcomes or equally good outcomes, what does one choose?
Finally, this section will also outline the necessary first steps to disaster recovery. It is important that individuals know what to do immediately after the disaster has occurred.
5. Disaster Scenarios and Actions Leading to Recovery
Once the immediate needs are taken care of when it comes to disaster recovery, then the more in-depth processes need to be handled. In these sections, protocol for each type of potential disaster is outlined, and the team responsibilities in the advent of a disaster are outlined. When writing the data recovery plan, the following must be taken into account:
What to do in case of a minor disaster
What to do in case of a major disaster
What members are on which teams
What is the recovery timetable for each team? (i.e. what should be done within a few hours, 24 hours, two days, a week, etc.)
6. Developing a Communication Plan
Another important component of your disaster recovery plan involves the development of a disaster communication plan. Developing a communication plan for the disaster is vital because it provides all employees with a chain of command. Additionally, in this section of the document, you should establish a temporary meeting facility and the responsibilities for team members when it comes to communication about the disaster and the recovery process.
7. Data Storage, the Backup Facility, and Inventory
The final sections of the disaster recovery plan include plans for data storage (and recovery), a backup facility, and inventory of all company resources and supplies. The inventory is for insurance purposes - it's important that you know what to tell insurance carriers what was damaged, destroyed, and lost during the disaster.
Finally, once you have everything together, it's important to test your plan. Make sure you run disaster preparedness drills to ensure that everyone knows what to do in the event of a disaster. It's better to be prepared and have nothing happen than it is to be unprepared and have everything fall apart.
References:
Wold, G. "Disaster Recovery Planning Process." Disaster Recovery Journal. https://www.drj.com/new2dr/w2_002.htm
Image depicting disaster recovery plan template courtesy of Ronda Roberts Levine