Top 5 Distance Learning Six Sigma Training Programs Online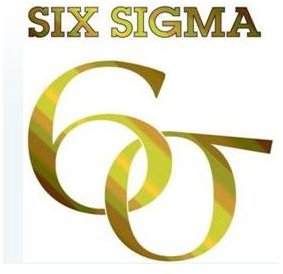 Why Is Six Sigma So Popular?
The project management methodology that is Six Sigma has surpassed some of its counterparts including Total Quality Management. Some project management experts recommend the DMAIC (define, measure, analyze, improve, and control), where others prefer the DMEDI (define, measure, explore, develop, and implement). Still, others prefer the DMADV method (define, measure, analyze, design, and verify).
In essence the methodology can easily be adapted to almost any project or workplace environment; hence its popularity. For those of us who want to learn more about Six Sigma and receive certifications in this methodology online, which distance learning Six Sigma training centers offer the best of the best?
Top 5 Online Six Sigma Education Centers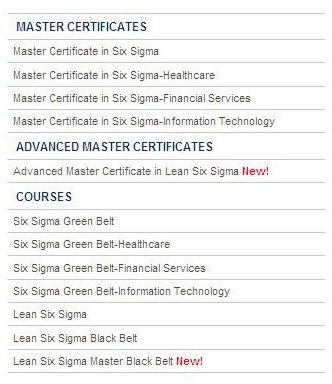 To help you narrow your search, we've done some of the research for you. Here are five of the best Six Sigma distance learning centers:
Villanova University – This University is becoming so popular for its Six Sigma distance learning, most likely because it offers so many programs—all online. Along with basic Six Sigma certificates for all levels, they also offer a wide range of Six Sigma certifications in Finance, the Health Care Industry, and Information Technology. The screenshot to the right (click to enlarge view) shows all the Six Sigma online training Villanova offers. Their basic Six Sigma Master Certificate programs include three courses; Six Sigma Green Belt, Lean Six Sigma, and Lean Six Sigma Black Belt for a price of $6,995. All of their master programs are similar in the three-course offering format and price. Individual courses from Green Belt to Master Belt range from $1,980 to $2,980. All of their courses offer a course description in a .pdf download that explores what you'll learn in depth.
Aveta Business Institute – Another of the top online Six Sigma educators is Aveta. Promoted as an at-your-own-pace program, Aveta puts a focus on the busy professional in their Yellow, Green, and Black Belt certification programs. Prices range from approximately $400 to $1,100 depending on the course and if you include their recommended textbook. Before enrolling, read their Certification Requirements or take a tour of their virtual classroom.
Motorola – In conjunction with LearnGauge, Motorola, the innovator of Six Sigma, offers an online Green Belt program that takes approximately 40-50 hours to complete. The cost is $1,995 for the program itself and an optional $400 to receive certification status. Download their course information and learn how this intense distance learning Six Sigma training program includes quizzes, realistic, yet challenging scenarios, and MINITAB Software Solutions.
Expert Training – Perhaps not as intense and more affordable than some other online Six Sigma programs, Expert Training offers two Six Sigma certificate courses, the Green Belt at $99.99 and the Black Belt program at approximately $200. Courses are textbook oriented designed by experienced Six Sigma Masters.
6 Sigma US – Our final of the top five distance learning Six Sigma training centers is 6 Sigma US. They offer both Green and Black Belt Certifications with an emphasis on utilizing MINITAB Software and for a small fee of only $20, you can explore their online programs in depth. Prices range from $1,500 to $1,995, but it's recommended to view their online course catalog to determine what course is right for your Six Sigma career path. Completion of courses from 6 Sigma US guarantees one year of online support.
With the popularity of Six Sigma and Lean Six Sigma growing, along with these top five online educations centers, you'll also find many more traditional universities that offer distance learning Six Sigma training. The trick to finding the best one is to explore each organization's programs, additional support areas, course information, price, and prior student reviews.
Image Credits:
Screenshot Motorola Six Sigma (https://www.motorola.com/Business/US-EN/Motorola+University/Six+Sigma+Online+Training/Online_Training_eGreen_Belt_US-EN)
_Screenshot Villanova Course Offerings (https://www.villanovau.com/online-certificates/six-sigma.aspx)_