Learn How to Build a Mind Map in Open Office in This Helpful Tutorial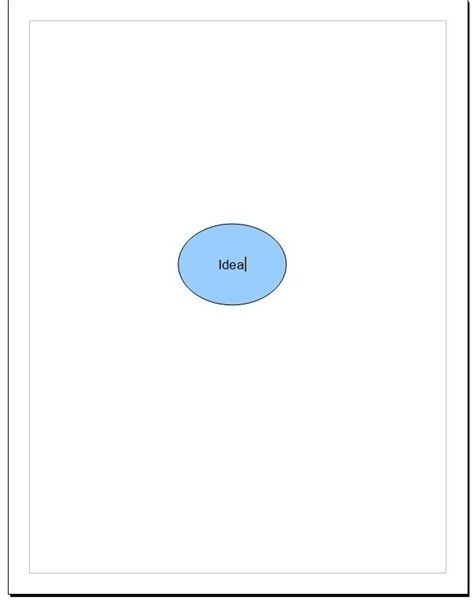 What is a Mind Map and Why Should I Create One?
Put simply, a mind map is a system which graphically represents the interrelationships between multiple items when you undertake a task such as brainstorming. In the days before mind mapping software was readily available, white boards, chalkboards, and paper were commonly used as the media for producing mind maps. Mind maps aren't just handy for creating visual representations of brainstorming activities though. You can also use a mind map to visually orchestrate projects, demonstrate flowcharts of processes, and determine what the best course of action ought to be for your quality improvement project.
The great thing about mind maps is that even though there is mind map specific software out there that can help you to create professional looking mind-maps, you don't have to use such software to build your mind map. In fact, you can use a free software program: OpenOffice. In the rest of the article, you'll learn great strategies for how to build a mind map in OpenOffice.
Which OpenOffice Applications Should I Use to Create a Mind Map?
Perhaps one of the first questions you will have when wondering how to build a mind map in OpenOffice is which of the applications available in OpenOffice would be best for creating your mind map. For the purposes of this tutorial, I used OpenOffice's "Draw."
Once you've opened the application, you can begin to build your mind map. As you see in the example on the right, I started by placing an oval in the center and typed in "idea." I'm going to be building a brainstorming mind map, but you can build a flow chart, or even a work breakdown chart using the same principles you will learn in this tutorial.
Steps for Building a Mind Map in OpenOffice Draw

Now that you have a blank page staring back at you in Open Office's Draw, you can begin to build your mind map. The first thing you will need to do when building a brainstorming mind map is start in the center of the page using a circle with the main idea you are brainstorming about.
Select the ellipse tool. This tool is at the bottom of the screen, on the left hand side. Once you have selected this tool, determine the size you would like to make your center circle—you will want to make it large enough to contain the word or phrase you will be brainstorming about—and click and drag your mouse to create your ellipse.
Select the text tool. The text tool is the large "T" that is adjacent to the ellipse tool you just used. Select this tool, click in the center of the ellipse you just created, and type in the word or phrase you would like. In the example above, I used the word "idea."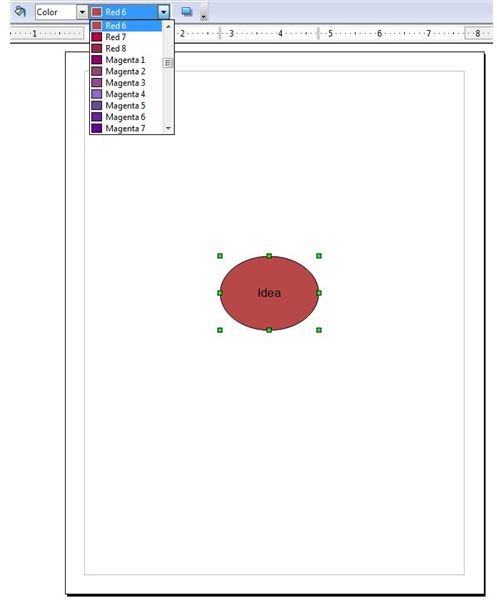 After these two steps, you will have a document that looks roughly like the sample above. If you do not like the default color for your ellipse, or the thickness of the border, or even the border color, it is easy to modify these aspects:
To change the color of the inside of the shape, click on the arrow for the drop down menu for the internal color at the top of the application page (see adjacent image). Select the color that you would prefer your shape to be from this menu and the program will display the new color.
To change the border thickness, look again at the toolbar from which you just selected the new interior color. To the left, you will see some other choices, there is another drop down menu that allows you to further customize the inside of the shape, then next to that there's a drop down menu that allows you to change the color of the border. Right next to that, you'll see a box that has "0.00" in it. This is what you will use to change the thickness of your border. Click the upper arrow to make the border thicker, or the lower arrow to make the border thinner. You can also change the border pattern. The straight line next to the border thickness box allows you to select a variety of border patterns.
Please continue reading on page 2 for the rest of this tutorial on building mind maps using OpenOffice.
Completing Your Mind Map inOpen Office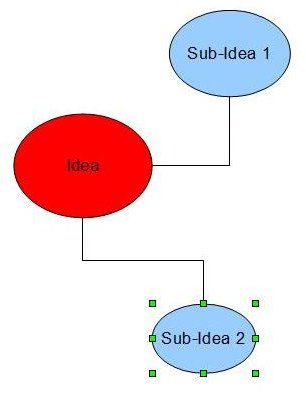 Now that you have your center ellipse the way you want it, you can begin to add your brainstorm bubbles. When learning how to build a mind map in Open Office, this will be your next step. To do this:
Select the ellipse tool again. Place your new ellipses where you would like them to appear in relationship to your main ellipses. Customize the color as you would like; the default color is blue. You may want to create your mind map with a different color for each idea level so that you can easily see the organizational structure of any given point on the mind map.
Select the text tool again. Place any text into the thought bubbles. If you are brainstorming as you go, be sure not to edit your ideas. Group related ideas together.
Select the connection tool. The connection tool is located on the bottom toolbar, two icons to the right from your text tool. Click and hold on one ellipse and then drag to connect one ellipse to another. The tool will automatically create a line from one bubble to the other. You will need to click on the desired tool each time you wish to use it.
Repeat until complete. Repeat the process multiple times until you have completed the construction of your mind map. When you are done, your mind map might look something like this: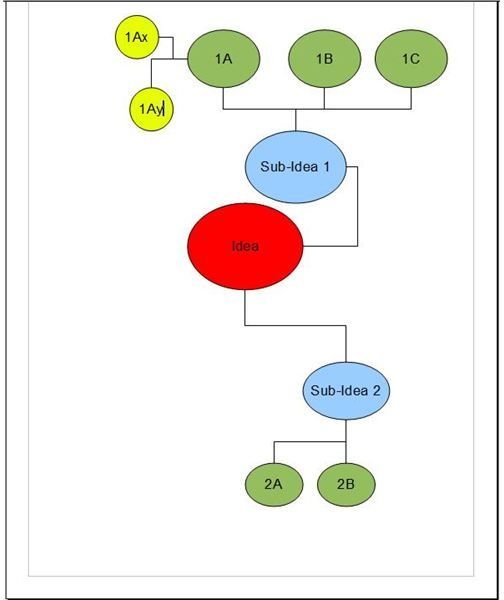 Advanced Notes on How to Build a Mind Map in OpenOffice
Mind maps are very useful tools for project managers. No doubt, you will want to create more advanced mind maps than the sample mind map we created during this tutorial. Luckily, OpenOffice has a variety of tools that will help you to change the look of your mind map to create something that not only looks professional, but that also that conveys the message you wish to get out there. Here are some tips for advanced ways you can use OpenOffice to create your mind maps.
Use different shapes to designate different types of items in your mind map. For example, on the bottom tool bar, you will find flowchart tools that you can use if you are mind mapping a flowchart. There are also symbols including stars, smiles, and block areas. Be consistent in your use of such items.
Don't be afraid to vary your text. When you select your text in the center of one of your mapped items, then you can change the text style, text size, and text color.
Make sure you leave yourself enough room so that your mind map doesn't become too crowded.
Add screenshots or images to your mind map in order to enhance the quality and the ease of understanding.
By taking time to learn how to build a mind map in OpenOffice, you can create professional looking charts and diagrams that depict your thoughts in a visual way.
Screenshots courtesy of Ronda Levine