Read a Webra Issue Tracker (WIT) Review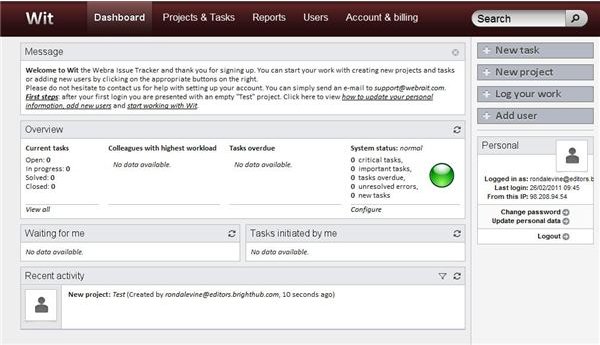 What Is Webra Issue Tracker (WIT)?
Webra Issue Tracker (WIT) is a project management tool for project managers who need to track issues within a project. The tool allows for project managers to both track issues that come up during the management process of projects and track the project itself. Additionally, WIT allows users to track time and communicate with team members securely. WIT is provided to subscribers online as an on-demand software service. Like many of the competing programs, WIT offers different subscription levels for potential users that are based upon consumer needs. What else does WIT do? Find out in this WIT review.
Installation and Setup (5 out of 5)
Like many competing programs, WIT boasts an incredibly easy installation and setup for its software. Sign up for the program - either through the free thirty-day trial period or through subscribing to one of the different plans. Once you've signed up, you will be taken to your company's page where you can add additional members and change your subscription details. Once you have the program up and running, it is fairly easy to input your project details.
Ease of Use (4 out of 5)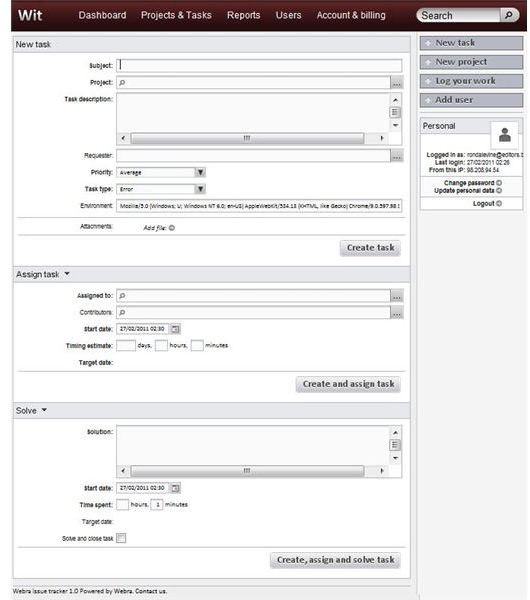 The great thing about WIT is that the program allows users to have the detail they need to track tasks and issues while still leaving you with an easy to use program. Many times, when it comes to project management software, you either get a program that is easy to use, but lacks the ability to capture details or you get a program that is robust, but lacks ease of use. With Webra Issues Tracker, you get a nice combination of both: details with ease of use. One of the ways the creators of this program were able to achieve this was through specializing on a particular project-associated need: issues tracking.
Features (4 out of 5)

Just because WIT is an issues tracking software doesn't mean it lacks a lot of nice features. This program allows users to have total control over issues tracking and tasks. In addition to tracking features, the program also allows users to create simple reports. The reports demonstrate the amount of time that was spent on each task and issue (remember that built-in time tracker?) Additionally, should a team member wish, she could print out the tasks she needs to take with her, so that she has a hard copy of the list.
Additionally, the program features strong security measures to protect your data. All of your data and payment information is encrypted using SSL. Finally, the creators of the program are committed to constantly updating features. Because the software is delivered to users on-demand, this means there is nothing to download should there be an update - it will automatically be available to you when you sign in.
Price to Value (3 out of 5)
The creators of Webra Issues Tracker offer 4 different subscription levels to their service:
Personal - $16/month - up to 5 users, unlimited clients, 100 open tasks, unlimited projects, storage up to 2 GB
Studio - $25/month - up to 20 users, unlimited clients, 300 open tasks, unlimited projects, storage up to 6 GB
Pro - $65/month - up to 50 users, unlimited clients, 600 open tasks, unlimited projects, storage up to 10 GB
Enterprise - $160/month - unlimited users, clients, tasks, projects storage up to 30 GB
As you can see, the pricing is in line with that of many other web-based subscription services. What makes this program competitive is the ability to have an unlimited number of clients (many of the programs put a cap on that) and an unlimited number of projects (also a cap is often placed on this).
User Support (3 out of 5)
As far as WIT goes, the user support is on par with other programs. Internal to the program, you have the help file that walks users through different aspects of the program. WIT also has a contact page and Web tutorials to help you get started using their program.
Is WIT for You?
WIT is for you if you need a software program that will allow you to track tasks, issues, and time all in one application. The program works well for small businesses and consultants as well as those on the enterprise level. The conclusion of this WIT review is that the biggest benefit of the program, in addition to allowing users unlimited clients and projects (making it a smart option for consultants and consulting firms), is the ability to have continuously updated software at your fingertips.
References
WIT - https://webrait.com/
Screenshots courtesy of Ronda Roberts Levine retrieved from https://www.webrait.com/tour