Top 12 Project Tracking Tools - Best Applications to Track Projects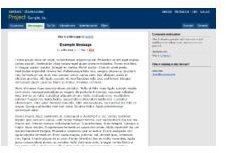 What Are the Best Applications to Track Projects?
Successful project management is to a large extent dependent on the tools that project professionals have at their disposal. Below is a collection of some of the best and most useful project tracking software applications, including both commercial and open source options. Some of these tools are full-featured project management solutions, others are suited to a specific task. All of them, however, are definitely worth checking out.
1. Basecamp
**
Basecamp is a versatile, web-based project management solution. It sports an incredibly easy-to-use, fully-featured user interface and is considered by many project professionals to be one of the best project management and collaboration platforms available. The service provides to-do lists, file sharing, message boards, milestones, and time tracking tools and supports an impressive collection of add-ons. Best of all, Basecamp is moderately priced, which puts it within the reach of smaller companies.
2. Microsoft Project
Microsoft's offering in the fray, MS Project 2007 is a well-known behemoth of a desktop project management software app. As expected, is MS Project integrates smoothly with MS Office, the user interface is fairly easy to use, and it supports a nice set of robust features, analytics, and add-ons. It does, however, require a significant amount of disk space, and the standard edition is weak in terms of collaboration and teamwork functionality (though MS Project Professional and MS Project Server largely address these issues). The other downside is the program's hefty price tag (also not a surprise). Overall, though, MS Project is a good project management tool that deserves consideration.
3. Redmine
Redmine is a robust open source, web-based project management and bug-tracking tool. Written with the Ruby on Rails framework, Redmine is both cross-platform and cross-database and supports integrated project management features, issue tracking, and multiple version control options. Redmine's design is reminiscent of Trac (see below).
4. Serena OpenProj
OpenProj's developer claims that this application is "an open source desktop alternative to Microsoft Project." Though OpenProj may fall short of that claim, it is nonetheless a powerful project management software program, with a great user interface, full functionality, and best of all it's free. Within months after it was released, the program has been downloaded more than 1,250,000 times and is being used in over 142 countries.
5. TaskJuggler
TaskJuggler is an extremely powerful and richly-featured open source project management application that is specifically targeted to experienced project managers. It is primarily developed for Linux and Unix-like systems, although there is limited cross-platform compatibility. Some program highlights include: multiple time zone support, automatic resource leveling, task conflict resolutions, and task filtering.
6. ProjectPier
ProjectPier is an open source web-based project management and collaboration tool. With a distinct focus on project communications, the program is similar to other commercial groupware and project management products, but allows the freedom and scalability of self-hosting. ProjectPier is written in PHP and relies on the MySQL database.
7. Zoho Projects
The self-described "social" project management solution, Zoho Projects offers a wide range of online project collaboration and project management tools. In addition to some standard features, such as task creation support, assigningownership, tracking milestones, and working with calendars and Gantt charts, the program offers project stream (for project updates), a dedicated wiki, and group chat. A free version can handle one project at a one.
8. Trac
Trac is a lightweight web-based project management tool designed with software developers in mind, though it can still be used for various kinds of projects. The program supports a robust collection of wiki project management and bug-tracking features, as well as a wide range of plug-ins and add-ons, and has cross-platform compatibility. It also boasts an impressive user help and support system.
9. Collabtive
Collabtive is an web based project management and collaboration software program that strives to be an open source alternative to commercial offerings, such as Basecamp. The program has cross-platform compatibility and a wide range of features. Collabtive is primarily targeted to smaller businesses and freelancers.
10. ClockingIT
ClockingIT is an excellent time management and productivity reporting tool. This free hosted application offers easy-to-use and customize tracking and reporting features.
11. OpenGoo
For a simplified online project management solution, OpenGoo is definitely worth checking out. The program packs a full-featured online office suite designed to enhance productivity, collaboration, communication and project team management. Some notable features include: online document creation and management, contact management, e-mail, project management, time management, and file sharing.
12. activeCollab
Though many open source users and developers were shocked when activeCollab moved away from its open source beginnings to become a commercial application, the program still holds a top spot as a richly-featured project management and collaboration tool- especially with its recent 2.0 version release. The users interface is easy to use and there are several cool features, such as "Public Submit," which lets your site users send you an email form right from your web site which is then directed into a project and dealt with according to your specifications.
Honorable Mentions in Project Management Tools
Groupware software:
Invoicing, billing and accounting: