Review of Zoho Projects - Online Project Management and Scheduling Tool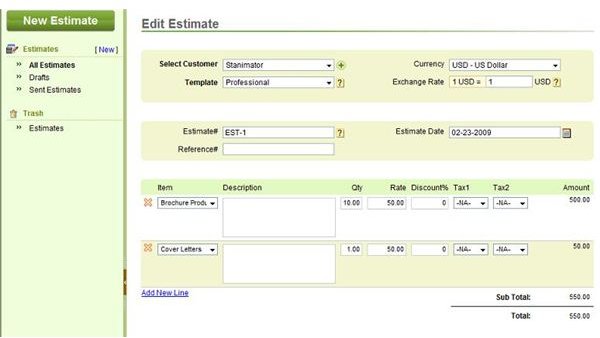 What is Zoho Projects?
Zoho Projects is an on-demand, online, project management software. The program is free for one project, $12 per month for up to 10 projects and $80 for an unlimited number of projects and 15 gigabytes of space. The program emphasizes project collaboration and productivity increases through task management. Like many on-demand programs such as Central Desktop, the program is easy to learn and use. Zoho Projects allows users to create a template for common task types, copy tasks and track milestones.
One ability that sets Zoho Projects apart from some of the other on-demand software available for managing projects is that the program allows users to track task dependencies. The program also boasts discussion forums, allowing team members to easily communicate with one another. Like Central Desktop, documents can be uploaded with ease so that all team members can review and suggest changes.
Alerts can be delivered to team members either through Email or RSS Feeds. This allows users to follow discussions and stay up to date without having to sign into the program.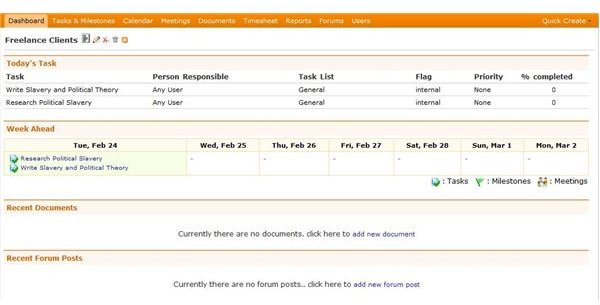 Another feature Zoho Projects offers is the ability to track time and record actual hours against estimated hours spent upon tasks. From tracked hours, time sheets, expense reports and invoices are easily created.
The on line calendar can be shared with everyone in the team and will track meetings, events, appointments, deadlines and anything else that a project team member would wish to track. It is easy to use, easy to share and can be used for automatic reminders.
Zoho Projects also produces a Gantt Chart report, much like Microsoft Project.
The program offers documentation and support through forums and blogs.
What is Zoho Projects?
Zoho Projects is for you if your projects are complex enough to require tracking dependencies and Gantt Chart reports, but not so complex that you require MS Project or other project management programs. The program is very much user-friendly, so if computers intimidate you then it will be easier to learn than some of the other project management programs on the market. The program is perfect for mid-sized businesses and small businesses. It is also an excellent option for companies with employees who telecommute. Zoho Projects is also a wonderful option for those using Zoho's other applications including Zoho Invoice, Zoho Writer and Zoho Planner.
Further Reading
For more information on Gantt Charts and project management software, you may wish to read the following Bright Hub articles:
"What is a Gantt Chart?" by Lucinda Watrous
"Top Ten Benefits of a Gantt Chart" by Joe Taylor Jr.
and
"The Three Best Online Project Management Utilities" by Cary Stuart