Review of the Open-Source Software Feng Office (Formerly Known as Open Goo)

What Is It?
Feng Office is an open-source web-based office application, and many people know it by its former name, Open Goo. The program allows users to collaborate on items like documents, spreadsheets, and reports. It also allows users to track tasks and calendar items. The program allows users to track all projects and send out e-mail notification reminders. It also has a billing module. What sets this program apart from other web-based project management applications such as Central Desktop and Vertabase is that the program offers the functionality of MS Office-like applications wrapped into one package with project management software.
Installation and Setup (3 out of 5)
To install Feng Office, you must have the following installations: Apache 2.0+, PHP 5.0 + (5.2+recommended) and MySQL 4.1+ with InnoDB support. Simply download the program from Source Forge and install the program. I do not have the required software to run Feng Office, but I was able to review the demo available at the website. My suspicion is that when you have the required software, the program installs with ease. Another benefit of Feng Office is that it is cross-platform friendly.
Ease of Use (4 out of 5)
Feng Office has an online manual that walks new users through the process of using the program. In addition, the program is available in the following languages: English, German, Spanish, Japanese, Portuguese, Russian, French, Czech, Danish, French, and Italian. This makes working with colleagues in different countries much easier. Adding milestones, tasks, subtasks and sub-subtasks is relatively easy, and the handling of the program is quite intuitive. The only thing that keeps the program from rating higher is that the navigation is a bit clunky at times, and finding the module you need takes a bit longer than it might otherwise. As I used the demo version, I'm not sure whether the full version features shortcut keys.
Features and Performance (4 out of 5)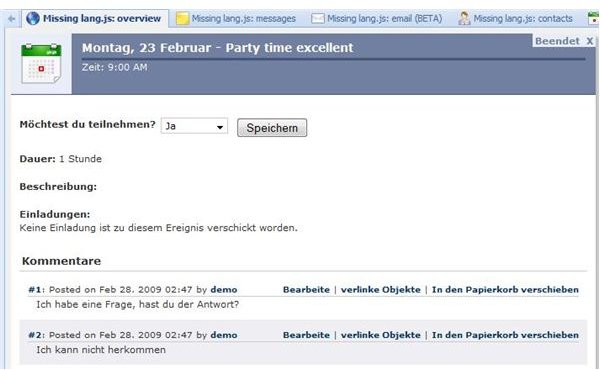 Feng Office has seven modules: Tasks, Notes, E-Mails, Contacts, Calendar, Documents and Web Links. In this manner, it is somewhat similar to Microsoft Outlook. This is where the similarities stop, however. Feng Office allows project managers to create milestones and tasks with linked milestones. It also allows time tracking in the task assignment menu, and tracking of time slot activities. The calendar allows comments to be made on events and meetings, in much the same manner of the social networking websites. Contacts and Clients can be tracked, and announcements can be made involving specific contacts. In all, the features are just right for small businesses and IT companies with remote workers.
Price to Value (5 out of 5)
Feng Office is Free Open Source Software, which means you can use it for free and you can customize it to meet your personal needs. This makes it an outstanding option for startup businesses and businesses that need a very basic project management software solution. Costs for extra features are very low, including email for as low as $1.49 per month and utilization of Gantt Chart features for $35 per month.
Overall Rating (3 out of 5)
Feng Office is great if you are looking for basic project management software that also manages email and documents. It is also a great option if your company is on a strict budget and wishes to use open-source software. It also is a great option because users can adapt the program to their needs. The downsides of this software is that it isn't advanced enough to take care of project managers who require more detailed project management options such as resource management, and, as mentioned, you also must have the capability to open .php files.
More Software Reviews
For more software reviews, you may wish to read the following articles:
Marlene Gundlach's "Comindwork-Review,"
Laura Jean Karr's "About GanttProject - Free Online Project Management Software"
Finn Orfano's "TeamWork Project Manager."