Microsoft Project vs. OpenProj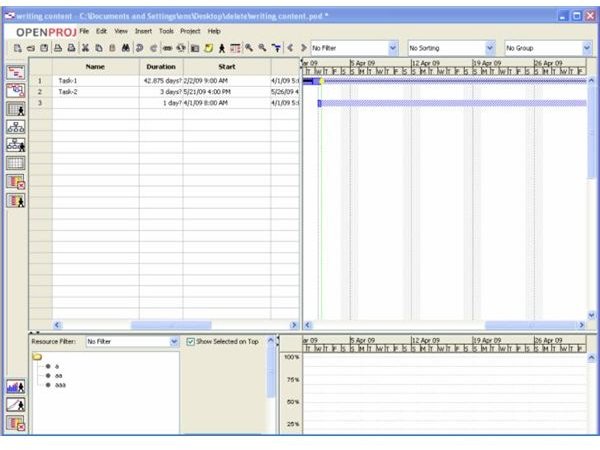 Things in Common
Microsoft Project and OpenProj both are very powerful desktop project management applications have following capabilities:
Gantt chart: It is a bar chart which is used for project scheduling. It breaks down the task into several subtasks and shows their relations, start and end dates.
Project Network: It shows the "before" "after" and "intermediate" tasks in graphical manner. Its also called PERT chart.
Resources Chart: Details of available recourses are listed here. Once listed, the resources can be assigned in Gantt chart.
WBS: Work Breakdown Structure or WBS shows systematic break down of tasks into subtasks.
RBS: Resource Breakdown Structure or RBS is categorizing the available resources according to different functions.
Output generation: Microsoft Project and OpenProj both provide several tracking methods such as consolidated reports and usage of tasks/resources.
Some advantages of Microsoft Project
Help Documentation: It has a really good help document both online and offline, so learning is easy.
Exporting to PDF: Microsoft Project files can be exported to PDF format as well as other office formats.
Java is not required: Unlike OpenProj, there is no need to install Java in your machine to run Microsoft Project.
Some advantages of OpenProj
Free: OpenProj is free project management software, so you will be saving $$.
Adaptability: OpenProj can open Microsoft Project files and can save its own file to excel format.
Lightweight: If you compare OpenProj vs. Microsoft Project, OpenProj takes less computer resources to install.
Part of Star Office: It may be a part of Sun Microsystems's Star Office in near future.
OS independent: OpenProj runs on Java platform so can run in different operating systems.
Conclusions
Microsoft Project is a great desktop project management tool. While OpenProj has almost all the features of MS Project, learning OpenProj, without having any previous knowledge of Microsoft project is bit difficult since OpenProj has very little help documents available. Finally, OpenProj is written in .NET, which is a Microsoft program.