Is OneNote a PM Tool?
OneNote can be a great addition to the project manager's toolbox, but figuring out how to optimize the program for use in project management can be a bit daunting.That's where having OneNote templates you know you can count on come in handy. You don't have to be creative, you don't have to spend time searching for the right thing to use for your project needs. All you need to do is enter the information relevant to your particular project and situation into the forms provided. That's why I've collected a list of ten templates that will really help you out.
1. The Project Post-Mortem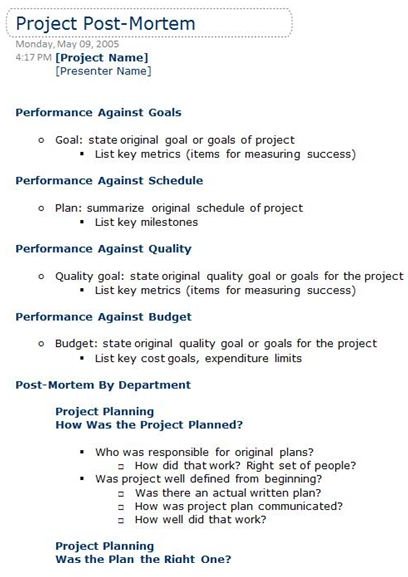 Once a project has come to completion, it is important to close the project appropriately. The project post-mortem template, available from the Microsoft Office website, prompts you on the sorts of things you'll need to take into account when putting together the closure report. You'll have a place to track your goals against the outcome, the budget against the actual costs, and the participation of key stakeholders in the project. Finally, you can summarize in list format what went right in your project and what didn't go as you had expected.
Download Link: Project Post-Mortem Sheet at MS Office Website
2. The Project Status Meeting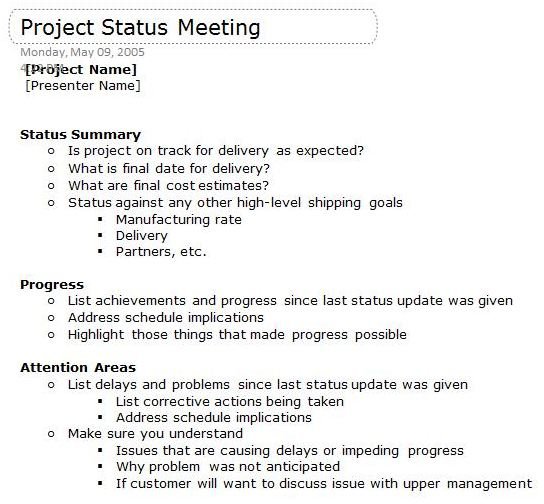 What's going on in your project? Do you know what you will talk about? Who is working on the marketing aspects? Who is in research and development? Are things on target for when they were scheduled to be finished? What were the costs this last week? By taking time to use a project status meeting template, you can formulate an agenda to help keep your team on track when it comes to discussing the status of the project you are all working on. Take notes on the meeting directly into OneNote and then distribute the results among all team members once the meeting has ended. Like the post-mortem template, the status template is available at the MS Office website for download.
Download Link: Project Status Meeting Sheet at MS Office Website
3. The Basic Project Management Notebook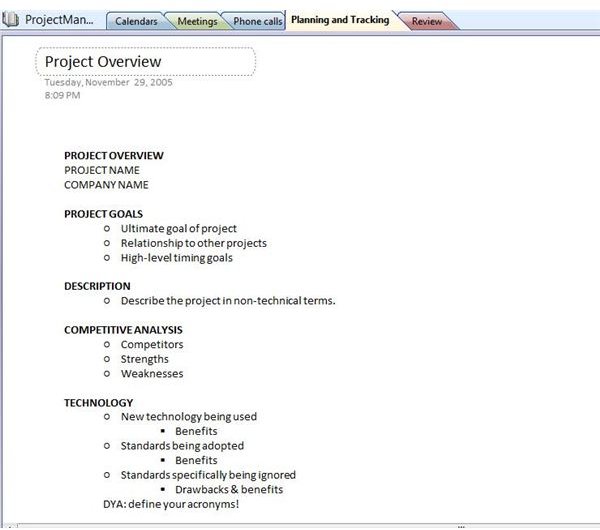 The final template I will mention from the MS Office website is the PM notebook of templates. This particular template includes a calendar, meeting minutes templates, space for phone messages, plan tracking and planning pages, and review pages. While there are many different pages in this template, it is really best for uncomplicated projects and projects that are straightforward. If you are working on a complex project, it might be better to instead use project planning software, but use these pages for your project notes. That way you can give more robust treatment to the project using Gantt charts, milestone tracking and more.
Download Link: Basic Project Management Notebook from MS Office Website
4. The Simplified Action Item Page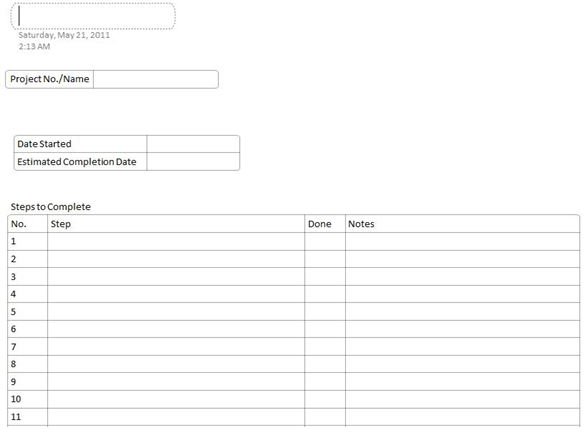 If you're looking for a super-simple way to track your action items (or multiple milestones) for a project (and you want to have an at-a-glance view of what's due, whether it's been done, and any notes on the status), then my simplified action item tracking project page might be just the thing you are looking for. This template allows you to track the name of the project, a brief description of the task, check off whether it's been done, and fill out your notes section.
Download Link: OneNote Simplified Action Item Template Page
5. WBS Page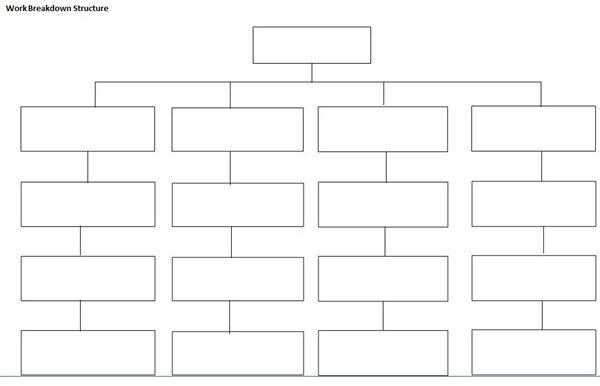 If you use work breakdown structures (WBS), then you might want to download this handy template from our Media Gallery. By using a template for your WBS, you can simplify the process of making boxes and connecting them. Of course, you shouldn't be afraid to modify the template if necessary. If you need to add more boxes to the structure, click on the drawing toolbar icon to open the toolbar at the bottom of the screen. Then, select the box you need. By using OneNote to create your WBS, it will be easier to link work items to any notes you have, and you can hyperlink to other documents within the program (and outside of the program).
Download Link: OneNote WBS Template
6. Expenses Page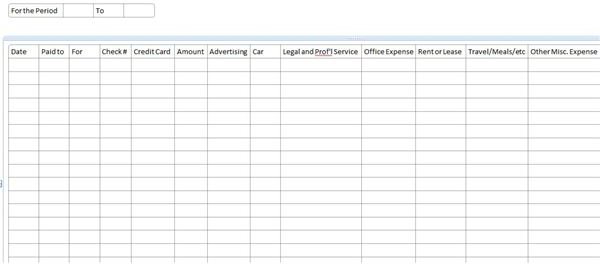 An important part of project management involves sticking to a pre-determined budget. It's hard to know whether you are on target for the budget if you do not carefully track expenses. You can download and use this expenses template. If you use OneNote with a shared notebook, then other key stakeholders can also access this page and enter relevant expenses. By having everyone keep on top of what is being spent during the project, you can better know whether you can actually afford to add that extra flourish to your project.
Download Link: OneNote Expenses Tracking Template
7. Budget Pages
When you're managing a project, it is important to create a workable budget. There are a few ways to go about this, and that's why I've included three pages in this project budget pages template.The first page features a budget template broken down by traditional sources of income and expenses. The second page is a breakdown of the project budget by month. The third page breaks the project budget down by task. By having the various breakdowns of the budget, then you can determine, by looking at your expenses, where you will be able to spend more or where you will be able to cut back.
Download Link: OneNote Project Budget Template
8. Communication Plan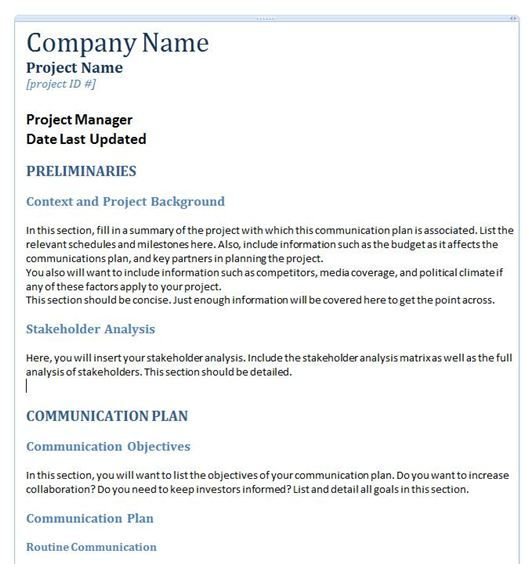 A solid communication plan is an important part of any project management endeavor. That's why it's so important to be sure that when you create a project you include a plan for communicating with all your stakeholders. For this reason, I've taken the communication plan I had created for use in Word and modified the template for OneNote. The template includes prompts for creating a context for your plan, developing objectives for your plan, and setting the protocol for various situations. For example, you should take into account how and when routine communications should occur, who should be notified during the budgeting process, and what you should take into account in terms of risk management should things not go as planned.
Download Link: OneNote Project Communication Plan Template
9. Risk Register and Analysis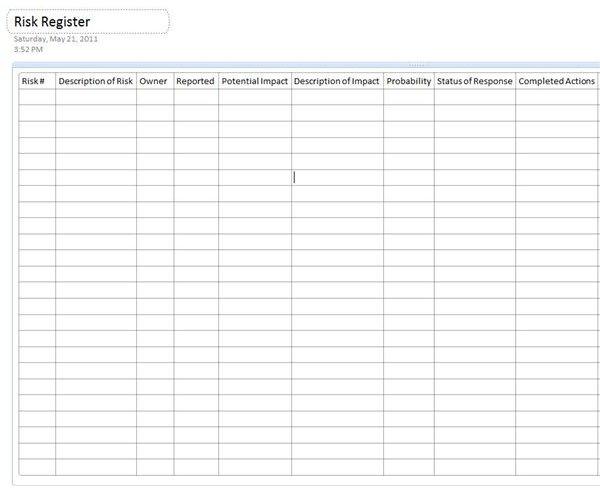 Running a successful project depends upon a project team's ability to accurately gauge potential risks that may occur during various project phases. I have created a risk register template that allows you to keep your risk register with all of your other project information in the project notebook.
The risk register can be filled out in stages. First, you should identify any and all potential risks to your project. Assign each risk a number. Once you've identified risks, you need to determine the likelihood of that risk actualizing and describe what could happen should that event occur. Finally, come up with a plan of action for tackling the risk. If there are immediate steps that can be taken to minimalize the threat, then do so and make notes in the register of those steps once completed.
Download Link: Project Risk Register OneNote Template
10. One-Page Project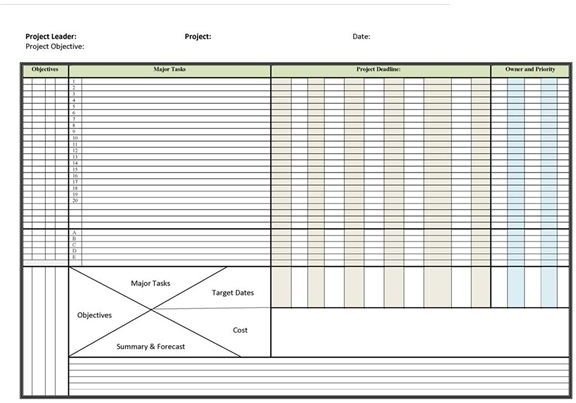 Planning a project on one page can greatly simplify your life – and it can be done easily using MS OneNote. If you are using a tablet PC or Netbook computer, this template can be what saves you from a major headache. Summarize your entire project on one page. Track objectives, tasks, resources, budgets and more on a single summary page.
By using OneNote templates for your projects, you can greatly simplify the process of project management. While the program was not created to handle all project management tasks, OneNote can still be a very valuable tool in the project manager's toolkit. While many people simply keep track of their project-related notes in this application, full utilization of the program allows the ability to achieve maximum productivity.
Download Link: OneNote One-Page Project Template
If you're looking for sample forms and downloadable templates, check out Bright Hub's resource guide Over 50 Free Project Management Templates and Sample Forms.
References
Screenshots courtesy of Ronda Roberts