Review of Daptiv PPM - On Demand Project Portfolio Management Software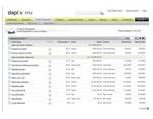 A Cloud-Based Portfolio Managment Program
Daptiv PPM is an On Demand Project Portfolio Management program. This program promises users will increase productivity and better manage resources. EProject, a popular project management software company, has become Daptiv, and is now focusing on tapping into the on-demand software market. Daptiv's clients include JetBlue, Chase, Ameco, and UC Davis. A free, customized demo is available from the Daptiv website. Contact Daptiv directly for information on pricing. You can also download a Buyer's Guide to help you decide what options you need.
What Does It Do?
Datpiv PPM promises to be a flexible, customized, and easy-to-use project portfolio management program. The program includes many wonderful features to help streamline your project managment process. Among these features are:
The ability to collect requests for projects
The ability to create accurate cost estimates for projects
The ability to create and model portfolios in order to support the business's objectives
The ability to flexibly track and manage resources
The ability to monitor the health of the project with at-a-glance reports of project progress
The ability to easily manage project schedules
An application creator that makes the spreadsheet an item of the past
Interfacing with the Internet that uses forms to gather data
Quick reports that allow the project manager to oversee all knowledge management information
The ability for executives, managers, analysts, and team members all to monitor performance on the project
Collaboration functions that out-maneuver other similar programs including the ability to connect teams in different business sectors and the ability to keep all team members informed
The ability to create digest notifications for all levels of the project management hierarchy
All of the security and benefits associated with utilizing on demand software.
Daptiv also has many resources for those wishing to learn the program. Technical support is easily found on their website including a PDF instructional guide.
Is Daptiv PPM for You?
Daptiv PPM is for you if your company is sufficiently large to justify such a great bells-and-whistles program. Because Daptiv PPM has so many
wonderful features for executives, managers, analysts, and team members, it would be ideally used in a company with this sort of hierarchy. This program can greatly simplify the way you manage projects. Because it is an all-inclusive program (meaning that it includes everything in the project management lifecycle from initiation to closing), it is an outstanding choice for those looking for a program that does it all. It is available for both the Windows and Mac platforms, so companies using Mac can benefit from its functionality as well.