Overview of WorkLenz
WorkLenz is project management software that will learn and grow with your company. The more data you feed into it, the more data it gives you - accurately predicting what will happen in your project management cycle. WorkLenz features tools and capabilities dealing with everyday project management needs including scheduling, budgeting, risk management and dependencies. It also deals with innovative technology and algorithms to really streamline your project management experience.
Installation and Setup (4 out of 5)
There are two different options for installing WorkLenz. The project management software can either be installed on the premises of your company or it can be delivered on-demand through the internet. The advantage of choosing to have the software run on-demand is that your employees will have instant access, and will be able to access the software anywhere. This makes telecommuting and working while traveling a non-issue. The software is also customizable, with customized options up and running in as little as one week.
Ease of Use (4 out of 5)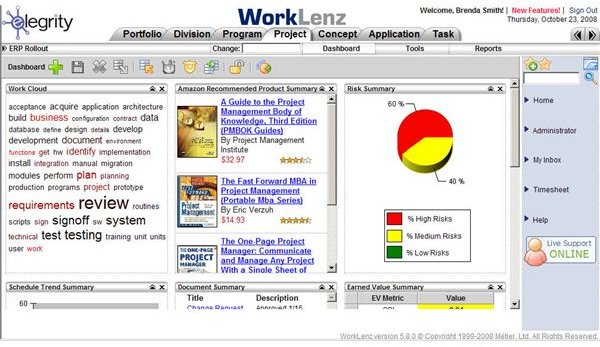 Because WorkLenz is customizable, the portfolio can be broken up in a manner that resonates with the users. In this respect, WorkLenz is fairly intuitive. Because Métier sees itself as a solutions industry, the focus of the software is not on project management, but on solving problems companies find themselves having when approaching project management issues. Because of this, WorkLenz tends to be easier to learn and implement than some of the other software available.
Features (4 out of 5)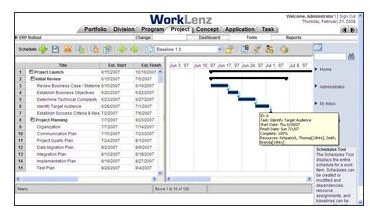 The features of WorkLenz are what make it an outstanding project management software choice. WorkLenz is a learning application and the more data fed into it, the smarter it becomes about you and your project management needs. CHURN is a special algorithm tool used to look at how activities have moved over any period of time. It is based on statistics and can determine which activities are more likely to slip. Because of this, WorkLenz is more than simple project management software - it is a forecasting and prediction tool intended to help organizations change the way they look at risk.
The performance of WorkLenz is highly competitive - especially if used as on-demand software through the internet. It is a complete, thin client with no active controls and no persistent cookies. WorkLenz is very secure and when the browser is gone, the program is off. Clients will never need anything else to run the program.
Cost to Value (4 out of 5)
I won't lie, WorkLenz is a very expensive program. For small customers (10-100 users), it can cost between $25,000 and $75,000 to get up and running with the customized project management software. While WorkLenz is not for the start-up company, the small business or the freelancer, it is for companies and enterprises wishing to upgrade and update their project management process. With WorkLenz, you are definitely getting what you pay for - great value and the ability to add on and further customize the software as needed.
Overall Rating (4 out of 5)
Métier's WorkLenz is an outstanding option for those companies with the resources for it. The program is customizable and it learns and grows with your company. I would hesitate to claim that WorkLenz is invaluable only because I don't wish that start up companies and struggling companies spend more than they can afford. I do recommend it, highly, for established companies and enterprises who wish to optimize their project management software.
Further Reading
Those looking for alternatives to Métier's Worklenz may wish to read the following Bright Hub articles:
"Review of the Open Source Software OpenGoo" by Ronda Levine
"The Three Best Project Online Management Utilities" by CaryStuart
"A Review of Tenrox Project Management Software" by JScheid
"Project Genius - Review" by Natasha M. Baker
and
"A Review of LiquidPlanner" by Preetam Kaushik