Looking at eGroupWare: Is This Collaboration and Communication Software For You?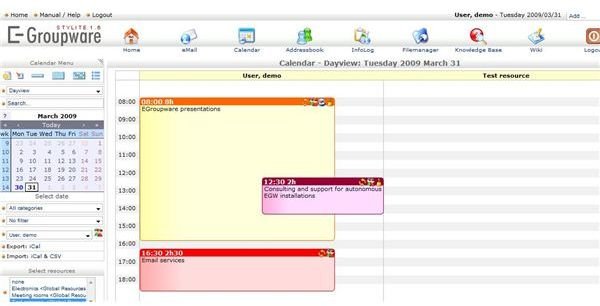 eGroupware Overview
EGroupWare is a free open source software intended to help project managers manage projects. This program is intended to assist its users in managing schedules, contacts, email, tasks, and files. The program also allows for users to collaborate on issues management and to store documents on the server. The program is great for companies requiring light project management features. One of the more unique features of eGroupWare is that it is compatible with a PDA.
Installation and Setup (3 out of 5)
The installation of eGroupWare as a free utility is not as straightforward as one might hope. You must download several .zip files and unzip them. Detailed instructions for the safe and professional installation can be found in the checklist provided by the company. It will take approximately eight hours. An alternative to this installation is purchasing a managed package subscription for between $39 and $132 per month through Stylite. With this second option, the database is preconfigured and the company will set up the program for you.
Ease of Use (3 out of 5)
The makers of eGroupWare publish a manual for the convenience of users. The manual is relatively short, signifying the ease of use for this program. If you can use Microsoft Outlook, you can easily use eGroupWare. The program functions much like its proprietary cousin, except there are powerful plug-ins that can be utilized with the program.
Performance and Features (4 out of 5)
While on the surface, eGroupWare looks a lot like Outlook, in a lot of ways it is very different. The program naturally has an address book, calendar, mail-client, and "infoLog." The infoLog provides the abiilty to track to-do's, notes, and phone conversations. But the program also includes a project manager featuring Gantt chart capabilities that integrates seamlessly with the rest of the program, resource manager, file manager, web site manager, time sheet, issues tracker, wiki, knowledge base, workflow engine, and even a fully function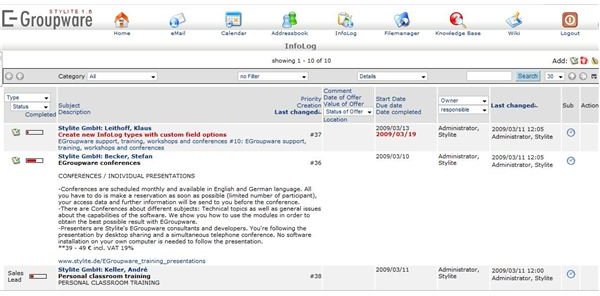 al news manager. In this effect, the program is a one-stop shop for all of your project management, time management, and resource organization needs. Because the program is easy to use and intuitive to learn, it provides a highly competitive edge when compared to the full Microsoft Suite. Looking for that special file you need to approve? Look no further, it is safely stored in eGroupWare's file manager.
The main advantages of having such a program available is the ability to do it all in one spot. When project managers can sort their email and assign tasks with email, their productivity rate goes up. Many of the features have synchronization capabilities with Kontact, Evolution, Outlook, Thunderbird, iCal and your PDA.
Price to Value (4 out of 5)
EGroupware is a good value considering that everything is combined in one space and, if you choose to take the time to install and set up the program yourself, it is free. For a program that has the capabilities of Outlook, Project and more, you can't get better value. However, because you must purchase a subscription in order to have the convenience of an easy installation, I cannot rate the price-to-value category higher.
Overall Impressions (3 out of 5)
This program is an outstanding option for small businesses and start-ups. It is also a great option for any company that needs project management and collaboration software but does not have the capital to purchase some of the more expensive suites available. The best part of this application is that it will synchronize with your PDA and with Outlook, and it also is an all-in-one project management suite.