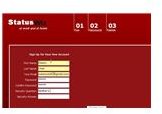 Getting Started
StatusWiz is a simple, web-based project management software suite that lacks complex features but could grow into something stronger.
Quick Sign-up, Simple Interface
As a recent entry into the packed field of web-based project management software, StatusWiz offers a fast sign-up process that drops new users directly into their easy task creation mode. Although the front of the website boasts a shocking, red design, the actual task interface is a sparse, white affair reminiscent of Google Apps.
Users can create lists of tasks that nest under "projects." By sorting projects into "groups," users can gain focus and control over their commitments and deadlines. Creating new tasks is dead simple, with an intuitive AJAX interface that walks users through the details of each new task. I appreciated that I couldn't accidentally lose my own half-finished entries, since a "save" or "cancel" button must be pressed to move from a data entry screen to any other feature on the site.
Features
"Groups" Offer Projects Structure and Context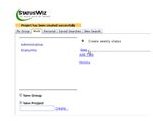 The developers at StatusWiz clearly intend the "groups" feature to separate projects – they use "work" and "home" as examples of how to bundle projects into groups. David Allen fans will probably notice that groups are an easy substitute for contexts, making it easy for project managers to use StatusWiz as a GTD implementation. The system's "search" function also allows users to create groups on the fly, based on due dates or keywords. However, the system offers no tangible project management reports or any other tool to evaluate a user's effectiveness or efficiency.
Lack of Connectivity and Import/Export Rules Out Power Users
Unlike similar, web-based project management software, StatusWiz offers no facility to import data into the system. Likewise, users cannot pull data out of the StatusWiz interface with anything more functional than a cut-and-paste from the browser window. Therefore, the service appeals only to users who wish to start completely from scratch.
Feedback-Driven Feature Development Shows Responsiveness
One of the most striking features of StatusWiz isn't even part of their own product suite. The development team uses a tool from UserVoice that collects and ranks feature suggestions. While the teams behind other web-based project management software often seem reluctant to discuss future development, StatusWiz offers a real-time voting system that allows users to vote features up or down the release schedule. A few of the suggested features have already bubbled up to production status, showing that the team behind StatusWiz intends to add users' most desired features as time allows.
Verdict: Okay for Simple Task Lists, Keep Watching for Future Features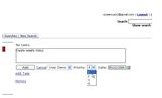 I can't see StatusWiz replacing the one-two punch of ToodleDo in my browser and on my iPhone. For project managers who have not invested heavily in an online system, StatusWiz offers a clean, simple interface. However, most professional project managers will demand a more robust tool that connects users and remote devices. Personally, I wouldn't be able to recommend the service until it includes the ability to move tasks or projects between groups, as well as the option to import and export data from other services.
I'm a little worried about the longevity of StatusWiz, as well. Unlike other software teams, like the folks behind 37signals and Remember the Milk, the only clue to the developers' identity is a voice that narrates the orientation video on the site. Is this the personal hobby of a lone developer, or the seeds of a real business? Is there a reason the orientation video uses "earthquake insurance" as an example? That's a pretty disturbing thing to have on the top of one's mind. I'd love to know who's behind the site and where the servers are located, since I want to make sure my data's going to be there in the morning. Once I know who's keeping my data safe for me, I'll be far more inclined to share my plans for global domination.