Review of PERT Chart Expert – Project Management Software for Creating PERT Charts and Logic Diagrams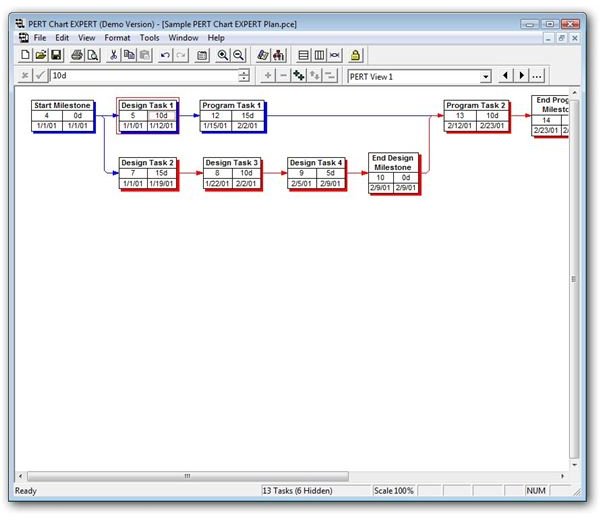 Overview of PERT Chart Expert
PERT Chart Expert is a project management application developed solely for the creation and management of PERT charts. Although the software is compatible with Microsoft Project and works seamlessly with that program, it also operates just fine as a stand alone application.
The system requirements for PERT Chart Expert are quite light – it's a Windows-based application that will run on Windows 95, 98, ME, NT, 2000, XP, and Vista. If you're running a 64-bit version of Vista, there's no need to worry. I tested the software in that environment and didn't encounter any problems.
If you plan to integrate PERT Chart Expert with MS Project, there shouldn't be any troubles there either. For this review, I looked at how the application worked in conjunction with Project 2007, but PERT Chart Expert is compatible with Project versions 4.1a, 98, 2000, 2002, 2003, and 2007. It was also designed to be compatible with Project Server 2002, 2003, and 2007.
Installation and Setup (5 out of 5)
No problems were encountered during the installation and setup of PERT Chart Expert. The entire process was a typical Windows installation of clicking Next several times and then Finish.
At one point during the setup, you'll be asked if you want to install the additional components that will allow integration with Microsoft Project. If you don't have Project installed on your machine or if you just don't want to use this feature, you can choose not to have these components added at that time. Those who aren't sure can just skip this portion entirely since you can always add this feature later by selecting the option from PERT Chart Expert's Tools menu.
Ease of Use (4 out of 5)
The user interface of PERT Chart Expert is almost identical to that of WBS Chart Pro, another project planning application developed by Critical Tools. Just like with WBS Chart Pro (and many other applications, for that matter), Vista users may have trouble accessing the application's menu-driven help system. However, you can download this same information in PDF form from Critical Tools' web site.
To add a new task, all you have to do is select Insert Task from the Edit menu and a placeholder for that task will appear in the main window of the interface. You can then double click on this placeholder and input all necessary information.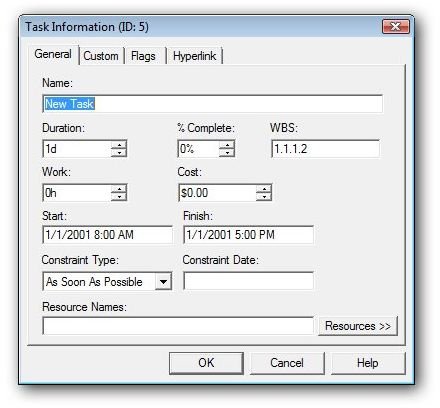 One thing I really like about PERT Chart Expert is how easy it is to place any new task into the current path of the PERT chart. Just click on any predecessor tasks and drag a line outward to the position where you want to insert the new task. When you release the mouse button a new placeholder will be added to the chart. Similarly, if this newly added task is required for any task that has already been defined, you can click and drag a line from the new task to any existing ones. This is a great timesaver, and it makes the construction of the entire PERT chart fast and intuitive.
Continue on to the next page to read about the features, performance, and pricing of PERT Chart Expert.
Features and Performance (5 out of 5)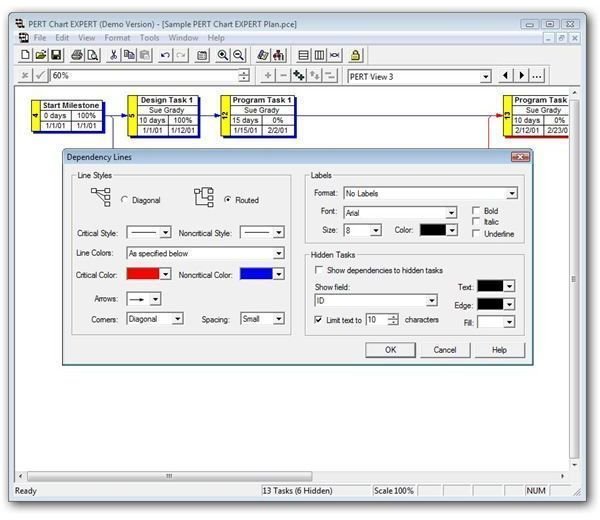 PERT Chart Expert is a very lightweight utility that only takes up about 6 MB of hard drive space after installation. It runs very fast, even if you're using it in conjunction with MS Project.
If you're using the software with MS Project, the one-click functionality that lets you pass between the applications is amazing. Changes made in one program will automatically be updated in the other each time you switch and refresh, allowing you to take advantage of the tools found in both applications.
Even if you're not using the software as a supplement to Project, PERT Chart Expert performs wonderfully as a standalone application. Being able to easily create new tasks, assign dependencies and quickly switch between different views makes it possible to construct professional-quality PERT charts in a fraction of the time that you would need with most other project management applications.
For those who plan to share or distribute the final creation with others, there are several options for export. You can either save the PERT chart as a Project file, image or web page. The latter two options make it easy to include the final chart as an exhibit in documents and presentations.
Price to Value (3 out of 5)
A single license of PERT Chart Expert runs $199 at this time. However, a discount is available if you purchase 5 or more copies of the software. In addition, network licenses are available with pricing dependant on the number of users.
As with WBS Chart Pro, I find this price to be a little high unless you construct PERT charts on a regular basis. Casual or infrequent users may want to look for a less expensive solution unless multiple licenses are being purchased and you find yourself with a "spare."
Overall Recommendations (4 out of 5)
PERT Chart Expert is an excellent application that's both easy to use and full of features. If you create PERT charts on a regular basis, you could literally save hours on each one because of the program's functionality and design. Microsoft Project users will see additional benefits because of the seamless integration that exists between the two products.
The only downside to the product is the price, which actually isn't so bad if you plan to take advantage of the multiple license discount. It still could make the software prohibitive to infrequent users who are looking for a budget solution, but if you prepare PERT chart exhibits on a regular basis, even the cost of a single license may be worth it in terms of the amount of time you'll be able to save.