How to Create a Workflow Process Diagram in Microsoft Excel 2007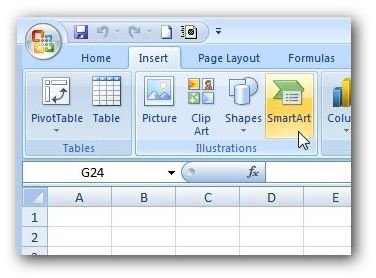 Workflow Process Diagrams
One of the best ways to provide a graphic representation of a chain of tasks is to use a workflow process diagram. These diagrams can be very basic and simple or they may prove to be quite complex, depending on the process you are trying to describe. In any case, these project planning forms can be extremely helpful, especially if you are trying to analyze existing processes to look for inefficiencies or other problems.
There are a number of project management applications that have special utilities for creating workflow process diagrams, but you can also construct some very professional-looking ones using only the tools found in Excel 2007. Here, we'll take a look at some of those tools.
Using SmartArt Graphics
If the workflow process diagram that you're trying to create is fairly straightforward and basic, try using Excel's predesigned SmartArt charts as a foundation for your diagram. You can access this feature by going to the Insert tab on Excel's ribbon and clicking on SmartArt. (Click any image in this article for a larger view.)
From here, you can scroll through all the available SmartArt graphics in Excel. If you want to get more information about one of the objects, click on the item and a preview of that graphic along with a short explanation of its use will be shown on the right-hand side of the window.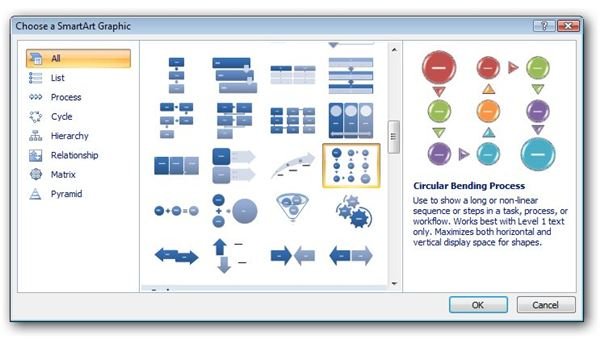 In addition to the SmartArt graphics that come preloaded with Excel, you can download several other designs at Microsoft Office Online.
As an example for now, I'll select the Labeled Hierarchy chart found in the Hierarchy grouping.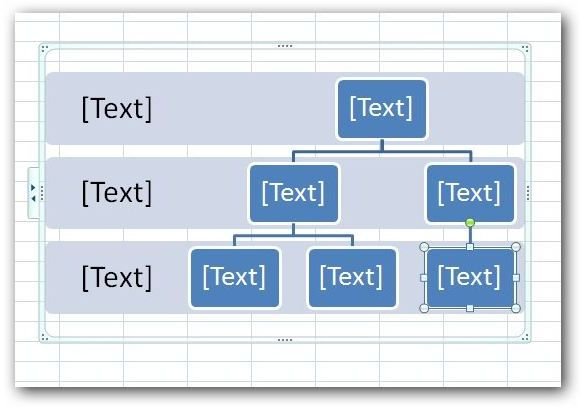 Once you've inserted the chart, you can make any modifications to the text simply by clicking on the placeholders and replacing the information with your own text. You can format this text in the same way you would any other text in Excel 2007. However, if you want to make changes to the appearance or shape of the text boxes themselves, you'll need to go to the Design and Format tabs found under SmartArt Tools on the Excel Ribbon.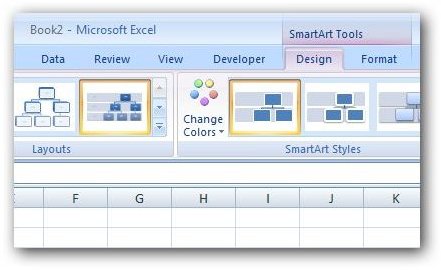 Adding and Deleting Shapes
It's highly unlikely that any of the SmartArt graphics is going to include the exact number of components in the correct position for the workflow process diagram that you're trying to construct. If you need to delete a shape, right-click on the shape and choose Cut.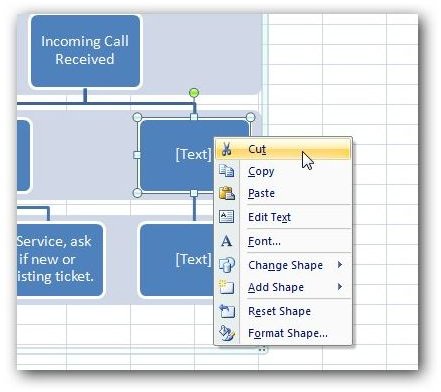 Note that any shape following a deleted object will be repositioned, attaching itself to the same point where the deleted object was cut. This allows you to remove an item from anywhere in the diagram without affecting the rest of the objects.
You can also add new items to an existing chart with a great degree of flexibility. Just right-click on a shape close to where you want to insert the new object. Select Add Shape and then choose from the available options for placement of that shape.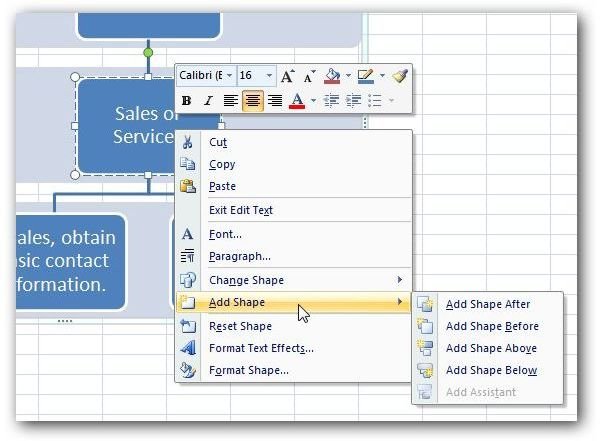 These options will change based on which SmartArt graphic you're using. In this instance, we have the option to add a shape before, after, above or below. This makes it easy to add steps to the workflow process either before or after any item that has already been defined.
Resizing Chart Area and Objects
One nice thing about using SmartArt graphics is that each component of the diagram will be resized to fit the area you've designated for it. However, if you start adding several components, you may need to either resize the entire chart area or certain shapes included in that area.
To resize the entire chart area, hover the cursor over any of the border areas where you see three or four small dots grouped together as shown in the image below.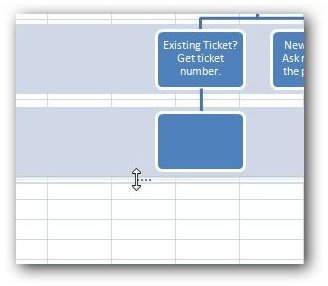 Then, click and drag to the desired size. If you only want to resize individual objects in the diagram, click on the object to select it and then resize using the same "click and drag" method.
Alternatively, if you know the precise dimensions that you want to use for the chart, go to the Format tab under SmartArt Tools on the Excel ribbon and click on Size. Here, you can enter exact measurements for the height and width of the chart.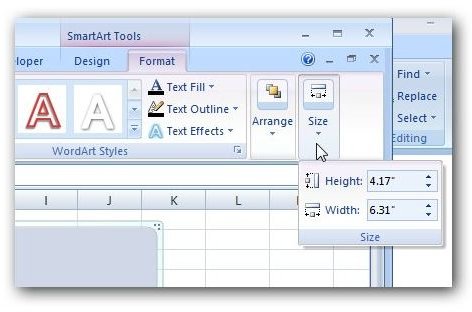 This latter method is particularly useful if you plan to print the chart or export it to another application.
Finishing Up
When you're done adding shapes and replacing the text placeholders with information of your own, click anywhere on the spreadsheet that isn't part of the chart to deselect the entire object. This will let you preview the chart without all those pesky selection borders. Note that deselecting the diagram will also cause the SmartArt Tools tabs on the ribbon to disappear. To get those tabs back, just select the chart again.
Additional Resources: For more tips on how to construct various charts and diagrams as well as links to free templates that you can download and modify as desired, see this collection of Excel project management templates and tutorials.
If you're looking for more sample forms and downloadable templates, check out Bright Hub's resource guide Over 50 Free Project Management Templates and Sample Forms.