How to Construct a Project Timeline in Excel 2007: Using Microsoft Excel for Project Management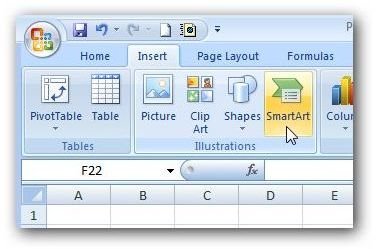 Project Timelines
A Gantt chart may be a great tool to use when wanting to see a complete timeline of all tasks involved in a project but it can also be very helpful to create a basic project timeline that gives an overview of major events and deadlines associated with that project. This type of project management diagram can be particularly useful if you're trying to get a general idea of what resources will be needed or if you're preparing a presentation that's intended to be a broad overview of the project.
There are several ways that you can go about creating a project timeline in Excel 2007 but one of the quickest and easiest methods takes advantage of the new SmartArt graphics tool. Here, we'll take a look at how to use this feature.
Constructing a Timeline in Excel 2007
Step 1: Open the Insert tab on Excel's ribbon and click on SmartArt in the Illustrations category. (Click any image in this article for a larger view.)
Step 2: In the Choose a SmartArt Graphic window, locate the diagram that you want to use a basis for your project timeline. For this example, we'll select the Basic Timeline graphic found in the Process grouping.
Click OK and the object will be inserted into the Excel spreadsheet. If you don't like where the object was placed, you can click and drag the timeline to a new location on the worksheet.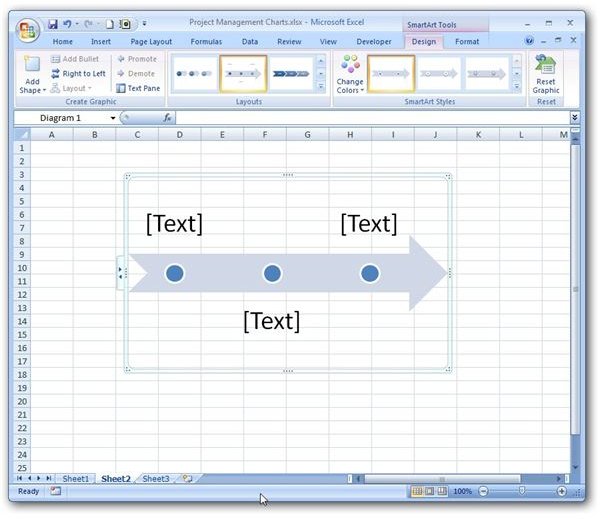 Step 3: Click on any of the text placeholders to begin entering your own information. Note that you can format the text here just as you would any other text in Excel. That is, you can go to the Home tab on the Excel ribbon and make changes to font style, shape, and color.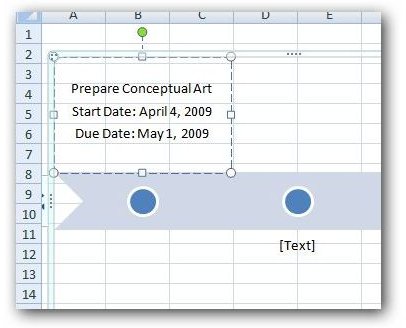 When typing in the text, the text size will automatically adjust to fit within the confines of the text box. If you'd rather the text remain a specific size, you can resize the text box instead by clicking on the object and dragging one of the small circles centrally located on the borders of the text box.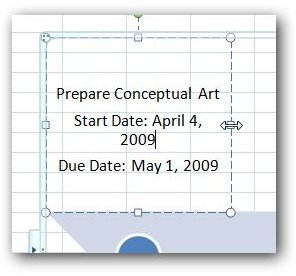 Step 4: Continue adding important dates to the timeline. Unless your list of dates is very short, you'll quickly run out of spaces on the predesigned timeline. To add more, right-click on the portion of the timeline where you want to insert a new event and select Add Shape. Then you can choose whether you want to insert the shape before or after that point on the timeline.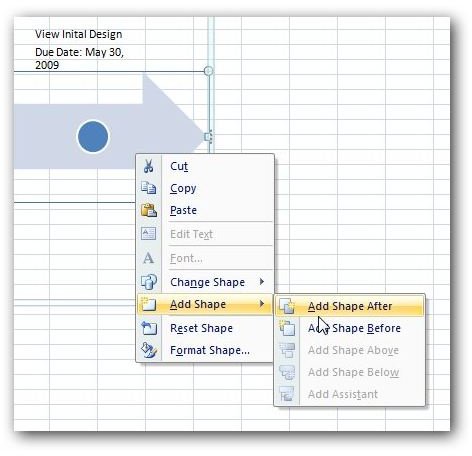 This will add a new marker on the timeline as well as a text box where you can immediately begin typing.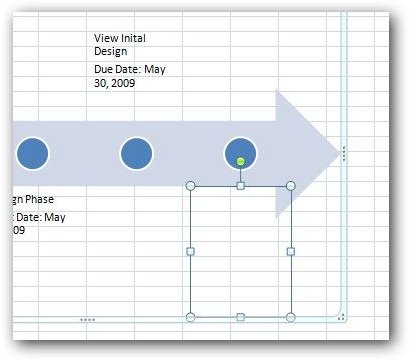 There is one thing important to note here. If you plan on adding several new points on the timeline at once and then going back to fill in the text boxes with event information and dates later, make sure to go ahead and type something in the text box as soon as it is created. You don't have to type much – even something as simple as "text" will do. The only reason for doing this is to include some type of text that will serve as a placeholder so you can easily go back to it and edit it later.
Step 5 (optional): Once you've entered in all of the timeline information, you can make changes to the appearance and formatting of the object by going to the Design and Format tabs under SmartArt Tools on the Excel ribbon. There are tons of choices you can make here and the possibilities are almost endless. Below is one example of how a couple of formatting changes can give the project timeline a whole new appearance.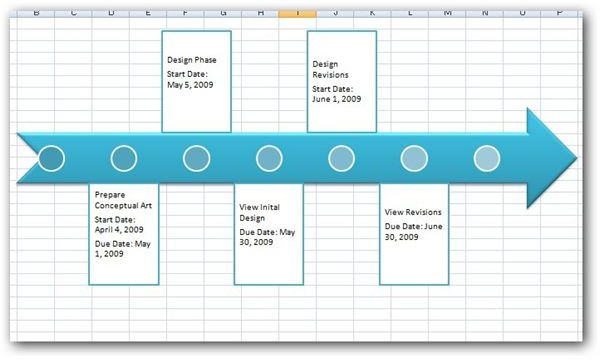 Additional Resources: For more tips on how to construct various charts and diagrams as well as links to free templates that you can download and modify as desired, check out the collection of other Excel project management templates and tutorials here on Bright Hub's Project Management Channel.
If you're looking for sample forms and downloadable templates, check out Bright Hub's resource guide Over 50 Free Project Management Templates and Sample Forms.