RationalPlan Multi Project for Project Management - Review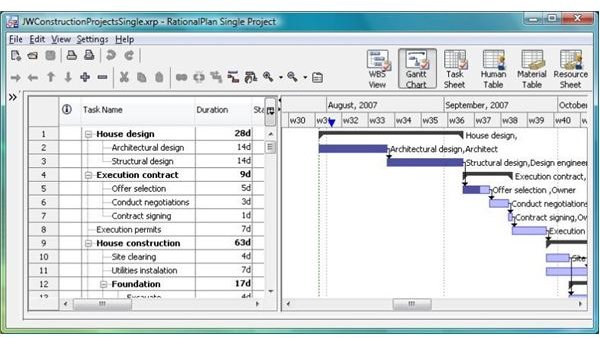 Overview (4 out of 5)
RationalPlan Multi Project (www.rationalplan.com) is well-conceived project management software that is principally geared for people who have to centrally manage projects. RationalPlan Multi Project, as the name indicates, is designed for simultaneously handling multiple projects that are interwoven with common resources and task dependencies.
RationalPlan - Project Module and Technical Compatibility (4 out of 5)
The key functions of RationalPlan Multi Project are to develop plans, assess work pressure, assign tasks, monitor budgetary limits, control finances and track project progress**.** In a nutshell, RationalPlan Multi Project is capable of scheduling, estimating, improving the overall efficiency of team members and comprehensively managing inter-related multiple projects until completion.
Computer professionals acknowledge RationalPlan Project software as not only as an alternative to Microsoft Project but even more powerful as RationalPlan has quite a few extra-features; including the complex multi-project management. It must also be noted that RationalPlan can be operated on various platforms - Windows, Mac OS X, Linux as well as all other Java enabled platforms.
RationalPlan is uniquely designed user-friendly software as it has dialog windows that supports special timescale zoom facility made possible by rolling mouse-wheel, switching over to a different time-frame by dragging the focus area. It also has the provision to zoom without affecting the main work area. Rational Plan is particularly appreciated by industries engaged in construction work, engineering activities, consultancy services and project development.
Project Management with RationalPlan Multi Project (4 out of 5)
When confronted with projects that complement other projects, or in other words, when certain tasks of one project are associated with tasks of other projects, then Rational Plan Multi Project software is the natural answer. RationalPlan Multi project software is particularly helpful in managing company's multiple projects and shares resources optimally across the organizational hierarchy. This, in turn, leads to optimally organizing resources, exercising effective control over finances, highlighting critical problems for application of correctives, constant monitoring of project progress and more.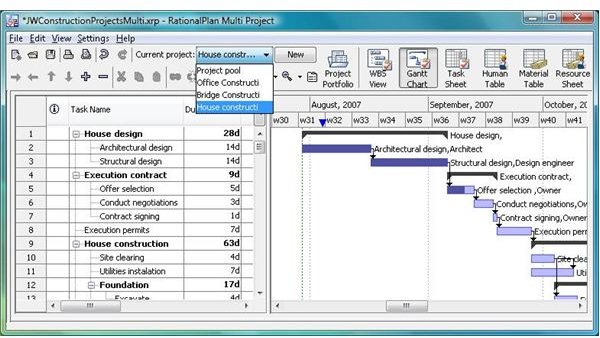 The software exhaustively sets project tasks priorities by defining and specifying Work Breakdown Structure (WBS) which is essential for covering various critical processes of a project management system. Also, Rational Multi-Plan Project is the best application for planning projects and managing critical path required for task and resource scheduling. This supports balanced allocation of resources and handy cost estimation techniques. RationalPlan - Project Management Software offers a user-friendly step by step project guide to escort the user through the entire project management process. There is a free download for trial purposes trial before actual purchase.
RationalPlan Multi Project - Three Different Platforms (4 out of 5)
RationalPlan has designed and successfully launched several project management tools used to fulfill various project management needs. With RationalPlan Single Project software, one can schedule, monitor and manage unrelated projects individually.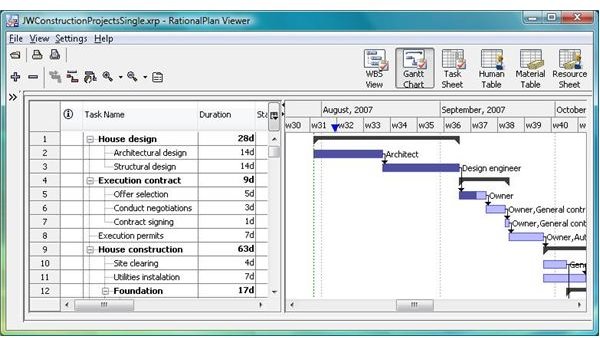 RationalPlan Multi Project software lets one comprehensively manage multiple inter-related projects that share common resources with dependencies between their tasks.
The user should buy the Multi Project version only when wanting to simultaneously managing projects with shared resources or dependencies. If the projects are completely independent without any shared resources, there is a Single Project version should suffice.
The manufacturers have very imaginatively come out with a Project Viewer. Many of the people involved in the project work do not need to have access to all the project data but they get need to see only relevant reports. Finally, with the Project Viewer it is still possible to transfer data or generate and print the reports.
Visit RationalPlan Multi Project Website for more details and information.