A Review of FastTrack Schedule 10: Project Management Software for Windows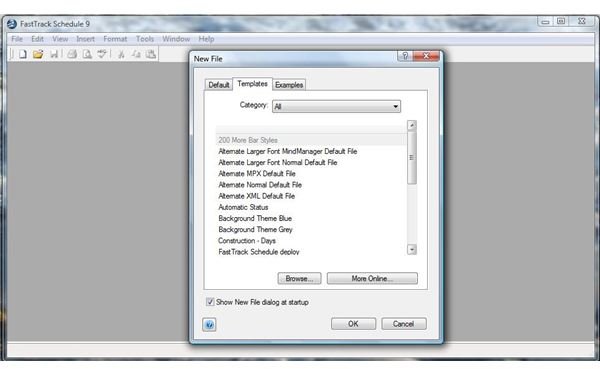 Overview
FastTrack Schedule, project management software available for both PC and Mac platforms, promises to simplify your project planning processes. This program creates schedules from MS Project, Excel, Mindjet, Mindmanager, and databases. The program allows you to see where there might be scheduling conflicts. The program has templates that allow you to quickly schedule your projects. But, does the program deliver on its promise?
Installation and Setup (3 out of 5)
To install FastTrack Schedule, download the program from the website. You can choose whether to download the PC or the Mac version of the software. Once you've downloaded it, open the setup file. I initially installed FastTrack Schedule 9, and it took about 20 minutes to install, but I was engaged in other tasks while I was installing the program. Once installed, launch the program to set it up. FastTrack Schedule 10 has improvements, and there is an update available for both PC and Mac users.
When you open FastTrack Schedule, you will find a screen for the new file. You can select the "default" which is a new blank document, one of about twenty templates, or one of about 25 examples to work with. For the review, I chose to open the example, "Business Startup." When opening a template, you can choose whether to keep everything, keep only those things selected, or to empty the example file completely. I chose to "keep everything." If I were using the program to set up my own schedule, then I could have chosen to keep selected things, or to scrap the specifics all together.
Ease of Use (5 out of 5)
Because FastTrack contains templates for schedules, getting the project schedule up and running is fairly easy–especially if your company does a number of similar projects. Switching between Calendar, Schedule, and resource views is also easy. You can have, in a click, a bird's eye view of anything going on in your project.
Also, the Help file contains tutorials, example files and all the assistance you could want. Upon selecting "Tutorials," I am taken to a help file that walks the user through each step of the program. The program has tutorial files to help you learn the program easily. Because it has such an accessible help file, the program receives an "Excellent" rating in this category. There is also a forum for users to ask questions.
Performance and Features (3 out of 5)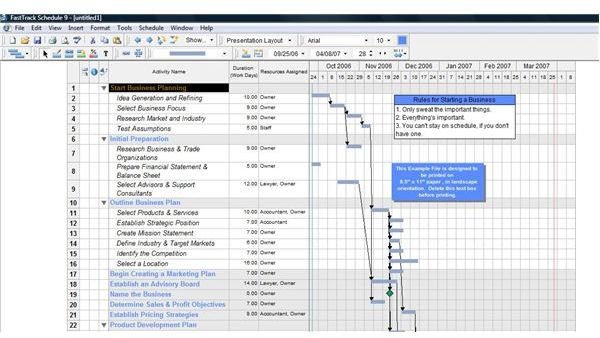 FastTrack Schedule runs smoothly on my computer. During the demo process, I did not find that it froze or ran slowly once. The program runs well while other programs are running as well.
FastTrack Schedule has many features. In addition to templates and example files, the program allows you to create schedules from MS Project, Excel, Mindjet, and more. You can display projects and view their details in Gantt charts, monthly calendars and resource graphs. You can also track the performance of any project, highlighting the critical path. FastTrack Schedule also makes it easy to share project details with others through printing, exporting, and emailing project schedules. While this program only focuses upon a project manager's scheduling needs, it does provide a very useful tool.
Price to Value (3 out of 5)
FastTrack Schedule costs $349 for a single user license, $448 for a single user license with training, $2995 for a 5 user license, and $3,169 for the business edition. If you have FastTrack 9, you can buy an upgrade for just $179. The program costs a little less than Microsoft Project. If your company struggles with scheduling, runs a lot of projects requiring scheduling, or if scheduling is a constant need in your life, the program is worth the hefty price tag. Recommendation: Purchase the training module with the program for the extra $100. It is well worth it.
Overall Experience (4 out of 5)
I really enjoyed using this program. While it isn't as heavy as some of the other project management software out there, I found that it did live up to its promise of making scheduling as painless and quick as possible. The biggest assets of this program are the templates and examples that you can use to get started as well as the wonderful tutorial module that comes with the program. FastTrack Schedule comes highly recommended for those with regular project scheduling needs–as well as academics and others who have a need for keeping track of project and task schedules.