Comparison of the Top Project Management Software - MindView (OpenMind) and RationalPlan Multi Project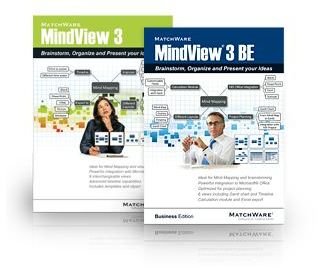 MindView (OpenMind)
MindView (formerly known as OpenMind) touts itself as a mind mapping application that can be used to facilitate project planning and brainstorming sessions. Just what exactly is a mind map? Basically, it's a type of visual diagram that shows the connections between ideas, tasks and other items in a process or project.
Pros: MindView has an extremely intuitive interface and is quite easy to learn and use. In fact, if you're a Microsoft Office 2007 user, MindView 3 will look extremely familiar to you since its design incorporates the same ribbon interface found in the latest version of MS Office products. In addition to looking like Office 2007, MindView also integrates extremely well with all Office applications, including Microsoft Project. If you're a real power-user, you may want to look into obtaining both MS Project and MindView since they complement one another so well.
Cons: As a stand alone product, MindView may not have all the features you need to completely manage a product, so you may need to purchase additional software to fulfill those other needs. Also, despite the application's power, the price may seem a little steep, especially if it will only handle part of your project management expectations. The basic version of MindView 3 runs $279 for the Windows version and $229 for Mac. The Business version of MindView 3, listed at $389, is only compatible with Windows PCs.
RationalPlan Multi Project
If you're looking for a low-cost tool to help with global management of projects, you may want to check into the lesser-known RationalPlan Multi Project. This application contains tools designed to help monitor project progress, create and manage project budgets, and quickly identify problem areas such as over allocated resources. RationalPlan Multi Project is compatible with Windows, Mac OS X and Linux operating systems.
Pros: RationalPlan Multi Project is much more affordable than some of the other titles reviewed here and its included features make it an excellent alternative for Microsoft Project. A single license can be obtained for $98 and discounts are available for multiple license purchases. In addition, educational licenses are available at a substantial discount for students, educational institutions and non-profit organizations.
Cons: While RationalPlan Multi Project is a superb tool for analyzing the "big picture" in any project, it lacks a robust scheduling tool to track some of the more detailed elements for individual tasks in that same project. Depending on your needs, this may not be a critical matter. However, if your projects are more task-oriented in nature, you may want to look into other options.
Other Project Management Applications
See the rest of this series (links below) for our summaries of other top project management software applications. In Part 1, we cover Microsoft Project and Project KickStart. Part 3 takes a look at FastTrack Schedule, Milestones and MinuteMan.
This post is part of the series: Top Project Management Software
In this series, we review the top project management software, looking at the strengths and weaknesses of each product. Each application has areas where it excels, but which aspects are most important to you?