Tenrox Project Workforce Management Reviewed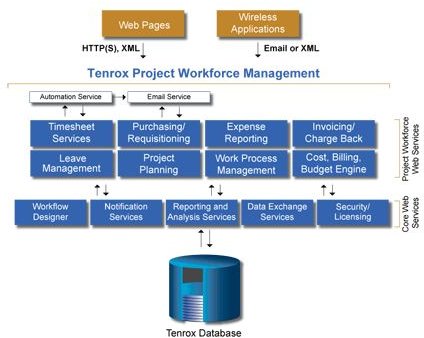 Overview (5 out of 5)
Tenrox Project Workforce Management software streamlines project management, optimizes resource management, automates time and expenses tracking. It also accounts for cost and revenues related to projects and does project planning with the application of workforce management.
Functions and features: (5 out of 5)
Few of the notable functions and features of Tenrox Project Workforce Management software are:
Tenrox Project tool module provides:
Applications for workforce planning and management in project management
Analytic tools for time and expense tracking.
Cost management tools as well as revenue and accounting analytics solutions.
Certified connectors to well-known ERP,
Payroll
Project management
Quickbooks
CRM applications.
2. Tenrox Built-in features provide:
Invoicing and billing facilities
Breakdown compliances for risk and project tracking
Multi-client and workforce management system integrated with graphical workflow engine.
Audit trail, breakdowns and Invoicing.
3. Tenrox Project Workforce Management is user-friendly and easy-to-learn software that can be introduced in phases. Begin by addressing the most pressing needs first – perhaps one can start with the Time and Expense Tracking module and manage spreadsheets accordingly. Addressing issues in phases has its own advantages, the biggest being a user can handle operations at their own pace. So, Tenrox Workforce modularity lets you deploy all the complex managerial tasks with all the ease. So whether it's workforce management, process improvement and progress check, or, analytics and solutions; Tenrox exclusive workforce engine helps accomplish all.
Process Management and Project Management Collaboration (5 out of 5)
In today's global economy, it is a fact that work is fragmented into projects and shared by many people located in places transcending national and geographical boundaries. The question therefore arises how to empower local project teams and manage corporate initiatives through effective project controlling and monitoring, how to standardize the whole system of project management and controlling all the processes involved and how to support collaboration and overall project execution?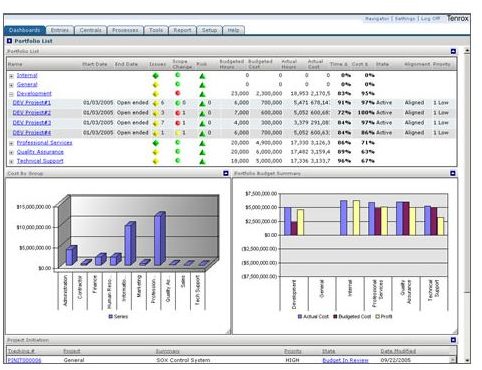 Tenrox has recognized the problem that the client's workforce is decentralized, more global in occurrence and completely project-driven. Collaborative efforts are therefore necessary for people to know what are the issues related to internal and external work tracking and billing.
Tenrox online project workforce software is a modular solution for managing the projects and resources after factoring in all the problems cited above. With Tenrox, clients can now replace the conventional spreadsheet applications that invariably leave the project workforce and project methodologies disconnected. All of the project management, as well as the monitoring the things needed to empower the project workforce, is innovatively connected in real time.
Specific benefits of Tenrox Project Software (5 out of 5)
Some great benefits are: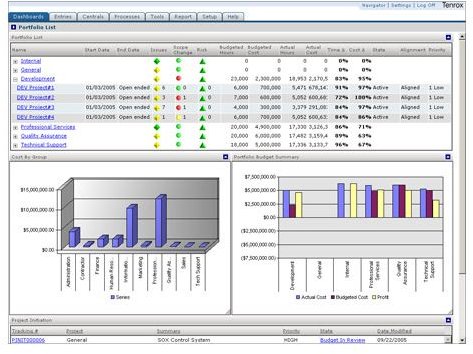 Standardizes project processes and methodology
Processes are made easily adaptable
Change are easy to effect across the team
The cost of compliance is minimized
All project cost and revenue are accounted
Deriving optimum output out of the workforce
Can leverage best practices
Another prominent benefit that needs special mention is: Data can be exported to and exchanged with leading systems for accounting (Great Plains, Sage ACCPAC, SAP Business One, QuickBooks), for payroll (ADP, Ceridian, Paychex), for ERP solutions (SAP, Oracle, PeopleSoft), for project management (Microsoft Project), for CRM (Salesforce.com, Microsoft CRM) and for HR. (Source: Tenrox Process Management)
Tenrox Project Software offers ability of the spotting of problem areas and at the same time obtaining the immediate status of all of the projects, outstanding tasks and requests. The project management software can graphically analyze team performance and project status.
Conclusion (5 out of 5)
Tenrox is a hosted, web-based solution that gives users the flexibility to gain a broad project perspective as well as the ability to track specific milestones and monitor developments needed for speedy project completion. Available on-demand, Tenrox software solutions are in use in more than 800 companies across the globe, where they have maximized organization efficiency and data security. Tenrox can be availed directly from various sales channels and Tenrox Network Partners.
Visit Tenrox Website for more details.