Project Human Resource Management and the Importance of Labor Law Posters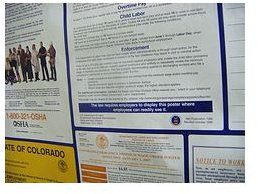 Why You Need Them
Along with federal labor laws, each state enforces their own employment laws. Every project manager should be aware of which posters are required at their workplace to avoid state or federal fines. Keep in mind that you'll need to create an area for labor law posters which is accessible to each and every employee or team member.
Labor laws are revised, improved, and on the forefront of state and federal officials all the time. They are designed not only to protect the employee, but the employer. Issues like discrimination, workman's compensation, and the Family Medical Leave Act are just a few labor law posters project managers need to know about. More important, project managers should be able to explain the need for each labor law poster and how employees can utilize them to understand rights in the workplace.
After reading this article, I encourage you to take the time to browse the US Department of Labor's website to see if you're in compliance.
Breaking Down Labor Law Posters
Here's a list of required labor law posters. Project managers should check with their human resources department for additional information and any requirements that are relevant to each state.
Family Medical Leave Act - This act created in 1993, allows for eligible employees to take up to twelve weeks of unpaid leave for illness, family illness, birth of a baby, and family members of active military. Keep in mind that to protect the employer, an employee must have worked at least twelve consecutive months and be full-time to be eligible. Employers are also allowed to request the employee use all accumulated personal, sick, and vacation days as part of the twelve week leave.
Military Leave - The military leave act applies to employees in the armed forces such as the national guard. If an employee is called to service, their position within the company must be safe.
Equal Opportunity - This poster discusses a few points. First, it must clearly state that you are an equal opportunity employer and do not discriminate against anyone because of race, gender, disability, religion or sexual preference. Second, it discusses in detail discrimination policies and sexual harassment.
Safety & Health in the Workplace - This poster includes not only the company's promise to have a safe workplace but also explains employee's rights to file a workman's compensation claim and how to do it.
Fair Labor Standards Act - This act requires every employer to post the current minimum wage. Some states have implemented higher hourly wages than the federal government's standard. Check with your human resources department to ensure you are in compliance.
Wages and Hourly Work - This poster discusses employment issues such as what is considered full time, child labor laws, and wage and hour laws specific to your state. Your local department of labor can supply you with this required poster.
Whistle blower & Non-Retaliation Protection - The federal government has implemented this law in case an employee has found discrepancies, illegal or other issues, in the workplace that he or she feels need to be brought to the attention of an outside source.
Where to Get Help
Project management & human resource management is a must in every workplace specifically when combined with the importance of labor law posters. If you have a human resources department, check with them first to see if you are in compliance.
If you are a department manager head and are essentially the human resources person for your department, call your local Department of Labor office and make an appointment with the director to cover required postings so your workplace is in compliance.
Visit the US Department of Labor's website and find free downloads, brochures, and local office locations.
Utilize an outside human resource management company to help you stay in compliance or search for one on the Internet.
Keeping ahead of project human resource management and understanding the importance of labor law posters will ensure, as a project manager, that you and your company are following both state and federal laws.