Online Project Management Software Ubidesk Reviewed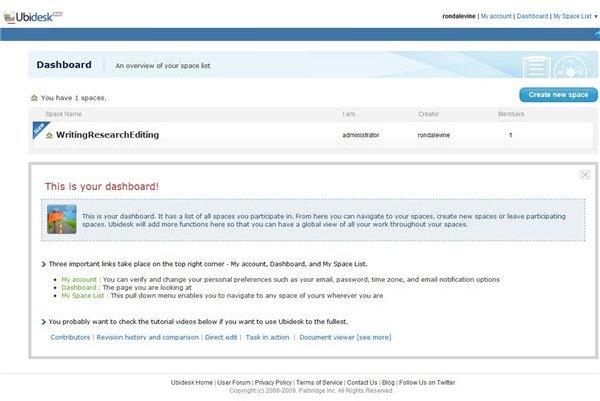 What Is It?
Ubidesk is an online project management collaboration tool developed with academics, small to mid-sized businesses, and departments and teams in mind. This project management tool allows you to create three types of projects: Public, Protected, and Private. You can manage your schedule in one place, since both the project schedule and your personal schedule can be viewed through Ubidesk. You can collaborate on documents using Ubidesk's text editor, or by importing documents from Word, Excel and more.
Pricing (5 out of 5)
Ubidesk is a subscription service. For a limited time, you can sign up for free with unlimited users for an unlimited amount of projects and up to 50MB of storage space. The other plans available include:
Minimum - Unlimited Users, Unlimited Projects, 500MB storage space $14/month
Lite - Unlimited Users, Unlimited Projects, 1GB storage space $24/month
Standard - Unlimited Users, Unlimited Projects, 5GB Storage Space $49/month
Plus - Unlimited Users, Unlimited Projects, 20GB Storage Space $119/month
As you may notice, compared to some of the other programs available with free user plans or small user plans, you do not have a limit on the number of team members or projects you can enter in, though you do have a limit on the amount of storage space. This is for a limited time, only (though the website does not say how long), but the creators of Ubidesk state they will honor your plan so long as you do not discontinue your subscription. This means the program can be an excellent choice for small businesses, academic research teams, and even consultants for use in their business practices.
Ease of Use (4 out of 5)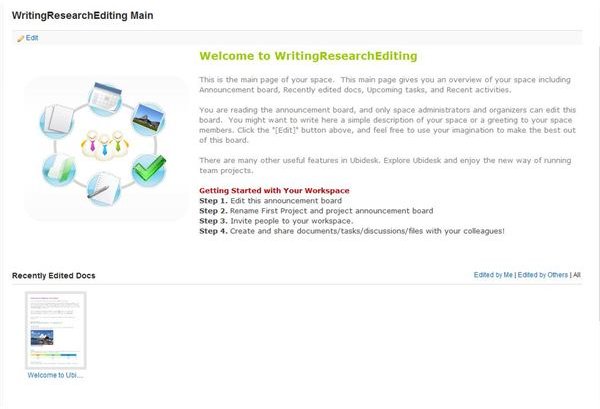 Ubidesk is easy to use and learn when compared to other programs. This program features an intuitive navigation system that takes you through the steps of setting up your collaborative project. Each of the features of this product are available from each of the screens once you enter from your dashboard into your "Space" the area created specifically for you and your team.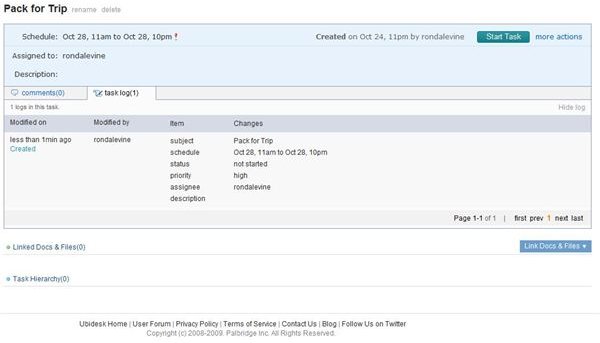 It is easy to add projects, tasks, and calendar items. For example, to create a new task, you click "New Task;" then you can select the date(s) on which the task is to be completed, the person who is to complete the task, the priority, and a description of the task. Once you've gone through this process, the task appears on your task log. From this view, you can create task dependencies, defer tasks, or print them.
Features (4 out of 5)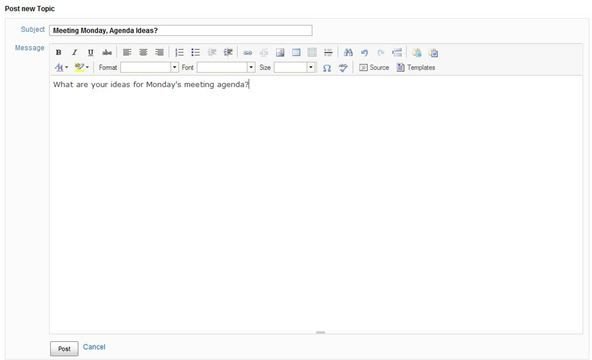 Ubidesk has many features that academics and small businesses will find useful. If you are working on a research project, then the ability to collaborate on documents will be a key selling point in this program. In addition to collaboration on documents, Ubidesk also features the ability to create forum discussions. You'll love this feature if you need to track issues, come up with a Scrum sprint backlog, or just want to come up with ideas for the next meeting.
Ubidesk also features a Gantt chart-type view called "Timeline." This provides an at-a-glance view of your project with all tasks and task dependencies accounted for. You can drag tasks by project, and you can view selected tasks by "Overdue" or "deferred" or "started."
You also are able to keep your team members informed using email. Finally, you can import and export from many of the Microsoft programs.
Support (3 out of 5)
Ubidesk features support for the product in three ways: User forums, FAQs, and direct contact. The response time on direct contact is fast. The forums feature user-generated questions and answers. From the way it looks, it is quite helpful and most questions receive a response quickly. The FAQ features most of the questions beginning users are going to want answered. It is a great place to start in your quest for answers.
Is Ubidesk for You?
Ubidesk comes with a high recommendation - especially for groups that don't need a formal project management system like research teams, small businesses, or consultants. It is also highly recommended for groups that use collaboration as a regular feature of their project management process. Finally, it is recommended for anyone who wants to track tasks and projects using an Internet-based software program.