One Pager Pro Review - An Add-On to Supplement Microsoft Project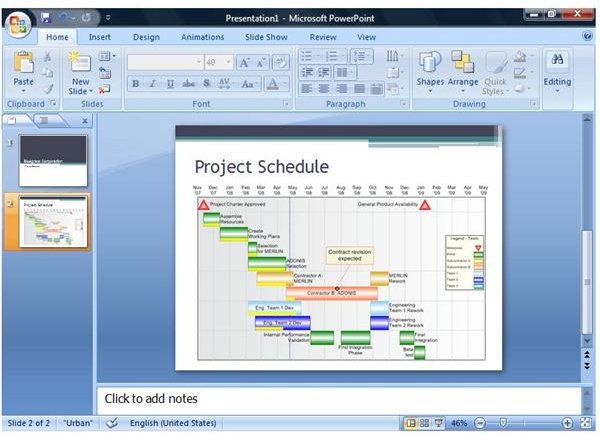 What Is It?
One Pager Pro, put out by Chronicle Graphics, is a project management tool that plugs in to your already-existing MS Project. This program, meant to be an add-on, allows you to create summaries of your project schedules, track project progress, and create graphs. With this program, you can also track baselines. Possibly the best part about One Pager Pro is that you are able to create a more specialized and useful program out of a project management program you most likely already own.
Ease of Use (4 out of 5)
If you can use Microsoft Project, then you will be able to easily adapt your use to One Pager Pro. One Pager Pro easily integrates into your already existing project menu. You will simply select "Tools" in the toolbar menu, and then select "One Pager Pro" at the bottom of the drop down menu (depicted at the right).
Because the program fully integrates into a program you are already familiar with, using the program as a supplemental way to create reports, graphs, and view progress is as simple as integrating a few extra clicks into your program usage.
Features (3 out of 5)
One Pager Pro adds many features to Microsoft Project. You can create a legend for your project denoting and color-coding the various resources that will be involved. Another great feature that One Pager Pro adds to your Microsoft Project is the ability to track baselines. You can track the original baselines for your project tasks or milestones and you can compare these baselines to what is actually happening with regard to dates. Also, you can track percentages when it comes to task tracking: Instead of just marking a given task "complete," you are able with One Pager Pro to mark the percentage completed for a given task;.a red bar in the Gantt chart view depicts this. Finally, another feature project managers may be very interested in is the ability to comment on project tasks and project events.
Price (2 out of 5)
The only place that One Pager Pro receives a low-mark on is price. One Pager Pro will cost you $299 and that is not including the yearly support package ($74.75 for one year or $127.08 for two years). Because One Pager Pro is an add-on to already-expensive Microsoft Project (running between $600 and $780 on average), it is expensive, especially for small businesses and start-up companies.
Support (4 out of 5)
As already mentioned, One Pager Pro offers subscriptions to support. These subscriptions include phone and email support, upgrades, and quick response time. In addition to yearly subscriptions for support, Chronicle Graphics offers a standard FAQ page for One Pager Pro and downloadable documentation in the form of a user's guide. If users subscribe to the support and maintenance package, then they will receive an apt amount of support.
Is This Product For You?
One Pager Pro is for you if you need Microsoft Project to work harder, but if you don't want to pay more for a customized suite. It is not an affordable choice for many small businesses or business start-ups, but if your project management needs are heavy and if you will be requiring software that is more specialized, it may be just what you are looking for. The most important factor in determining whether One Pager Pro is software that will work for you is to answer the question, "Do I enjoy using Microsoft Project?" If the answer to this question is, "no," then this software is not for you since it is an addition to, and not a substitute for, MS Project.