Outlook vs. Entourage: Which is Best for Task and Project Management?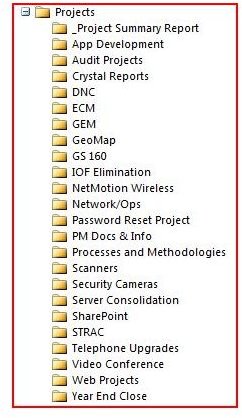 Tasks and project tracking are easily accomplished in both Outlook and Entourage. You wouldn't likely want to use either of these applications for full-blown project management, but tracking tasks for small projects and major milestones for larger projects can be accomplished using these tools.
Outlook Personal Folders
Let's start with Outlook.
There are two ways you can use Outlook to record and monitor project tasks: personal folders and the task list. Personal folders are a great way to collect and store information regarding the project. However, personal folders can become a dumping ground for information that becomes next to impossible to find again.
I recommend keeping the personal folders list to a manageable size. I try not to create more than eighteen to twenty main folders. Within each folder you can create as many sub-folders as you like. The Project List illustration shows an example of the subfolders found within my main folder titled, "Projects." All emails associated with the project are stored and saved in their appropriate folder.
For more information on using Microsoft Outlook to manage your project tasks, read the article "Project Task Management Using Outlook" by Bashar Lulu.
Task List
The task list is a good way to keep an at-a-glance view of important project facts. I don't like sorting through dozens of tasks so I create one task for each project. You can add notes, drag and drop emails, and drag and drop calendar events into tasks so that you have one place to group all project related information. The limitation with the task list is that you have to remember to update them with new email and events or it won't be up-to-date.
I prefer to keep like task items grouped together. In the Task List illustration you can see that all projects begin with the word, "_Project" followed by its name. Here's my favorite part of the task list. You can access, update, or edit contents from a Blackberry or similar device. When you're caught in the elevator by a colleague who is inquiring about status, you can go straight to the task list and give them the latest update.
Project Central
Everything we've talked about so far can also be constructed using Entourage personal folders and task list. But there is an additional feature within Entourage called Project Central that is unique to this application. Project Central allows you to capture all information related to a project and you aren't just limited to emails. You can associate calendar events, emails, electronic files, contacts, web clippings, and notes in one location (see the Project Central illustration). With just a few simple clicks, you can find out everything you need to know about the project. You can also automate many of the updates to Project Central so that new information will automatically appear in the project folder within Project Central.
Images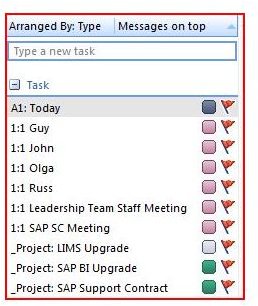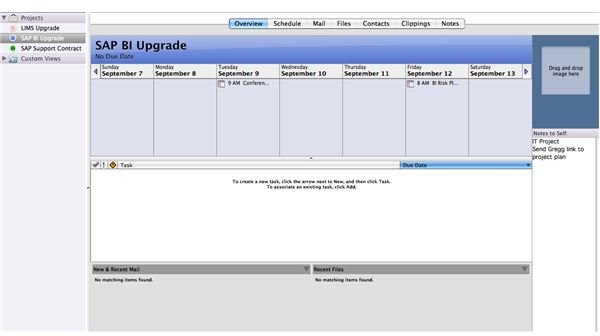 The concluding answer to the question posed in this article's title, "Which is best . . ." is Entourage.
It provides one stop viewing of all pertinent project information. The ability to have Project Central automatically update the folder with related project information is invaluable.
More Information
Bright Hub writers have written many articles related to working with tasks and your projects. To keep reading, click any of the related task links below: