AEC FastTrack Schedule 10 Review: New Features & Enhanced Capabilities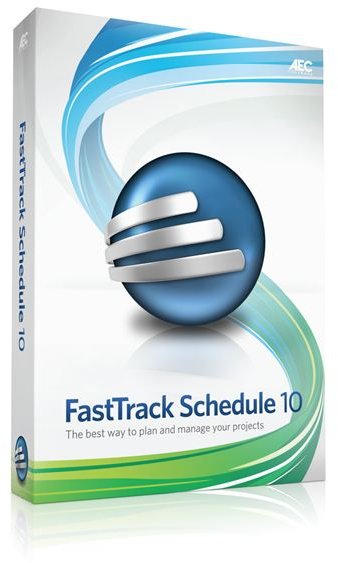 What Is It?
FastTrack Schedule 10 is a project management software option aimed at both new project managers who are looking for a project management software solution and for project managers of mid- to large-sized companies who find that portfolio management programs are too much for their project management needs.
The program is broadly-based, meaning that users come from a variety of backgrounds and industries including manufacturing, construction, higher education, government and film. Additionally, FastTrack Schedule 10 features useful templates that help you get started planning your project in a flash, and it works on both PCs and Macs. There is also a version for iPads. When reviewing FastTrack Schedule 10, I found it was a great program for managing projects.
Take a look at the FastTrack 10 website here.
Installation and Setup (4 out of 5)
Like the previous version of FastTrack Schedule, FastTrack Schedule 10 is easy to install and to set up. To install the program, load the CD-Rom into your drive, and the install file will prompt you through the rest of your setup. Alternatively, you can download the program from the website. If you are using the full version and not the free trial version, you will need to enter your license key into the proper box when prompted.
Setting up your FastTrack Schedule can be done three ways: You can create a schedule from scratch or you can open a schedule, but the easiest way to get going is to open a template. FastTrack also features templates and examples for creating your project schedule. Templates and examples include:
Marketing research
Construction - Days
To-Do List with Auto Status
Architect
College Schedule
Education Publications
Film Production
and more
The really great thing about FastTrack Schedule 10's templates is the ability to keep just the information you need from the template. You can choose to load the template with everything included, certain fields included, or none of the fields included. This saves you from having to delete information that you don't need.
User Interface (4 out of 5)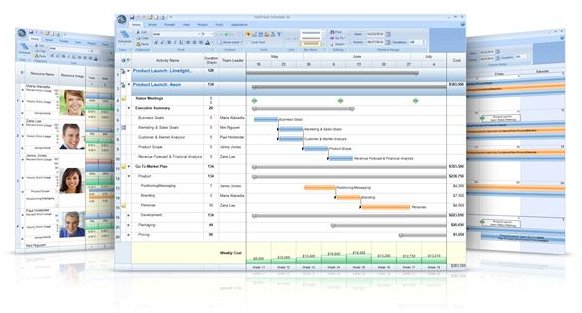 Another outstanding feature of FastTrack Schedule 10 is the user interface. The Windows Version (the version of FastTrack Schedule 10 reviewed here) features the ability to choose between a ribbon user interface or the standard user interface (or you can even use a hybrid version where you use the standard traditional toolbar format with the ribbon format). That means users who are familiar with the way that Microsoft Office programs work can easily jump in to using FastTrack Schedule 10. I found FastTrack Schedule 10 easy to learn and jump into due to the templates and the ribbon format.
Features (5 out of 5)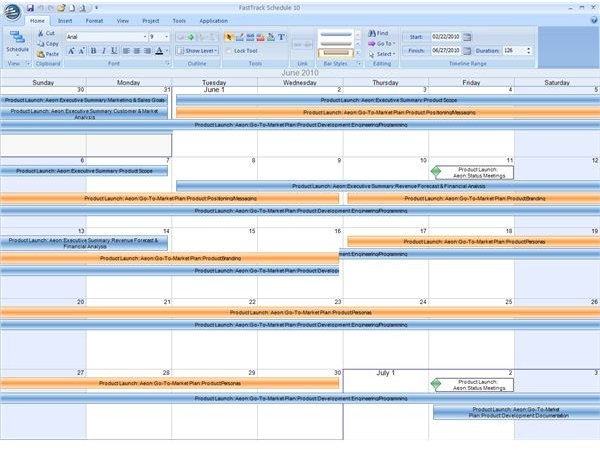 FastTrack 10 has many great features. When you open FastTrack Schedule 10, you go to a "What's New" screen. This screen allows you access to content video tutorials, a list of new features, a tour of FastTrack, and the three startup options listed above: New schedule, schedule from template, and open schedule - a handy feature to jump into exactly the areas of FastTrack that you need.
Here's a list of other great features found in FastTrack Schedule 10:
Three view options: Schedule, Calendar, and Resource

Add new rows and create sub-outline levels easily with a few clicks of your mouse

Drag and drop bars or manually enter the number of days associated with an activity

Easily assign resources and generate cost based upon resource information

View whether a resource is overallocated - overallocations are designated in red. You can remove this overallocation easily either through backloading or through custom controls

The resource information form allows you to view images, track contact information and rates

Track a multitude of base calendars and resource calendars associated with your project

Inspect work usage in the schedule view for resources assigned to tasks.

Schedule using effort-driven scheduling or using fixed-duration scheduling–you can customize to each task.

Track progress by viewing the percentage of tasks complete, what tasks have taken longer to complete than others, and viewing tasks that haven't been started–you can see how these things affect your schedule.

Compatibility with MS Project and MindJet's Mind Manager.

The ability to create presentations from the program.
Price to Value (3 out of 5)
While FastTrack Schedule 10 is an awesome program, and it is significantly less than MS Project, it is still hefty as far as price goes. At $349 ($179 for the upgrade version) for a single user, the program can be a bit steep for many budgets. However, it is important to remember, that for a company that needs project management capabilities and uses project management software options, it is a great investment, especially considering that many comparable programs are more expensive per user license.
User Support (5 out of 5)
One thing that's outstanding about FastTrack Schedule 10 is the level of customer support available for the program. You will find video tutorials, webinars, documentation, a knowledge database, email support, web support, and phone support, as well as premium support options.
Is FastTrack Schedule 10 for You?
FastTrack Schedule 10 is for you if you are working as a mid- to large-sized company project manager. The program is great also for new project managers who have previously been working with Excel or Organizer for project management needs. The program isn't so great for freelancers or for small businesses (unless they are beyond the startup phase and would use the program on a daily basis to make it worth the cost). In all, FastTrack Schedule 10 is a great, easy to get started with and using, project management software that operates in a Gantt Chart format.
Image Credits: All Screenshots and Box Shot of FastTrack Schedule 10 courtesy of Ryan Kish of AEC Software.