Primavera® Risk Analysis Advances State-of-the-Art Scheduling with Relationship-Driven Critical Path Method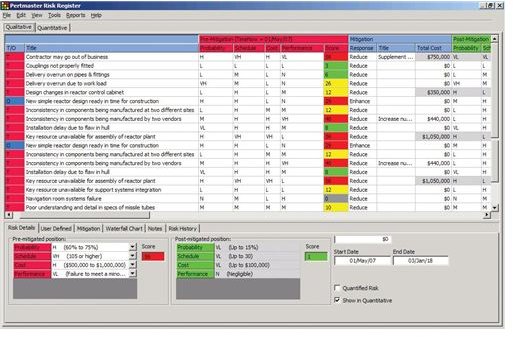 Primavera® Risk Analysis
Primavera® Risk Analysis (formally known as Pertmaster) is a program devised for managing risks throughout the lifecycle of a project. It also is a program allowing planners and schedulers to plan, taking into account the relationships driving a schedule. The critical path method scheduler in this program takes into account possible overlap and relationships between tasks. Thus schedule restraints can be relaxed so that alternative models and strategies are used. This program aims to assist the schedulers with creating more accurate project targets.
How Does This Software Work?
Primavera®, known as one of the top providers of project and portfolio management software, has created Risk Analysis in hopes of easing the lives of those responsible for project scheduling. This program has compatibility with Microsoft Project. It will allow users to import multiple MS Project projects into its system while defining project relationships. More features of Risk Analysis include:
Program level rollups
Weather modeling
Cost uncertainty modeling
Critical forecasting
Crystal Reports™ (Reports on risk giving the customers options on how they wish to view data.)
Determining schedule maturity and risk readiness
Quick Risk, Risk Register, and methodology-driven interface for entering risks into Pertmaster
Custom definition of risk matrices
Qualitative identification of risk events
Risk reporting through scenarios
Real-time risk distribution chart that overlays the Gantt chart
Through the utilization of these various tools, users can then make decisions that concern risk management. The program directly integrates with schedules and shows risk and uncertainty associated with the various stages of the program. Other features of this program include the schedule check, Histogram Chart, Tornado chart, Scatter Plot, and Probabilistic Cash Flow. This powerful program is quite expensive at $9,5000, but might be just what a company needs to tackle large projects.
State-of-the-art Scheduling
Because most critical path products perform calculations based only upon task durations, this product gives a more advanced view of what is going on in any given project.It accounts for overlapping tasks as well as the relationships between any two tasks. This allows for a more accurate and realistic model of relationships. By obtaining more accurate and realistic relationship models, the risk analysis performed is also more accurate and realistic. This puts more analytical power in the hands of project schedulers and risk assessors.