Free Microsoft Templates: Time Tracking in MS Office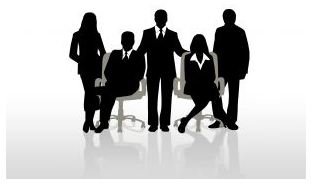 Many factors go into a successful project. You have to select the right project team members, determine specific goals, communicate effectively and so much more. One of the most fundamental elements of a fruitful project is managing your team's time. If you are looking for time management help, you might benefit from these Microsoft templates. Time tracking is important, but it does not have to be exceedingly difficult. Choose from any of these free templates or download them all.
Setting Goals
In order to ensure that your project team's time is spent productively, you must first set appropriate and realistic goals. Determining what tasks need to be accomplished to reach specific milestones, who is best suited to carry out each of these tasks and putting it all in writing will get the ball rolling and propel your team to perform their respective duties in a timely manner. You can use the worksheet template for preparing SMART goals — SMART stands for Specific, Measurable, Achievable, Relevant and Time-bound — in any version of Microsoft Word.
Action Item Templates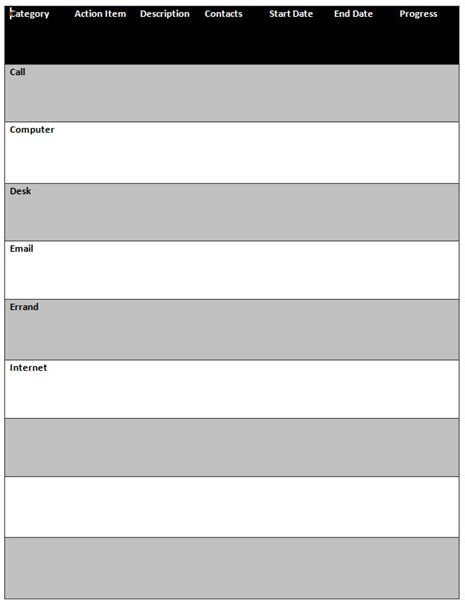 Once you have determined specific goals and established who should take on each task, discussing them at a team meeting and listing them as action items is advisable. You can download one of two action item templates to eliminate the guesswork of what information you might need. The Microsoft Word template features an orderly table, and the Excel version has neat columns with built-in filters.
Meeting Minutes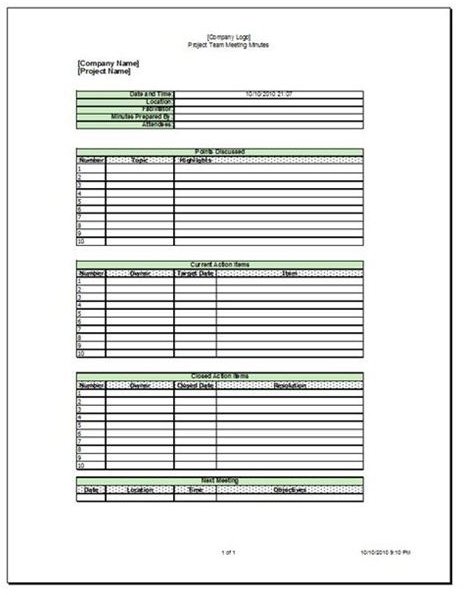 Along with a list of action items, arming your team with meeting minutes recounting the division of tasks, the time allocated for each one and how each team member's time should be tracked will help to ensure that everyone is on the same page. Download a team meeting minutes template for either Word or Excel. Each one offers tables in which you can enter points discussed at the team meeting, action items and details on subsequent meetings.
Calendar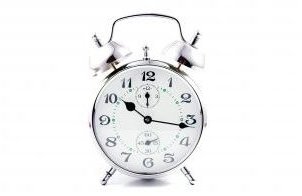 In order to keep on task for any project, a calendar is an ideal tool. You can keep this Microsoft Excel seven-day calendar template for yourself and note important meetings, appointments and other scheduled events by the hour, or you can share the template with everyone on your team. Each day is color-coded and broken down in half-hour increments for the entire 24 hours.
Project Management Chart
More than a simple worksheet template, this project management chart template is a complete workbook.This template does the legwork for you. All you need to do is enter time tracking and budget information into the first spreadsheet in the book. The other sheets in the workbook are already formatted to give you instant charts including charts to compare your allocated budget to actual spending, staff time budgeted compared to actual time spent and more.
Project Tracking Sheet
Prioritizing tasks, determining risk factors and recalculating estimated time to reach milestones is essential if you are going to stay on course. This project tracking template for MS Word enables you to catch potential issues before too much time is lost and provides you with data to help keep the team and stakeholders informed and on the same page.
Project Management Report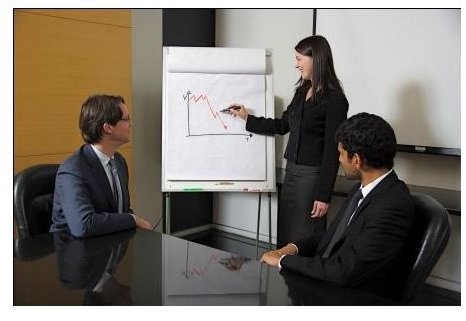 When you have a better idea of where you stand as far as meeting current goals and are aware of changes that need to be made, you can produce an informative report for the client or project owner with a Microsoft template. Time tracking, budgeting and strategies all go into this progress management report template for MS Excel. The first table in this spreadsheet lists the project name, work completed an achievements to date, costs and more. The second table addresses potential concerns and lists the date any issues began, your strategy for resolving each one and resolution dates.
Time sheet
Every project needs time sheets, and not the type you use to calculate payroll. This project time sheet template for MS Word lets team members track how much time they spend on specific tasks. Not only will this help your team stay focused and pinpoint jobs that might be eating up more time than necessary, it will also help you with budgeting and billing as the project moves along.
Project Status Form
Staying abreast of where everyone stands as your team works toward milestones and ultimately project completion, it is important to determine the status of each tasks as well as the project overall. This Microsoft Word project status form template will help you track how much of the budget has been expended, tasks that have recently been completed and upcoming tasks that require attention.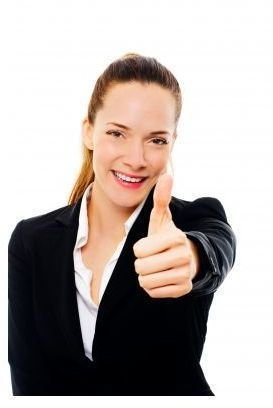 Using these Microsoft templates, time tracking can become manageable. You can use the time saved to focus on other aspects of managing your projects.
Image Credits
Team: sxc.hu/B S K
Metal Clock: sxc.hu/Cema
Meeting: sxc.hu/Michael Connors
Thumbs Up: freedigitalphotos.net/Ambro