Action Item Template Examples and Downloadable Forms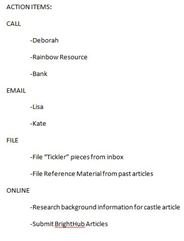 Keeping Track of Action Items
There are as many ways to produce an action item matrix, as there are people to produce it. Here I look at ways to track action items in Microsoft Office Suite programs.
One simple way of tracking action items is simply to list them, such as in a Microsoft Word (or any word-processing) document. If you have a short list this is a method that may suffice.In order to promote ease of completing these tasks, it is important to categorize them. For example, you may group things by the sort of activity required such as:
Call
Email
Home
Errand
Desk
Computer
File
Write
Your action items list might be as simple as listing these categories and then the actions that must be taken underneath them (see figure 1). This may be too simplistic for your needs. An alternative would be to use the "table" feature in Microsoft Word.In order to do this in Word 2007, click on "Insert" and then "Table." An option window will appear from which you can select the number of columns and rows for your table. You can make this as detailed or as simple as you like. I created a template for a simple table you can download here (figure 2). When creating a table for your action items, you should at least have columns for:
Action Item Description
Finish Date
Contacts
Progress/Completion
Microsoft Word allows for simple action item tracking. But, what if your project requires would a more advanced method of tracking action items? Microsoft Excel includes advanced features – but without the fuss of some of Microsoft's more detail-oriented programs like Project. In Excel, you can create sort-able columns (see figure 3). An additional template created in Microsoft Excel for action item tracking is available here.
An often-overlooked program for project-management and action items is Microsoft OneNote. OneNote integrates with the Microsoft Office Suite, and action items can be gathered from anywhere in the program – and used with Microsoft Outlook. If you regularly use the "Tag" function in OneNote, you can click on "View" and then "All Tagged Items" (Figure 4). This will then create a list in a sidebar of all the flagged items. Once you have created this list, you can then click on "Create summary page" at the bottom of the sidebar. It will then produce a page for you with all of the items you have flagged for follow up. You can get as detailed as you like with the different tags available.
Finally, for those who like it, Microsoft Outlook offers a great option for tracking action items. I have set up my version of Microsoft Outlook 2007 by guidelines set out in Take Back Your Life! Using Microsoft Outlook 2007 to Get Organized and Stay Organized written by Sally McGhee and John Wittry. If you have simple project management needs, this method may work for you.Figures 5 through 7 are screenshots of this organization system based on this book for action items."SNA" stands for "Strategic Next Action" – another way of saying "Action Item," and these actions are sorted into various categories.Every SNA is attached to a Supporting Project (Figure 6) and a meaningful objective (Figure 7).
You can be as detailed as you like using any one of the above programs or methods for action item tracking. I prefer the method used in Take Back Your Life! I find that the method outlined in this book is adequate for my own project management needs. However, you may find that you require a more complex system, and for this require software such as MS Project, Vertabase or others. Whatever system you decide upon for tracking your action items, the important thing is that you do track them – and increase your productivity by doing so.
Images