Sample SMART Goals Worksheet: Free Template for Download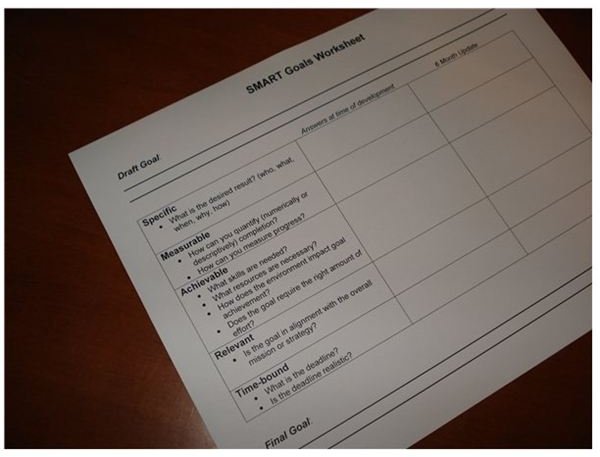 Aspire to Achieve a Goal
Stephen Covey encourages goal-setting to achieve your full potential in The 7 Habits of Highly Effective People. By setting goals, you take the opportunity to sort through what is important to you and focus on what matters most. Goals are important for businesses, projects, job performance and personal development.
The mere act of writing down a goal sets things in motion. Your mind accepts the challenge and will consciously and unconsciously work to achieve the goal. The momentum picks up if you tell someone your goal. The act of stating your goal creates a sense of accountability for its completion.
Note that a goal can be distinguished from an objective. The goal is the overriding outcome. Objectives are significant tasks that must be completed to achieve the goal. If a clear goal is developed, then the objectives and steps to achieve the goal are easier to create.
Make Goals SMART Using a Worksheet
Once you have a goal, make it SMART. That is, make it specific, measurable, achievable, relevant and time-bound. Each component of the acronym invokes thought-provoking questions that will make the goal very specific and measurable, the kind of detail needed to achieve success. Download the SMART Goals Worksheet and work through the questions to achieve a SMART goal. Be sure to include people that will have responsibility for the goal in the development process.
Write down a draft goal as a starting point for the exercise. Don't worry about language or content at this point.
Read the questions which are likely to produce more detailed answers than "yes" or "no" responses. Write out responses in the right-hand column. Not all of the information will be used in the final goal statement. However, it may be useful for other purposes, such as developing objectives or an action plan.
Put the SMART Goals Worksheet aside for at least a day if time permits. Your mind will likely continue to work on goal formulation.
Review the responses and write a detailed goal in the area for Final Goal.
Address any specific concerns and obtain agreement from everyone responsible for achieving the goal.
Print a new SMART Goals Worksheet and follow the process above for each unique goal.
Review Your Goals
Now that you have a SMART goal, post it in a prominent place so that it remains clear in the minds of everyone involved in a project. Then, review progress on a periodic basis. The parameters surrounding goal development may change. If this occurs, then the goal needs to change as well.
Don't allow a goal to limit productivity because the bar was set too high or to discourage performance because it is clear the goal will never be met by the deadline. Pull out the SMART Goals Worksheet that was originally prepared and update it. Even if the goal seems appropriate, review it at an established period. A "6 Month Update" Column is included in the worksheet. However, use whatever timeframe is appropriate for the project.
If you're looking for more sample forms and downloadable templates, check out Bright Hub's resource guide Over 50 Free Project Management Templates and Sample Forms.
References
This post is part of the series: SMART Goal Resources & Strategies
Learn how to develop more focused SMART goals with this series of articles that provides examples, a downloadable free worksheet, strategies, and general tips.