Disruptive Strategic Projects That May Result from Amazon Buying Whole Foods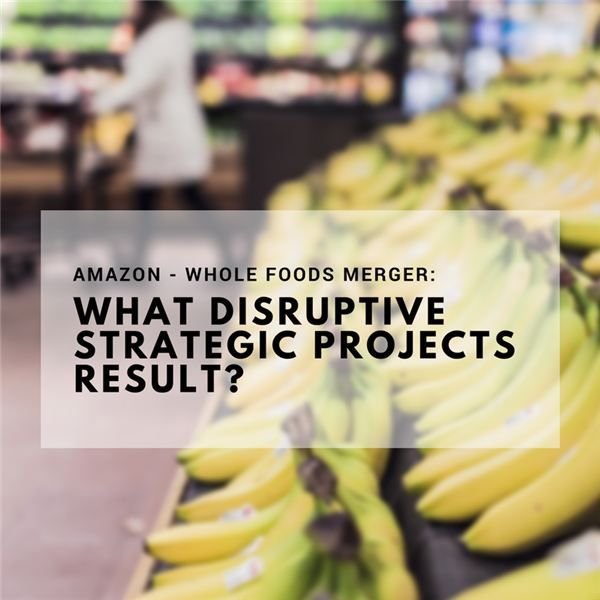 The Amazon – Whole Foods merger is exceedingly disruptive. At the same time, something like this was probably coming…but industry evolution hit a tipping point, and boom…here it is! Industry watchers are keenly interested to see what will develop out of this.
How Are They Complementary?
The key for this combination is that the two companies are very complementary. Here's how:
Brick and mortar versus digital – Whole Foods is purely brick and mortar, whereas Amazon is almost purely a digital play.
Management versus marketing – Operations management in the grocery business is a core competency of Whole Foods, whereas digital marketing and supply chain management is Amazon's core competency.
Less efficient versus highly efficient – Whole Foods is less efficient in favor of other attributes, whereas Amazon is built on low cost.
Likely Projects
Given these basic contrasts, it would appear likely that some projects that will rapidly results include:
Automation of Whole Foods by Amazon to lower costs and make them more competitive - Whole Foods has lost market share in recent years because of its high costs, which have allowed other grocers to add natural foods product lines.
Advancing the home delivery business – Given Amazon's expertise in home delivery of so many other consumer retail products, it is clear that they will move further into the grocery home deliver business with the Whole Foods acquisition.
Advancing the grocery pickup business – Similarly, Amazon will leverage its digital marketing capabilities and use Whole Foods to develop the market for grocery pickup further.
There are key strategic drivers behind the Amazon – Whole Foods merger, highlighted by major complementary core competencies for the firms. The projects that quickly evolve will be focused on leveraging those complementary core competencies.
This post is part of the series: Food Fight: Amazon/Whole Foods Merger Project Management
This is a series of four articles on disruptive strategic projects from the Amazon-Whole Foods merger.