Strategic Initiatives in Project Management using the 80:20 Principle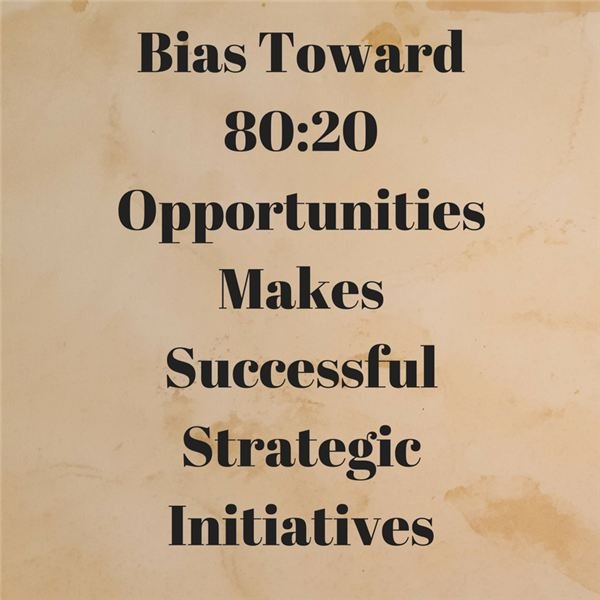 Many PMOs have thorough, well-considered processes to be applied across each and every project. On one hand this may seem like a valiant effort, but why every project? Why not just apply the rigor, energy and resources on the select few projects that will produce the greatest impact?
The questions above lead to a simple conclusion: there are two sides to the equation. Which select few projects will we do, and how will we monitor and control those projects that make the cut? There are somewhat similar answers to each.
Selecting Projects
The key to selecting the "80:20" projects –the ones that produce 80 percent of the results for 20 percent of the effort—is to be able to map those projects to the organization's strategic objectives closely. That means that the selection process should heavily slant toward mapping project objectives to organizational objectives. In the end, the project of this effort is that there should be specific strategic parameters to which the project objectives map.
If this is done right, the monitoring and controlling of the project should be significantly more straightforward. Armed with the specific strategic parameters to which the project maps, the next job is to convert those parameters into meaningful metrics for monitoring and controlling the project.
Of course, the project will also be monitored for adhering to schedule, budget and quality standards, but these things also need to be closely intertwined with strategy. For example, the schedule may closely align with the timing of a strategically important internal or external event. The budget may be more or less relevant depending upon the importance of the project. The quality of the output may be effected –up or down– by the strategic implications.
Key Points to Consider
The important thing is to be able to map to strategy at all points in the process:
Does the project map closely to specific strategic initiatives? If so, move ahead, and if not, discard the project.
Map these parameters to a set of metrics for measuring project progress. These should ensure that the project keeps on track relative to its purpose, and should also provide executives with a more complete picture of initiative status.
Keep evaluating in this manner and make course correction when necessary. Be especially aware of any changes to strategic direction, as they could impact the project!
Projects are about much more than meeting a schedule, budget and level of quality. They are about achieving the most critical objectives, and thus only the highest priority projects should make the cut. Is your organization thinking "outside the triangle" and choosing and managing projects according to strategic criteria?
This post is part of the series: Strategic Initiative Management
This series covers raising awareness of the strategic aspect of project management and how projects must focus only on 80:20 opportunities; keeping processes simple; growing the human and institutional capabilities of the organization; and the importance of fostering a culture of strategic change/