Use MS Visio to Create Status Reports

Introduction
Completing this series on creating status reports, this article introduces the option of creating status reports that resemble a project timeline, using the color and symbol options in MS Visio to identify parts of the project that are finished.
No matter what format you use to report the current status of a software project, the reasons for creating the status reports are similar:
Someone connected to the project needs to convey project status to a director / supervisor / manager / department head
Someone who then shares the essence of the status report with other stakeholders
Sometimes you will be asked to create a visual status report that is suitable for upper management – or even a client
Why use Visio?
Because Visio status reports supply a quick visual snapshot of the project schedule and progress, they appeal to clients and upper management. Most likely these people wouldn't benefit from a detailed report created in Word or Excel – in fact, they may be put off or confused by "too much information." Generally, they want the project status in a nutshell.
Visio is great for creating overviews. In addition,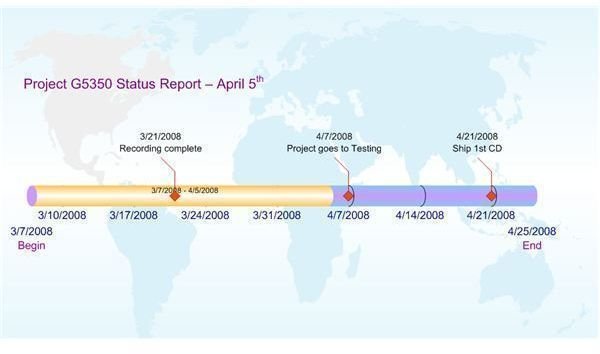 Visio reports work great when you don't have project management software.
Visio status reports graphically display your progress.
Visio timelines and status reports fit well in PowerPoint presentations.
Visio status reports may not completely replace more detailed status report formats, but as a quick overview, and springboard to further discussion, they work quite well. They also work great as a motivator, especially when placed on the cubicle walls of project team members – or when placed on general meeting room walls, where other project teams will see them.
Using Visio Project Report Templates
Visio 2003 offers four project templates: Gantt chart, Timeline, PERT chart and Calendar. For my example project, a computer-based training course, the Gantt chart and Timeline templates seem to generate the best status reports.
Gantt Chart Status Report: From the File menu, select New –> Project Schedule –> Gantt Chart (Metric) or Gantt Chart (US units). Before Visio can open the Gantt chart template, you need to specify the Gantt Chart Options. In my example, the Major units are "weeks" and the minor units are "days." After you indicate the start and finish dates, the template automatically populates the Duration field and places a Task Bar over the appropriate days (or units). You can use Callouts, Text blocks, Arrows and Titles as desired. I used a contrasting color to indicate which tasks were complete or mostly complete.
Note: Remember, you use Visio to create a "simple" status report. If you have lots of pertinent project detail to add to your status report, particularly team dynamics or technology needs, you should use either a Word or Excel format, as explained in Parts 2 and
3 of this series.
Timeline Status Report: From the File menu, select New –> Project Schedule –> Timeline (Metric) or Timeline (US units). When you select this template, the Configure Timeline dialog box doesn't appear until you actually place a shape from the Timeline Shapes menu on the left. Then Visio needs you to specify the dates and units to assign to the shape.
The Shapes menu offers various options for the timeline itself as well as the milestone markers. I used the World background for my example. [Click to view a Timeline Status Report saved as a graphic.] Once again, these Visio status reports look great in Word documents, PowerPoint presentations and on Web pages.
You can add as much information as necessary, but remember that the Visio status report is designed to only highlight the need-to-know information.
This post is part of the series: Creating Status Reports
Creating a weekly status report of your work on a software project is vitally important to the success of the project. But it need not be drudgery, it can be exciting and rewarding.