Conducting Feasibility Studies: Feasibility Study Example and Template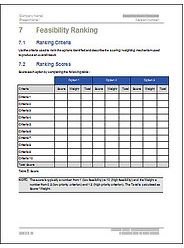 What Is a Feasibility Study?
Simply put, a feasibility study in project management is used to find out if a project is feasible prior to investing real resources and dollars. Often, project managers are hired to complete studies for clients to determine if a proposed venture will be profitable as well as what risks it will encounter. [caption id="attachment_132825" align="aligncenter" width="640"]
Feasibility studies should be performed to determine project viability[/caption] The feasibility process is completed prior to project initiation or often, it can be utilized to see if a set of processes or procedures will enhance or harm project outcomes.
Feasibility Study Example and Template
Whether you are working for a client to see if a business, product, project, or process is feasible, follow these steps. In our Media Galley you will find a feasibility study example for a client and a feasibility study template you can use to assist you.
Project Description – Identify the project name and purpose. Include details including stakeholders, and end result expected.
Goals – List long and short-term goals and what processes will be needed to achieve those goals.
Timeline – What will be the estimated time until project completion?
Costs and Budgeting – Include all costs incurred for the project including the cost of the feasibility study itself.
Purpose – What purpose does the project have and whom will it benefit?
Market Analysis – If applicable, will the market or market environment benefit from the project. If so, list why.
Resources – Identify all the resources both IT, technical, inventory, and human that will be needed to complete the project.
Project Process – How will the project flow? Include flow charts showing project stages.
Management and Teams – Who will manage and who will work on scheduled tasks? Will project management outsourcing be needed?
Observations– Statements that do or don't support the project should be included here. If for a client, does the client have the finances to complete the project or are there alternatives? If for a project or process, will it work and will it be beneficial?
Outcomes of a Feasibility Study
Often, after the completion of a study, a determination may be made not to proceed with the project. A good feasibility study sample will include:
Project Problems – Does the study include risk or problematic areas that need to be addressed and are they clearly identified?
The Outcome – Every study should identify the process, product, client request, and goal and how they will affect the outcome; positively or negatively. Will outcomes be beneficial or deterrent?
Alternatives – Are possible alternatives available or suggested and researched?
Assessment – The assessment part of your feasibility study should include risk management and controls, solutions, if the project is feasible, and how the project should be implemented.
Summing Up
For projects to be considered, especially if they are to undertake many resources including real dollars, real time, and real effort, a feasibility study is essential prior to project initiation, project scope, and initiation. If a project appears overwhelming or requires much detail and analysis to get to even begin the project, consider completing a feasibility study prior to the project. If you're looking for more sample forms and downloadable templates, check out Bright Hub's resource guide: Over 50 Free Project Management Templates and Sample Forms. Image by Free-Photos from Pixabay