Tips on Using Vision and Strategy in Resource Management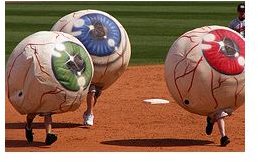 Be a Visionary First
Too many managers, no matter what they're working on, ever define a clear vision for the future. Because your vision is so important, use that vision to strategize. Experts offer up these ways to define your vision for effective resource management.
First, be very clear about your vision and planning. Start by looking at all of your projects, the resources (or personnel) you'll need, and break down each project in chunks for the next six months. Next, prioritize your projects and visualize what you want to get done first. Talk to key personnel to help identify what is manageable, how you want to see it all play out and then make your vision clear enough that you or any of your key personnel can review it and offer up suggestions.
Extended visionary planning should include:
Writing it all down - Organizing and writing down visions and goals will help you later.
Sharing your vision - Sharing your visionary planning with your key personnel is essential for project planning.
Review it - Keep that vision plan in a format where you and your top personnel can refer to it from time to time.
Dare to change - Be open minded and flexible when it comes to changing a project plan. You can still keep the overall vision but being open to how a project might be finished quicker (or better) is a good thing.
Now that you have a clear vision on what the next six months might look like for you and your team, how can you use those visions to strategize your way to perfect resource management?
Strategizing Your Vision
Often, managers make mistakes when it comes to strategizing their goals or visions. For example, if you put no value on the resources you have to complete a project, your project and personnel will be undefined and unorganized. Here are the best ways to strategize by using your vision:
Talk to key personnel - Take the time to have a good meeting on your vision and what resources you will need with key personnel. Often they will be your best guide.
Use the old SWOT analysis - By identify the project's resources through SWOT-Strength, Weaknesses, Opportunity and Threats, you can analyze what will work best and what you are missing as far as resources. Use good risk management skills.
Virtual timelines - Make a virtual time line and talk about it with key personnel.
Choose the right people - You can use your key personnel to help you on this but if you want to maximize your resources or teams, make sure you are choosing the right skill set to match the project. Don't put an illustrator on a reorganization project for example.
Seek out every opportunity - Once your team is set, meet again and explore their ideas. Offer up a good question and answer session and be open to their input.
Outline every aspect of your project - Be clear about this to your team and include everyone. Your personnel won't be effective if they aren't in from the beginning so be informed about business resource management.
Reward - Reward and offer kudos during and after a project. If you can't take your team to the client, take along their names and who accomplished what. Connecting your resources to specific parts of each project will make for a happy resource team.
Resource and project task management often falls by the wayside when managers don't take the time to set visions and strategize those visions by looking at what resources they have and don't have. Start with your vision and strategize to success!