How to Evaluate Performance of Project Teams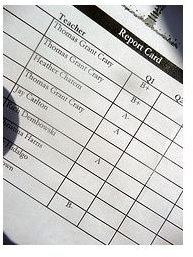 Why Team Evaluations?
Not all of us looked forward to those report cards in elementary school, but as a project manager, your teams want to be evaluated. They want know what is working and what isn't. Team evaluations don't necessarily have to be negative. If weak areas exist, remarks made can turn those negatives into positives.
Your team's project performance should be evaluated in one of two ways:
Team members should evaluate themselves and each other.
Team members should evaluate each other and team leaders should evaluate individual team members.
Keep in mind that each team member should also be allowed to evaluate him- or herself. Whichever method you utilize, once you have the evaluations, you will need to use your resource management skills to evaluate your team based on the input you received and your observations.
To begin, have your team members and leaders use this link to our Project Team Evaluation Template. This Microsoft Word document can be modified to fit your evaluation needs.
Tips On Evaluating Your Team
Now that you have your evaluations in hand, what should you do with them? What areas are most important? How do you turn a negative into a positive so the team member or team acknowledges the need for improvement? First, remember you are evaluating your team as a whole, but the individuality of each team member plays an important role. Use these tips on evaluating your team:
Analyze Evaluations - Analyze how individual team members evaluated themselves and each other to get a better feel for how the team feels as a whole.

Analyze the Difficulties - How difficult have team projects been? Were tasks new or known? In either case did the team rise to the degree of difficulty? If not, why? If you feel the team lacked on certain tasks, instead of berating the team in your evaluations, discuss a past project where they performed well, point out what was different this time around.

Analyze Performance - How well did the team perform? Don't confuse performance with potential. Stick to the actual results of the team.

Analyze Achievement - Did the team achieve the project goal? If so, point out contributions and results.

Life Cycle - How well did the team perform within the life cycle of the project? Were deadlines met? If not, identify overruns. Try to analyze what happened if the life cycle of the project was longer than anticipated. What could have been done differently?

Judge Individuality - By looking at individual evaluations, analyze what each individual contributed to the project. How well did each team member do? Keep in mind that some team members succeed in some areas while others succeed in different areas. Did the individuals perform at a level that was helpful to the team as a whole? If not, identify where the ball was dropped. Again, it's a good idea if you find a team member that continually performs poorly to speak with them privately. When discussing the team evaluation with the team, however, talk about that ball dropping by explaining the weak area and what the team as a whole could have done to improve it.

Be Honest - You probably are pleased with your team most of the time. Don't use this as your guide in evaluating your team. All employees have room for improvement including teams. Not every project is a job well done. This is by far the hardest part of evaluating your team. If negatives are identified and must be discussed, start by talking about a past project that flowed well. Next, discuss past success and compare it to the current project. How could things have been improved upon?
What You Shouldn't Do
There are some things to keep in mind when evaluating your teams:
Don't be too lenient. Don't be the project manager that says everything is fine when it's not.
Everyone has room to improve. If you don't identify these areas, your team will never improve.
Don't judge everything on an "average" basis. Some things worked and some things didn't. If a team feels they are average in performance, what are you really telling them?
If you just think Bob or Sally are great because of their personality, leave that out of your evaluation. Sure you may like them, but their performance should be judged, not their personality.
If a team member or the team as a whole did one wrong thing, don't make this the focus of your evaluation. Evaluate performance for the entire project.
Evaluations are not the most popular thing for project managers. Evaluating team project performance is key if you want your team to succeed or improve on future projects. Keep in mind that if weak areas are not identified, your team may just think everything is fine. If you feel you need help on evaluating your team, talk with mentors, other project managers and your human resources department.