Save Money with Open Source Contact Resource Management Software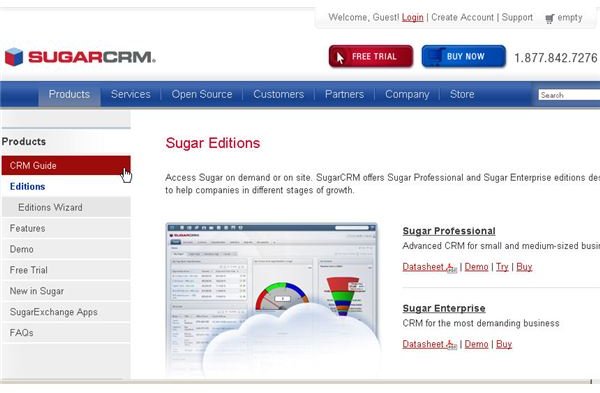 About Open Source CRM
Open source does not always mean free, although many open source applications have a free version. Open source software means that it runs on a codebase that is open and available to developers. The additional base of developers and the absence of marketing costs mean that open source software companies can produce better products for less, passing the savings on to customers.
Companies with software programming experience can usually take open source code and customize it for their own needs. Small businesses that do not need a slew of commercial options can benefit from open source by using free editions of the software and relying on the community for support.
Those who have shopped around know how expensive CRM software can be, so for a growing number of businesses, open source customer resource management software is becoming the preferred solution.
SugarCRM
As one of the best known open source contact resource management (CRM) packages, SugarCRM is available in several flavors. A community edition is available for free, giving you the basic software, but not much support outside the SugarCRM community. This is a good solution for small businesses with sufficient technical expertise to deploy a software solution without help from the developer. Of course there is a community that has knowledgeable people willing to help, so using the free edition is not as risky as you might think.
Still, the folks at SugarCRM want to earn a living, so they hold out cool features like Microsoft Office integration, sales forecasting and reporting, workflow, and a few other options to help prod you to subscribing to their commercial editions. Two commercial editions of SugarCRM are available: SugarCRM Professional ($360 per user per year) and SugarCRM Enterprise ($600 per user per year). These editions include more built-in functions than the free community edition and include robust administrative and support options.
SplendidCRM
Curiously named after a popular alternative sweetener, Splendid is a great platform for managing leads, customer contacts, activities, marketing initiatives, and advertising campaigns. With the community edition, users get Silverlight-based charts, a full-featured dashboard, and AJAX powered auto complete functions. Other versions of Splendid CRM feature importing from Symantec ACT!, reporting features, Exchange integration, billing and more.
No edition of Splendid is available for free. A "Live" community version costs $10 per month with options and pricing going all the way up to $40 per user per month for the "Live" enterprise version. Costs increase with source code options.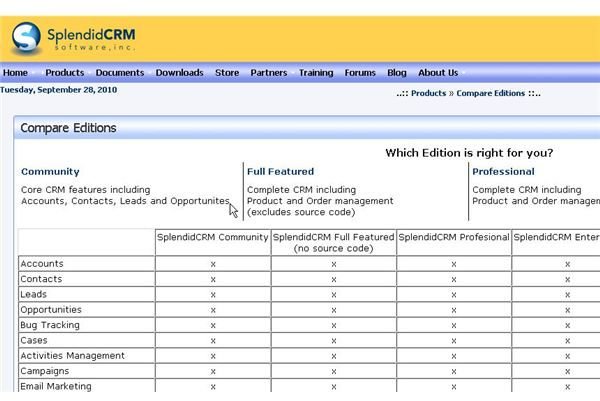 FreeCRM
Open source customer resource management system doesn't get much better or cheaper than FreeCRM, a Web-based platform that comes packed with features. Premium versions are available at prices starting at $14.95 per user per month and increment up to $39.95 per month for each user. The free version of FreeCRM supports up to five users, making it easy for small businesses to enter and access CRM data from home, the office, or the road.
Sync options with Google, encryption, mobile platform support, and tech support are a few of the options available to lure you into a premium version of FreeCRM.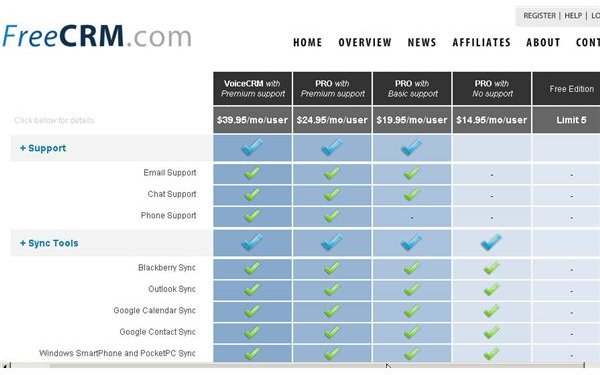 Hipergate
Built with Java, Hipergate is one of the most open of all the open source contact resource management software solutions that are available. it is released under the Affero GPL licensing terms and is free for users to download, use, and customize. Development of the software is tracked online, has robust forums for community support, and includes basic and enterprise features such as a shopping module, email tracking and distributing, a central library, reporting and queries, and tight security. It integrates with popular databases and can scale with your company as it grows.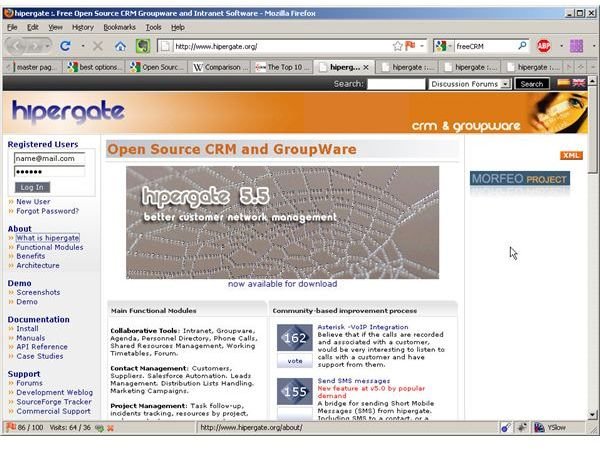 Wrapping up Open Source CRM
As part of a business information system, CRM makes it easier to manage customers and leads so you get the most out of your most valuable resources: your customers. Open source customer resource management software is the perfect way to reign in ballooning software expenses while you enjoy the benefits of collecting and using vital data that boosts your bottom line.
Image Credits: Screen shots taken by Bruce Tyson