What Can You Do with PlanningForce Express Project Planner?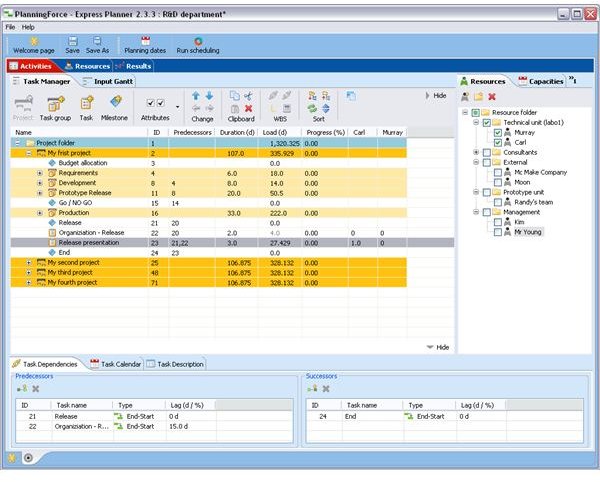 What Is PlanningForce Express Planner?
PlanningForce Express Planner is a project management tool offered for free that is meant to help you simplify your project planning process. The program allows users to create project plans, schedule projects, detail tasks, name resources, and create Gantt Charts. The program was created by Intelligent Software Company. The main feature of this program making it different from other project management software options is that it automatically schedules your project based upon the information you input into the program. What other unique features does PlanningForce Express have?
Installation and Setup (4 out of 5)
To install PlanningForce Express, first you will download the program to your computer. Once it has downloaded, open the.exe file. The program will automatically install. Once you have installed the program, you have a few options for setting the program up. You can start a project file from scratch or you can use one of the many templates included in the program. Templates for projects include:
IT Department
Construction
Software Development
R&D Department
Web Agency, and
Generic
These templates can help you jump right into planning your project quickly and easily. Additionally, you can Import files from MS Project or MS Excel to get started working on your projects.
Ease of Use (3 out of 5)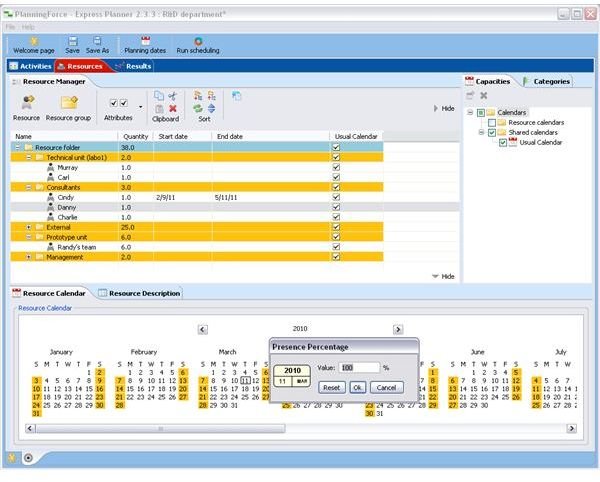 The first thing I noticed when testing PlanningForce Express was that the program ran a little slow on the test computer. When you click on items to modify them, it takes a moment between when you click on the item and when you can input data into the program. Second, I had a difficult time discovering how to create a non-template file (click on "file" on the toolbar menu and select "new"). The neat thing about the program, however, is that it makes it simple to track not only a single project but multiple projects. To create project points, you can accomplish this by clicking in boxes to create milestones, tasks, and even projects. Adding resources to your project is also simple and can be accomplished with a mouse click.
Features (4 out of 5)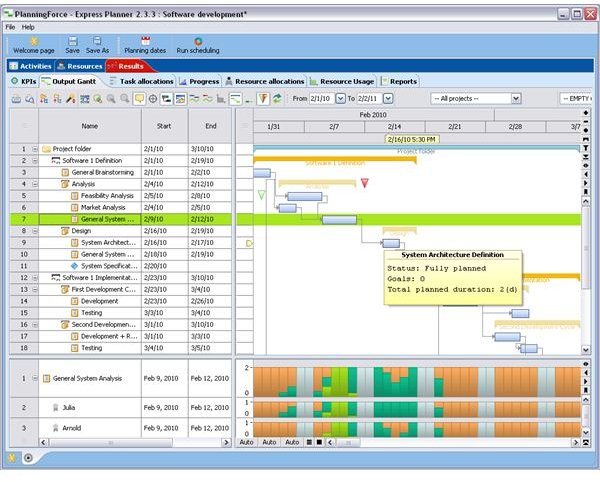 PlanningForce Express has some unique features that make it different from other project management software options. As already mentioned, the program will automatically schedule your project based upon the available resources, the earliest start date, and more pre-selected terms. This makes the program a nice option for newer project managers who are relatively inexperienced with scheduling projects. Another great feature of the program is that it allows you to demonstrate expectations for individual employees by imputing the work expectations. The program also allows you to define resources as humans or machines. This makes the program a great resource for project managers working in mechanical fields. Other features of PlanningForce Express include:
The ability to assign resources priorities
The ability to set recurring tasks
The ability to have an always-updated status for your project
Creation of a Gantt Diagram
Automatic leveling of resources
Graphically visualize how resources are being utilized
Create both master and individual calendars for project planning
Export reports in a variety of formats
Price to Value (4 out of 5)
The project management software features you get from PlanningForce Express are great for companies, and the program offers users a great deal of flexibility and utility for a program that is free. While PlanningForce Express is free for your use, and is thus suitable for companies with simple project planning needs, a more robust program, Portfolio Planner, costs $1,495 to license. This program has additional features for large companies and enterprises.
User Support (5 out of 5)
Here's an area where PlanningForce Express really excels. There are many avenues for assistance for users requiring support. Not only are their support features built into the program, but you may also obtain live help with use for the program through the Internet. The creators of the program also provide an online users' manual for your convenience. Finally, you can ask questions online and receive answers from experts. With this program you will never be left in the dark.
Is PlanningForce Express Planner for You?
PlanningForce Express is for you if you run a small to mid-sized business and would like a program that helps you to level resources and simplify your project planning duties. The program is an outstanding option should you need a program that is fairly simple to use and learn to use and focuses upon scheduling tasks. If your are a large company or an enterprise, you may wish to consider licensing the more robust program, Portfolio Planner, that allows you more control over your project tasks.
References
PlanningForce Express https://www.planningforce-express.com/
Images Courtesy of PlanningForce Express