The Best Free Project Scheduling Software to Make Your Life Easier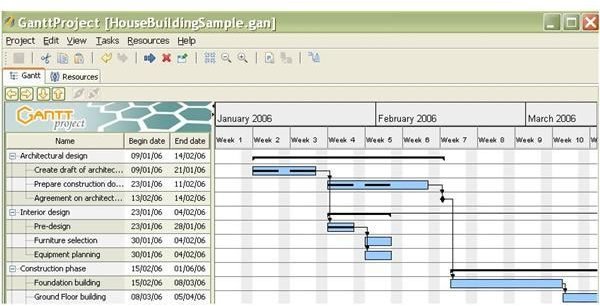 Whether you've been managing projects for years, are a rookie project manager, or are a freelancer needing to manage projects, chances are, free project scheduling software could help you. In addition to saving you a lot of money (who doesn't like that) using project scheduling software increases the likelihood that you will run a successful project. Not only does using free project management scheduling software help you to automate many of the processes involved in scheduling a project.
Because scheduling projects tends to be the most intensive of the duties project management calls for, especially if you do not have software to do this (did you realize you scheduled Pete for three tasks due the same day and Mary for nothing?) finding a scheduling software program that works for you can be incredibly beneficial to you and your team. Not only can the right software help you to schedule your tasks, but you can also create task dependencies, allocate resources, and track milestone progress while using scheduling software for project management.
1. Gantt Project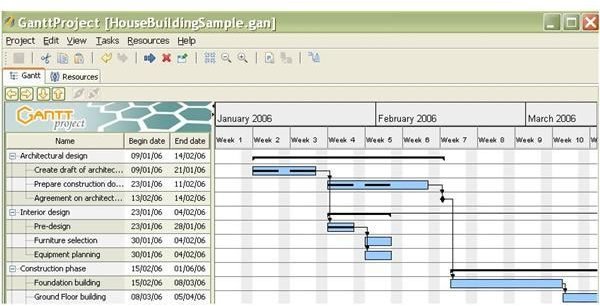 Gantt Project is a free scheduling program for project management that allows users to create tasks, schedule their projects, organize tasks by task category, and more. The great thing about Gantt Project is that it is an excellent replacement for project managers who like using programs similar to MS Project. The not so great aspect of Gantt Project is that it can be overwhelming to project managers who need project scheduling software, but who do not need the details available in Gantt Project. The newest version of the product has been created using Java Script. When you use the program, because the creators are continuously updating it, you can be sure you have the most current version.
Pros:
Easily create a Gantt chart or Pert chart to monitor your project's dependencies and schedule
Track resource allocation and view each resources personal Gantt chart
Collaborate with other team members
Import and export to and from Gantt Project
Cons:
May have too many features for novice or ad hoc project managers
May offer more than you need if you're looking for simple project scheduling software
Image courtesy of Deanna Reynolds
2. Gantt PV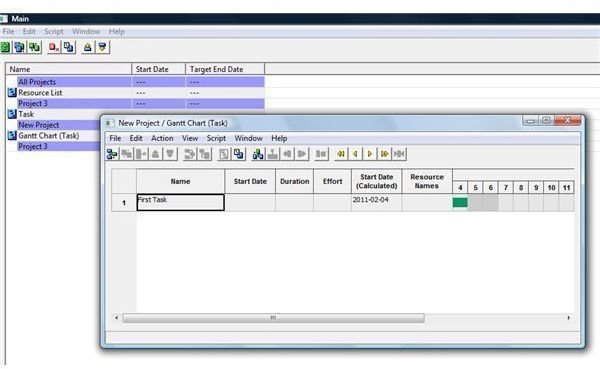 Gantt PV is another option for scheduling your projects using free open-source software. This program is very basic. If you need a program that will allow you to schedule projects, track resources, and define tasks, then Gantt PV may be the perfect option for you. In Gantt PV, you can track multiple projects, define and organize your tasks, and even create task dependencies. The program is such so that users can get as detailed as they want or need to in their project management process.
Pros:
Very basic program with no bells or whistles - this program is great for those who only need a scheduling program
Great for companies or businesses managing multiple projects
An excellent option for veteran project managers with experience working with PM software who want a program that can do as much or as little as they need when it comes to the actual scheduling of the project.
Cons:
The program takes time to learn; and the user interface isn't as attractive as other programs
The user interface features icons that you will need to mouse over until you learn what the tools do
The program is not recommended to those new to project management
Screenshot courtesy of Ronda Levine
Please continue to Page 2 for more on our top 10 list of free project scheduling software recommendations.
3. XPlanner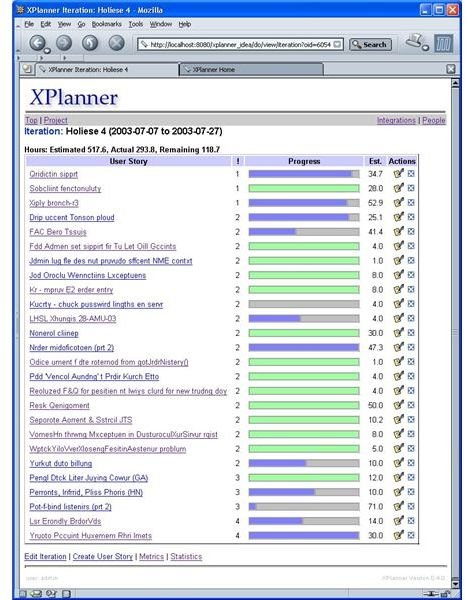 A free project scheduling software option for project teams that use eXtreme Programing (XP) methods for software project management is XPlanner. This program not only allows users to create Scrum burndown charts and schedule projects, but users are also able to use virtual note cards, track user stories, and estimate time and cost of software iterations.
Pros:
XPlanner is an excellent option for software companies using XP project management or Scrum methodologies
The program allows users to do much more than simple scheduling tasks
The graphical interface makes the program easy to use and collaborative
Cons:
The program requires many other programs to install, and this can be cumbersome for some
The program is specialized, so those not using XP methodologies or Scrum may be confused by some of the features.
Screenshot courtesy of https://www.XPlanner.org
4. Endeavour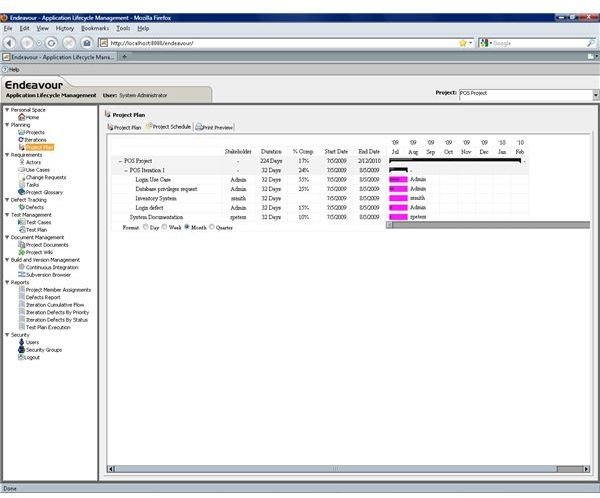 Another free project scheduling software program intended for those who use Agile project management methods is Endeavor. Not only does this program allow users to create project schedules, but also the program features many other helpful tools including task management, document management, glossary, and Wiki integration. The program runs in your web browser.
Pros:
Endeavour is a great option for companies running agile projects who need more than simple project scheduling capabilities
The program integrates with Wikis, making your project schedule a collaborative effort
Cons:
Like XPlanner, Endeavor can be cumbersome to install to your computer
Endeavor, like XPlanner is geared to a specific project management methodology
Screenshot courtesy https://www.endeavour-mgmt.sourceforge.net/
5. Ubidesk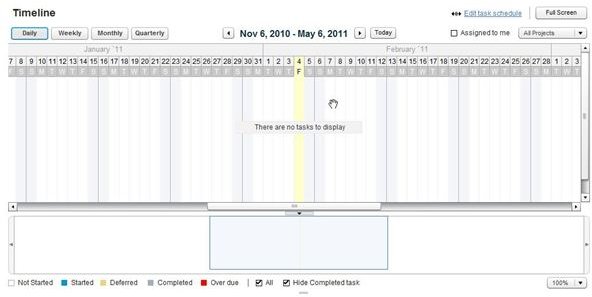 Another option for individuals and small businesses looking for free project scheduling software is Ubidesk. While Ubidesk also has paid plans, if your project management needs are light (you have no more than three projects at a time), your staff is small (no more than 5 users), and you won't be using too much of the online document storage space (no more than 100 MB) then it could be a wonderful fit. Ubidesk is easy to learn and use, and you can track tasks and deadlines easily in the program.
Pros:
Straightforward approach, so even those who haven't used project management software before will find that the program is intuitive
Perfect fit for a freelancer or consultant with light project scheduling needs
You can purchase bigger plans should you decide down the line that you need more power in your software and wish to upgrade to a paid version
You can use Ubidesk on any computer since it's a web-based program
Collaborate with team members or stakeholders on important project points
Cons:
The free version is limited in storage space, number of projects, and number of users
For companies with more sophisticated project needs, the program may not offer enough bells and whistles
Screenshot Courtesy of Ronda Levine
6. Zoho Projects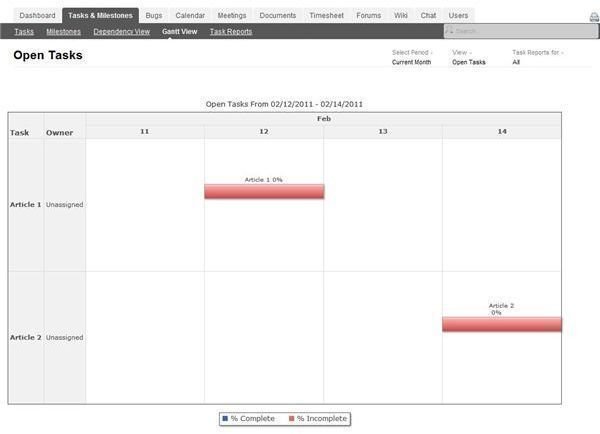 Like Ubidesk, Zoho Projects offers a free version for individuals who do not have heavy project scheduling software needs. With Zoho Projects, you can run one free project. Unlike Ubidesk, you get 10 MB of storage space and an unlimited number of users can collaborate with you on their projects. Zoho Projects allows both collaboration and scheduling. This means that not only can you track tasks and task dependencies using this project scheduling program, but you can also keep track of all the deliverables for the project in one place.
Pros:
Have projects that are as complex or as simple as you would like - Zoho Projects allows you to do many of the project planning tasks many of the other software allows, but maintains an easy to use interface.
Keep everything in one place and send email reminders of when tasks are due to team members
Collaborate with team members on every aspect of your project
Integrates with other Zoho applications seamlessly
Imports from Basecamp and Project
Cons:
Only allows users to schedule one project for free; companies needing more will need to either purchase a subscription version of the program or use a different software program
Screenshot Courtesy of Ronda Levine
Please continue to Page 3 for our final recommendations on free project scheduling software.
7. dotProject
If you've been looking for a free project scheduling software option, dotProject could be just the program you've been looking for. This program allows you to schedule your tasks, attach documents to tasks, manage your project budget, and keep track of your project resources. But scheduling tasks and tracking resource allocation are not the only things you can do with this useful program. You can also track issues, track employee time, and use the program to improve the efficiency of your employees.
Pros:
dotProject is one of the rare all-in one free project scheduling software options that allows you to delve into some of the same capabilities you would have in a proprietary project suite.
The program is easy to use, giving it an edge over other all-in-one programs
The ability to track employee time adds a nice touch to your project scheduling needs. By tracking time, you will be able to realistically schedule future projects more accurately and determine when current scheduling needs
Cons:
dotProject can be intimidating to those not used to installing open source software
At times, dotProject can run slowly and even freeze up
Screenshot Courtesy of Ronda Levine
8. TaskJuggler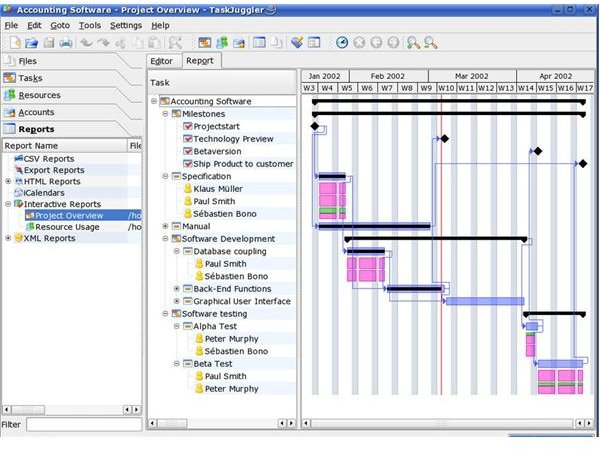 TaskJuggler is another option for individuals who are wishing to track their projects using free project scheduling software. Do you like the features of MS Project that allow you to level your resources when you have overallocated and underallocated them? You're in luck! TaskJuggler gives you an automatic resource leveling feature. Track the time and status of tasks and projects. You can schedule projects over multiple shifts to take into account team members' most productive times. Import and export to and from TaskJuggler.
Pros:
TaskJuggler is a very easy to use program that allows users to easily create and manage project schedules
The program automatically levels resources so that you don't have to
Create iCal files
Runs on multiple platforms (Linux, Unix, Windows and Mac)
Cons:
TaskJuggler requires Ruby to run, so if you don't have this program, you'll need to download and install it first.
Screenshot Courtesy of https://www.TaskJuggler.org
9. CoMINDWork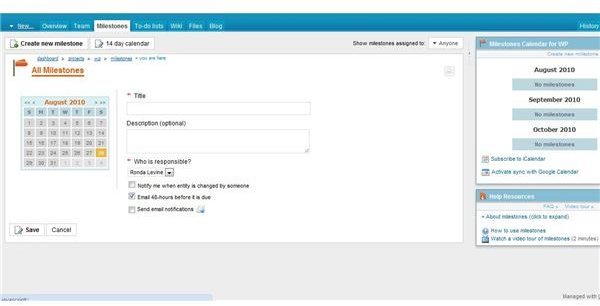 CoMINDWork is a program that, unlike other project scheduling software options, is focused more on facilitating collaboration and tracking tasks than it is on creating Gantt charts and other timelines. This program features a blog and a wiki so that those working on the project can communicate with one another. However, if you want to view a Gantt Chart, you can do that too - the program is as simple or as complex as you need for it to be. CoMINDWork is free for one project and is web-based, meaning that you can access it from any computer.
Pros:
CoMINDWork allows you to keep all of your project-related items in one place. This saves you time - especially since you can access your dashboard from anywhere so long as you have a computer and Internet connection.
The program allows for you to use as much or as little detail as you need
You can have unlimited users in the free version
Cons:
You are limited in your ability to track multiple projects
Screenshot Courtesy of Ronda Levine
10. Open Workbench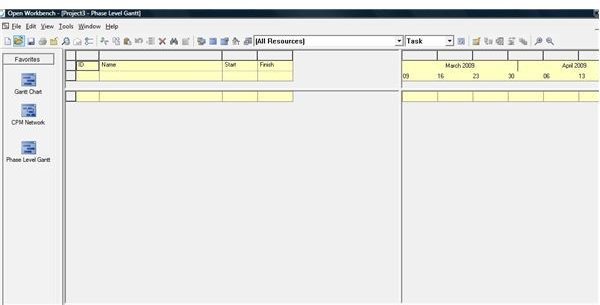 Open Workbench is a final outstanding option for those looking for a product that does a good job of replacing Microsoft Project. Open Workbench and primarily focuses upon effort-based scheduling methods. If your company focuses on effort-based scheduling then this free software option may be the perfect fit for you. Another great feature of this program is the ability to create work breakdown structures inside the program. You can track task dependencies and track resource allocations.
Pros:
If you're wanting a program that will replace MS Project, this product may be perfect for you
This program allows users to schedule based upon effort rather than based upon duration
If you're needing a high-powered program that will allow you to track as many projects as you need to, this is your program
Cons:
If you're new to project management, you'll want to either download the help manual or pass on this product, it can be complicated to use
Sometimes runs slowly
Screenshot Courtesy of Ronda Levine