Get Your Free Microsoft Projects Reader and Save Money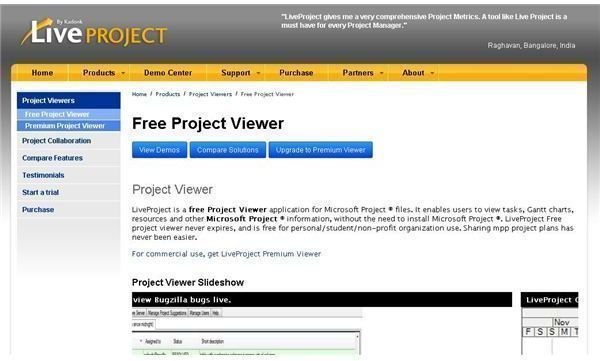 Introducing Free Project Viewers
Microsoft offers free viewers that display Word and PowerPoint files without the need to purchase their respective applications, but does not have one for Microsoft Project. Still, the need arises during the course of many jobs for the ability to view and print a Project file without having to shell out the cash to buy a license that really won't be used very much.
Many commercial Project viewers are available that - for a price - will let users to see Project files. Some of these viewers even say "Free" but are in actuality free downloads of trial applications that work only for a limited time before demanding payment.
The three free Microsoft Projects reader are among a small selection of Project readers that are available genuinely free. Take a look at them here and then try them out to find the one that works best for you.
Kadonk Live Project
Kadonk is one of the only truly free viewer for Microsoft Project files. With it, users can display Gantt charts, project resources, tasks
and other information without having Microsoft Project installed on their computer. Unlike many so-called "free" Project viewer applications, this application is not a trial version that will eventually expire. Of course, this software is free only for personal, non-profit or student use, so those who need to use the software in business must purchase a commercial license.
The commercial license costs $34.95 per seat and never expires. Additional versions with even more features are available in the Team Viewer and Project Collaboration versions. These additional versions are licensed on a per user, per year basis.
Even those who qualify for the free user license may want to voluntarily pay the licensing fee just so they can get free support and upgrades.
Free is still free, however, and Kadonk Live Project will go a long way toward helping a lot of people open and read Microsoft Project files.
Housatonic Project Viewer Online
Another totally free Microsoft Projects reader is the Housatonic Project Viewer Online. Users should be aware this is not a full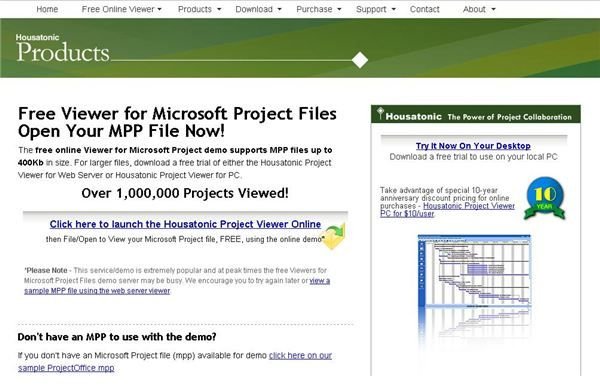 featured project viewer, but a tool to get people interested in purchasing the full product.
Still, this free viewer will load project files up to 400 KB in size, so those who have smaller projects will be able to get by just fine with this viewer. The online viewer is quite impressive, rendering project files virtually identical to the way Microsoft Project would display them.
If you need to display Microsoft Project files on their website, Housatonic Project Viewer Online is a perfect solution. Just copy a few lines of HTML code and paste it into a Web page on your server and you get an instant, embedded Project on display for visitors to see.
Naturally, the folks at Housatonic understand that many of your Microsoft Project files are larger than 400 KB. That's why they hope that you will see and experience how cool their online viewer is and decide to purchase a PC-based version for $10 per user.
Free MOOS Project Viewer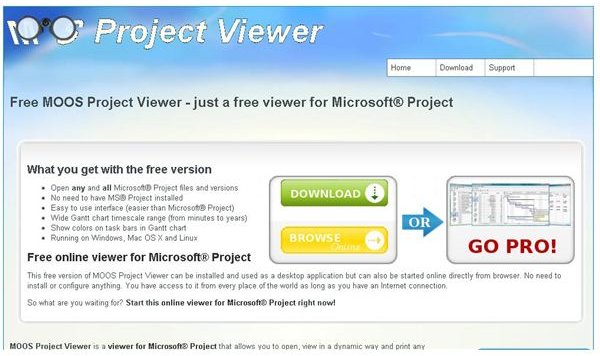 The Free MOOS Project Viewer works on Windows, Linux or OS X as a standalone desktop application or via any Web browser with Java installed. With this program at your disposal, you can quickly view and print Microsoft Project files without the need to spend money on a Microsoft Project license.
This Project file viewer can be particularly useful for remote workers, supervisors, stakeholders or clients who need to regularly check up on a project's stats but has no need to edit or reformat a project file.
Conclusion
You have just been introduced to three powerful, functional and totally free viewers for Microsoft Project files. These all are incredibly easy to use and offer unique features that allow all types of people to view Project resources without the need to spend the money on a Microsoft Project license.
Software Information and Screenshots Courtesy of:
_Live Project by Kadonk - https://www.kadonk.com/products/project-viewers/free-project-viewer_
_Housatonic Free Online Viewer - https://www.projectviewercentral.com/projectviewer/demo.html_
_Free MOOS Project Viewer - https://www.free-project-viewer.com/index.php_